Venue Address: 300 W Broad St. - Columbus, OH


Promotion: Unknown
Event: Unknown

Also Performing:
Unknown

Setlist:
(Unknown)

Recordings / Film:
Unavailable

Photographers:
Unavailable

Reviews / Info:
-No photographs, memorabilia or recordings exist as evidence that this show took place.
-Local newspapers indicate that James Brown is scheduled to perform at 8:30pm on this date.
-Unused tickets for a cancelled performance in Fairfield, CT reflect this date.


"...there seems to be some question as to whether there was a Doors show scheduled for Columbus in 1970 that was subsequently cancelled in the wake of the Miami fiasco/arrests. Again, I can pretty categorically state that I would have been aware of - and mightily hyped for - a Doors appearance my senior year of high school through my familial connections with Central Ticket Office. In addition to my dad working at the shows, Ben Cowall - the head of CTO - was my godfather. We were Italian. We were tight."


Ricki C.
Columbus, OH
Copyright © 2014 Ric Cacchione

Be sure to read Ricki's complete account of The Doors performance in Columbus in 1968!

ARCHIVE/MEMORABILIA:
---
PRINT AD: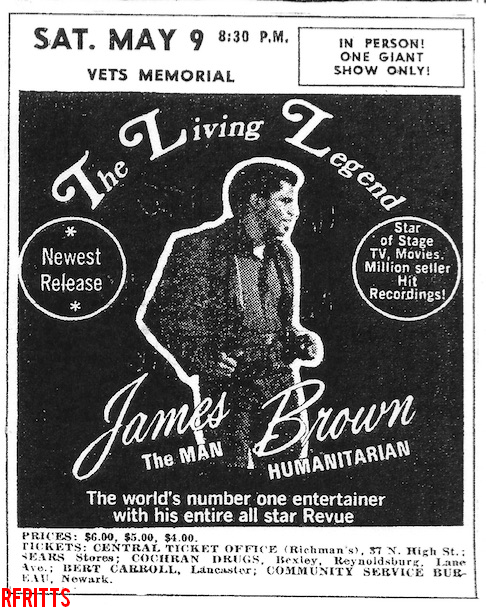 Contributed By: RFritts
---