July 20th, 1968 - The Doors perform at the Honolulu International Center Arena in Hawaii and KKUA Radio DJ Neil Ross is there to witness it all. MildEquator.com is pleased to feature Neil's incredible account of the events that took place that night, documenting the performance first hand, and in depth for the first time ever. We'd like to give a very special thanks to Neil for his contribution of this incredible piece of The Doors history - we hope you enjoy! And be sure to check out the Honolulu '68 - H.I.C. Arena concert info page for even more details on the show!


---
"It's been over 40 years since the events described. This is the story the best I can remember it...
I was working as a disc Jockey at KKUA 690 AM, Honolulu. The station was sort of a hybrid in those days. With album rock exploding and FM radio still in its infancy in Hawaii, we played the best of the top forty (minus the bubblegum) along with the best of the available album tracks.

KKUA had been working with Dick Clark Enterprises for their annual "Summer Shower of Stars" event and had been involved in presenting a number of successful rock concerts in Honolulu during the previous year. Some of the acts we brought over included Eric Burdon and the New Animals, Mitch Ryder and the Detroit Wheels, Vanilla Fudge, The Strawberry Alarm Clock and Creedence Clearwater Revival. We DJs decided that the Doors were just about the hottest act at the time and that we should bring them over next. There was some resistance on the part of Dick Clark's on-scene representative. She'd heard some bad things about the band and warned us that there could be problems. We insisted and she finally acquiesced and made the deal but insisted that we DJs be backstage in case of trouble. There was a heavy feeling of paranoia leading up to the show. In addition to the promoterís misgivings, the chap in charge of the arena at the Honolulu International Center (known colloquially then as the HIC, now the Neal S. Blaisdell Center) called the station and informed us that if there was any backstage drug or alcohol use or any onstage profanity, the show would be immediately halted. We were also told that the Doors had insisted that no photography was to take place backstage. I have no idea if they really did or not but as a result, our regular photo guy was barred. I didn't think too much of it at the time but I've since come to bitterly regret that I don't have any pictures of the event.

The night of the show four or five of us DJs waited nervously in the dressing room for the Doors. They were flying in from the mainland and would be driven by limo to the arena. Despite the warnings of the arena manager we had decided there was no way we were going to greet Jim Morrison and the rest of the group and not at least be able to offer them a beer. We purchased a case of brew (Pabst Blue Ribbon, I think) put it in a cooler with ice and put the cooler inside a cardboard box. We wrote the following on the box in huge letters: "Radio Equipment. Fragile! Do Not Open!!" We lucked out. Our 'brilliant' ruse fooled the security guys. The booze got safely backstage.

The HIC hosted a lot of sporting events and the backstage dressing rooms reflected that. Lockers, showers and a big floor to ceiling mirror with a training table in front of it, under which we stashed the box of 'Radio Equipment.'

As I said we were nervous. There was a lot on the line. Our station was in a life or death struggle with rival station KPOI. If the Doors did badly it would reflect on us. There were all kinds of rumors about what might or might not happen. The band might not show up. If they did show up they might be too stoned to perform. Some said they were all hard core drug addicts. We really didn't know much about the band. Serious Rock journalism was in its infancy. Rolling Stone had only been publishing for about a year. All we knew was the music and those four faces staring rather ominously out of the album covers. The music had a strange, menacing, otherworldly feel to it. When Morrison sang, "Hear me talk of sin and you know this is it!" we believed him.

I recall having a discussion with fellow DJ Mike "Your Mighty Leader" Hamlin along the lines of, "what do we do if these guys start tying off? Do we ask them not to or do we tackle them and throw them on the floor?"

It was all nonsense of course. When they arrived the guys were neither drunk nor stoned. The word I would use to describe them as they entered the dressing room would be exhausted. They had been touring nonstop for months, had just spent five hours in a plane and it showed. They looked tired and dispirited. The four Doors split apart and headed for the four corners of the dressing area as if they were trying to get as far apart from each other as possible.

We DJs slowly walked over and introduced ourselves. Morrison hopped up and sat on the training table in front of the big mirror. No one approached him. We were all intimidated. Finally I took a deep breath and hopped up on the table and sat next to Jim. I took another deep breath and said the magic words. "Hi Jim, would you like a beer?" As he replied I was rewarded with the rare but dazzling Morrison smile. "Yeah man, I'd love one."

I dove under the table and ripped open the "Radio Equipment" box. I pulled out two ice cold cans, opened them, took one and handed him the other. I dug out my pack of Marlboros and offered him one. He accepted. We lit up, inhaled, swigged our beers and smiled at one another. Life was good.

I introduced myself and told Jim that, as I'd learned a few days previously, the Doors had sold out the ten thousand seat venue in under four hours which had broken an HIC arena record. This seemed to please Jim immensely and he called the other band members over and made me repeat what I had just said. I went on to assure the group that they were hugely popular in the islands and that they had ten thousand people in the arena who were crazy about the Doors and ready to rock and roll. They seemed to perk up.

Jim and I continued to drink, smoke and talk. Their third album, Waiting For The Sun, had just been released. Jim wanted to know what we thought about it. He told me that their second album hadn't sold as well as the first and they were really concerned about how this one would do. I told him that we liked it a lot and that we were playing the cut Five To One in heavy rotation.

I told Jim that, in my opinion, much as I had loved it, I felt the problem with the second album had been the lack of a strong top forty single along the lines of Light My Fire. I said that, sadly, despite the popularity of the LP, radio was still pretty much a singles driven business. We spoke about various cuts on Waiting For The Sun but I don't recall anything more specific that we said.

I then told Jim how impressed I was with the Doors lyrics. They were far deeper and much more sophisticated than almost anything else in Rock at the time. I asked who wrote them and he replied that he mostly did. I asked him where his ideas came from and he answered, "Well, I read quite a lot." (The understatement of the year based on what I've since read about him.) I asked him what kind of stuff he read and he replied with a torrent of names. I wish I could remember them all but the only one I'm sure of was Kurt Vonnegut. I told him about J.P. Donleavy's The Ginger Man, which I had just finished and which had absolutely blown my mind. Jim said that it sounded good and that he would try to get a copy. I wonder if he ever did. By now more and more people were finding ways to get into the dressing room and the scene began to become a bit chaotic. The warmup band, a local group, finished playing and found their way backstage. They were costumed like characters in a Clint Eastwood spaghetti western with those Mexican pants that flare at the bottom. Jim said he liked the look and asked one of the guys where he got them. I thought the guy was going to faint. The Lizard King had spoken to him! The guy said his girlfriend had modified a pair of Levis by opening the seams at the bottom and adding material to create the flair. Jim said he would get someone to make him pants like that when he got back to L.A. I don't think he did. At least I've never seen pictures of him wearing anything like that.

At this point the promoter came in and said the guys needed a few minutes alone to work out their set and asked everyone to leave. We wished the band luck and went out front to watch the show. I've watched a lot of Doors concert footage over the years and it has tended to blend into my memory of seeing them live. What I remember was a tight unit at the height of its power. Tired as they were, they rose to the occasion and Morrison was mesmerizing. He didn't move as much as other lead singers I've seen but managed to invest a great deal of emotion and meaning into the slightest gesture. His voice was powerful and the band sounded as good as the records and actually, at times, better.

KKUA Program director Mike Hamlin introduced the band with a quote from Aldous Huxley.

As to the set list, here's what I'm sure of. They did Light My Fire (they pretty much had to) and Hello, I Love You, which would soon be their next number one single. They did Five To One and When the Music's Over. Robby's low notes on that one reverberated in my head for days afterward. That's about all I'm certain of, unfortunately, except that I'm positive they didn't do The End. I really wanted to see that one live and recall how disappointed I was when they didn't perform it.

I vividly recall the firecrackers midway through the show. Thrown by a fan from the upper balcony, they arced downward, exploding through space. It happened during a quiet passage in one of the songs. I flinched and glanced up at Morrison from my front row seat. He wasn't startled in the least. In fact he seemed to be enjoying the moment of unexpected anarchy. He stopped singing, wrapped himself around the mic stand and followed the trajectory of the falling fireworks with a grin of delight. As the noise of the fireworks ended, John Densmore picked up the beat and the band gradually eased back into the song and that was that.

When the concert ended we went backstage again but we only had a few minutes to congratulate the guys. They were soon whisked away by limo. We heard that they took advantage of a ten day break in the tour to spend a week on Maui. Iíve seen footage of the band aboard a boat off Lahaina.

As far as Jim Morrison is concerned, he was far from the cliche of the drunken maniac that has sadly become his image to some. All I can say is that's not the person I encountered. Morrison was a highly intelligent, well read and very gifted artist and it showed. The man I met was quiet, thoughtful and articulate. He actually seemed a little shy.

The decade between 1964 and 1974 was an incredible kaleidoscope of highs, lows and everything in between. It saw an explosion of musical creativity that has never been duplicated since. The Doors were smack dab in the middle of that amazing time and of all the bands that period produced they were, in my opinion, the most unique. They defy categorization. They were three musicians whose disparate musical influences included classical, blues, jazz, flamenco and much, much more. They found a front man who was a wordsmith, a poet and a self styled shaman, who sang his words in a voice that managed to sound simultaneously young, old, innocent, jaded and a thousand other shadings and feelings for which I lack the words.

Perhaps it was too great to last. But these four guys, in a relatively short period created a body of work that is timeless and will stand the test of time. It still sounds great when a lot of other music doesn't. It was something very special. In an interview with the Los Angeles Times, John Densmore said it best - "On stage, when we played these songs, they felt mysterious and magic." They sure did that July night in the summer of '68. I'm so glad I was lucky enough to be there."


Neil Ross,
Manhattan Beach, CA
Thanks to Scott Thomas, KKUA Co-Program Director, for his help with the details in this review.
Copyright © 2009 Neil Ross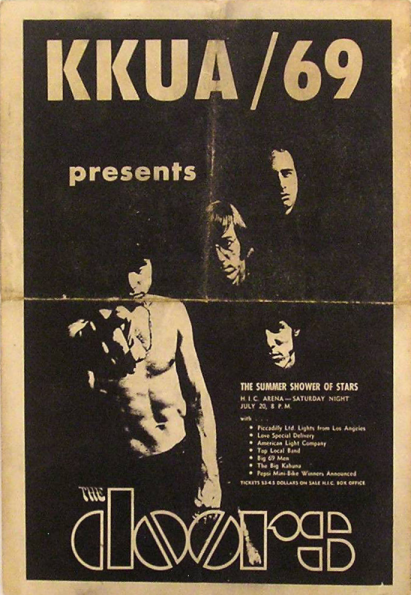 KKUA AIRCHECK - JULY 1968:
Download > Neil Ross on KKUA 690 AM, recorded one week after The Doors concert at HIC
"This aircheck was made a week or so after the station presented The Doors at what was then known as the Honolulu International Center, a ten thousand seat venue which they sold out in less than 4 hours. As you can tell, I'm still high from my one hour pre-show backstage visit with The Lizard King" - Neil Ross.
'Feast of Friends' at the HIC: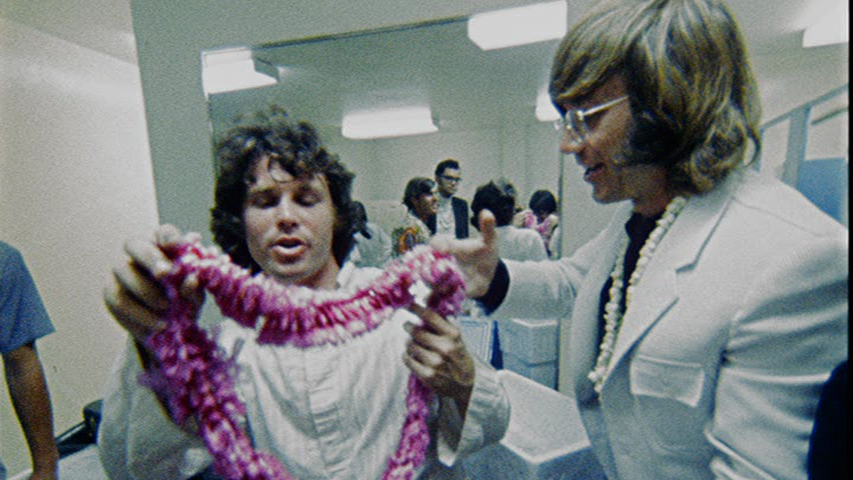 "After the show I had to figure out a way to safely stash my then girlfriend who didn't want to come backstage for some reason, and fight my way past security into the dressing room. When I got back there it was just in time to hear the woman promoter say, "O.K. guys, it's time - into the limo now!". There was just time for me to quickly congratulation the band and they were gone. I'm pretty sure that all the backstage footage is happening after the show. I'd have to go back to get the exact wording, but at one point you hear the woman promoter say something like, "The crowd is building up - we have to get you guys out of here." If this is all happening post concert that explains why I'm not there." - Neil Ross

A Special Thanks to Neil Ross for providing his commentaries to MildEquator.com!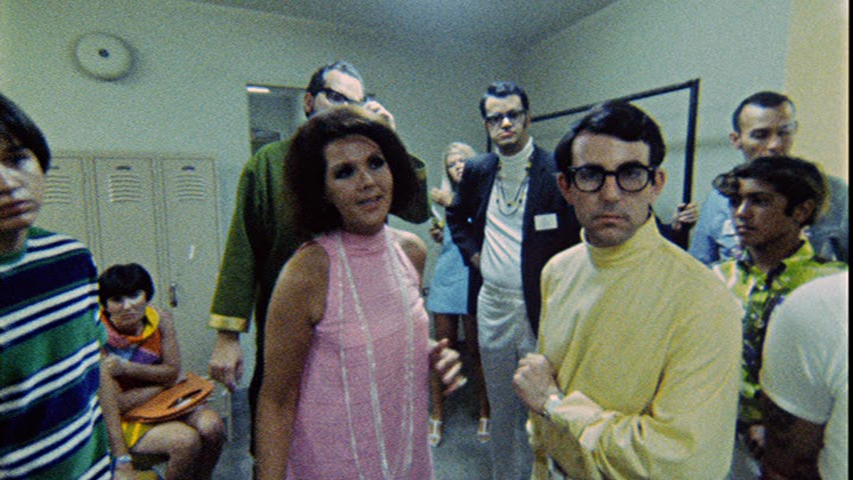 1.) "I only recognize two people. The woman promoter (She was Dick Clark's advance person and we primarily dealt with her on all these shows. I can't recall her name Ė wish I could) is in the foreground in the pink dress. KKUA morning man Mike Hamlin is behind her. We get a better look at Mike in other shots so I'll comment more on him when we get there."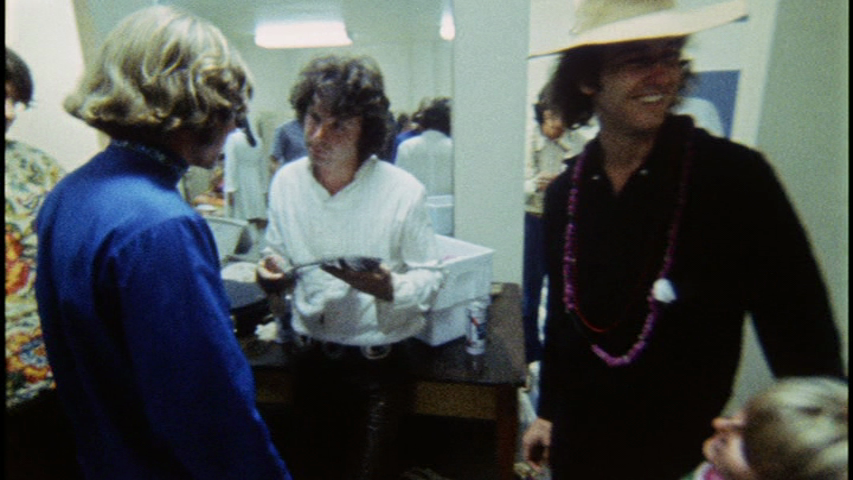 2.) "In this one we can see the table that Jim and I sat on with the mirror behind it. The beer cooler which we smuggled in in the cardboard box marked "Fragile Radio Equipment Do Not Open!!" which we hid under the table has now found its way up on to the table. I guess by then the feeling was, show's over what are they going to do now? You may recall Scott Thomas and I were debating about the brand of beer we brought. I recalled Pabst Blue Ribbon and by God that does look like a Pabst label."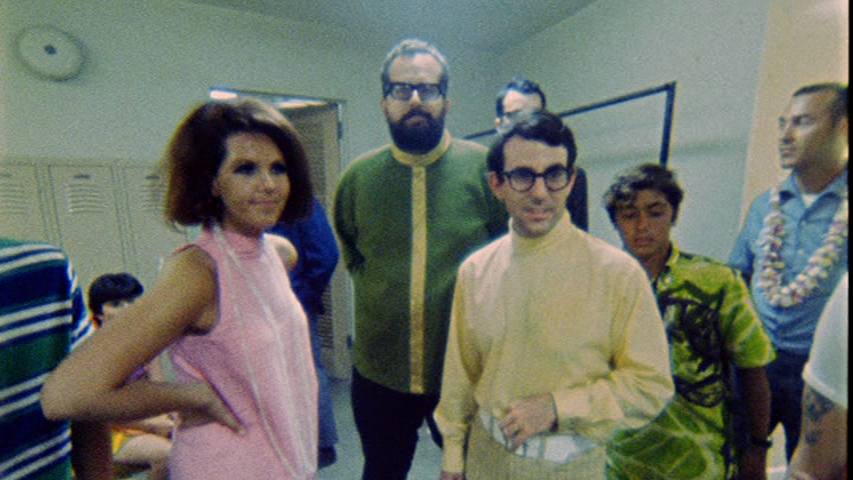 3.) "Great shot of Mike 'Mighty Leader' Hamlin in the green Nehru jacket. He introduced the band onstage with the Huxley quote. Great guy. One of the most talented radio people I ever knew. Not just great on the air but a brilliant guy in the production studio. He created all the promos for the various concerts we presented. They were masterpieces of radio production. People have called me a production whiz over the years. Mike ran rings around me. Sadly he died young, of multiple sclerosis I believe. Never made it out of the Honolulu market. If he'd lived - who knows?"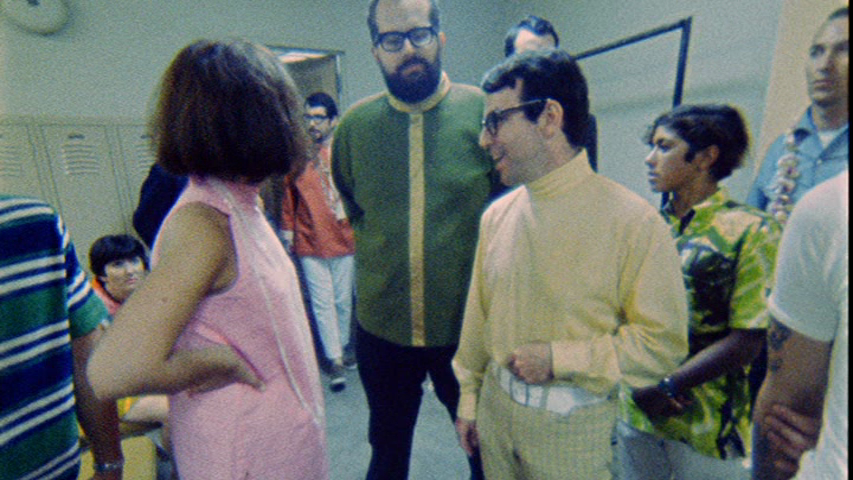 4.) "In the center of the picture coming through the door in the orange Nehru jacket is Scott Thomas. He was the KKUA program director and midday DJ. He's the one who hired me at KKUA. Talked me into leaving a much bigger station to play this 'new' music. Never regretted it. Scott is still in radio working and living in Stockton. He was on the air at KOIT in San Francisco for many years. He was a great program director. Could really motivate people. For some reason he never held another PD position after KKUA. A shame. He could have been one of the great ones. Of course he was no slouch as a DJ either. He said when they watched the PBS broadcast and he came on the screen his wife fell off the couch."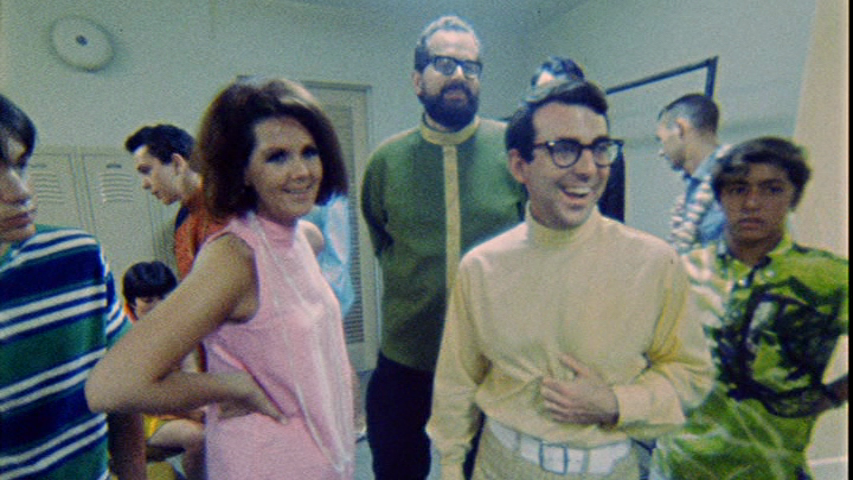 5.) "Don't know who 'Henry Aldritch' in the yellow shirt and Buddy Holly glasses is. Interesting to look at the clothing. A mixture of Hawaiian shirts and what passed for hip in Hawaii in '68. You can see J.P. Morgan in profile on the left. His real name as I recall was Dominic Izzo and I have no idea of what became of him. Never heard anything about him after I left the station."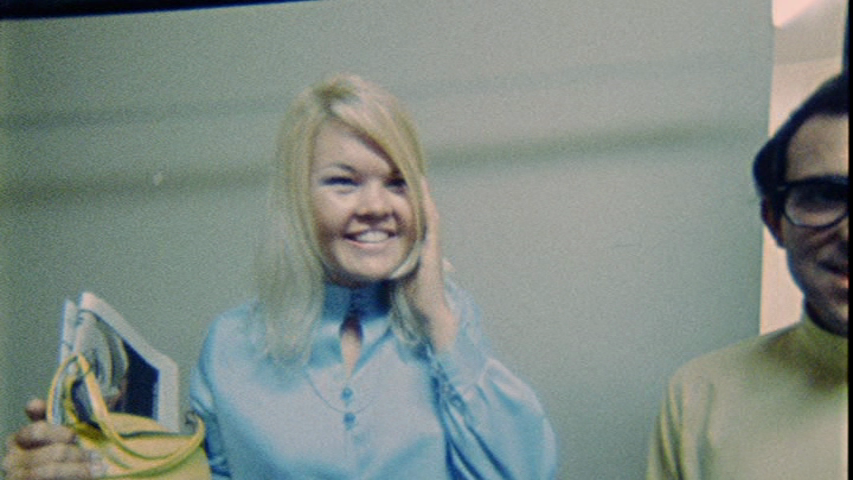 6.) "Don't know who she is and she doesn't look like someone I'd have been likely to forget."


Copyright 2010 Neil Ross
---
KKUA RADIO SURVEY:
| | |
| --- | --- |
| Contributed By: BallroomDays67 | < Click Here to See the Complete Survey! |