In late 1967, U.C.L.A. filmmaker and photographer Paul Ferrara began his official career with The Doors after a chance meeting with Pamela Courson, snapping photos of her as she modeled for a clothing shop in Los Angeles. During the shoot, it was explained to Paul that Jim Morrison, her boyfriend, was in an upcoming rock band and that a steady photographer was needed, someone unlike the various photographers the magazines were sending out. Paul explained to Pam that he had his own previous history with Jim Morrison, and the meeting was quickly arranged.

An agreement was made that Paul would snap photos of the band during their performance at the Fillmore in San Francisco, and the negatives were developed and dropped off at The Doors office. Soon after, Paul was given a full time job and the opportunity to design what would become The Doors official concert book and tour poster. He would also be given a share of the profits. As The Doors in-house photographer, he would also be put in charge of providing photographs to the magazines and publications that requested them for the use in the articles they were doing on The Doors.

In April of 1968, the concert book and 'Light My Fire' poster were complete. Paul approached keyboardist Ray Manzarek with the idea of filming some of the chaos that was happening at the concerts. With Ray's approval, he began his experiment with 16mm black and white film. The test would prove a success, and the production of film for what would later be known as 'Feast of Friends' had begun.

Shot mainly in color but also B&w, the 16mm footage is filmed with an Arriflex and occasionally an Eclair. Under the supervision of Jim and The Doors, Paul begins to piece together successions of footage on a 16mm Moviola in an experiment to see how things would look in sequential order. The film would be processed at CFI Laboratories in Los Angeles. The short screenings began at the rehearsal space under The Doors office on Santa Monica Boulevard, where they received positive responses from the viewers who had attended the showings. The test proved another success, and shortly after, Paul's longtime friend Babe Hill came to live in California, where he quickly learned to record audio using a Nagra. He was also taught how to switch out film in a changing bag, allowing Paul to continue filming with an already loaded camera. Babe's first known recording session takes place in April, 1968 at Westbury Music Fair in New York. He can be spotted in various shots of backstage and performance footage.

As filming continues, more crew members begin to take part in the production. Actor Harrison Ford, a friend of Paul's, works as a grip for the crew. It can be said that Harrison also did some filming. By July 1968, the Hollywood Bowl performance is ready to be filmed and recorded with professional sound. Frank Lisciandro enters the production as film editor, and takes part as a Hollywood Bowl cameraman. Frank would also join Paul and Babe in March 1969 to film Jim's 10 page script 'The Hitchhiker', later titled 'HWY: An American Pastoral'. The last day of filming takes place on September 1st in Saratoga Springs, New York, shortly before The Doors head to London for the start of their European tour schedule. Throughout The Doors 1968 North American tour, an estimated 50,000 feet of performance and backstage footage are captured on film.

In March 1969 following the Miami incident, The Doors put an end to the project. What had already been pieced together was titled 'Feast of Friends' in a decision made by Jim Morrison following the announcement from Bill Siddons that the project is on hold. In the course of a few days, the entire production was halted. The crew would then go on to film 'HWY'. Although 'Feast of Friends' had been screened at various benefits and festivals both during and after Jim Morrison's lifetime, an original edit of the finished film has eluded an official release for over forty years. Bootleg copies known to collectors are sourced from these original screenings. Various alternate portions of filmwork can be seen throughout The Doors official promotional videos released throughout the 80's and 90's. Large portions of the filmwork are now featured in the 2010 documentary 'When You're Strange' by Tom DiCillo, and the near-complete filming of The Doors performance at the Hollywood Bowl is available to collectors and fans as a standalone video and soundtrack.

A very special thanks to 'Feast of Friends' director Paul Ferrara for contributing his time and efforts to this page!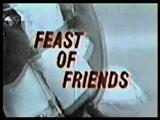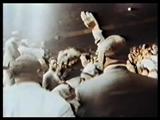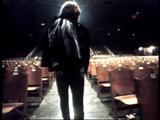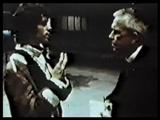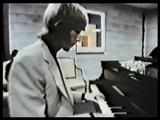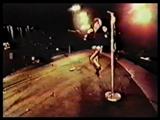 Soundtrack:
Strange Days
Albinoni's Adagio in G Minor (Background)
Wild Child
Albinoni's Adagio in G Minor
Moonlight Drive
Five to One
Not To Touch The Earth
Poetry (Jim Morrison)
Dahomey Dance (Ray Manzarek)
Arthritis Blues (Robby Krieger)
Ode to Friedrich Nietzsche (Jim Morrison)
The End (Live at the Hollywood Bowl)
Neptune, The Mystic (Gustav Holst)

Credits:
Paul Ferrara - Director
Babe Hill - Sound Engineer
Frank Lisciandro - Editor
Harrison Ford - Assistant
David Thompson - Cameraman (Hollywood Bowl)
Steve Wax - Cameraman (Hollywood Bowl)


Film Locations:
Note: Performance footage may or may not exist from the venues listed below. The dates & locations of various original audio segments remain unidentified and include in-flight/travel recordings.
Santa Rosa - April 13th 1968 at the Sonoma County Fairgrounds Grace Pavilion
Westbury - April 19th 1968 at the Westbury Music Fair
Toronto - April 20th 1968 at the CNE
San Jose - May 19th 1968 at the Santa Clara County Fairgrounds
Fresno - June 7th 1968 at the Fresno District Fairgrounds
Bakersfield - June 8th 1968 at the Civic Center
Santa Barbara - June 28th 1968 at the La Playa Stadium
San Diego - June 29th 1968 at the Community Concourse Golden Hall
Hollywood - July 5th 1968 at the Hollywood Bowl
Dallas - July 9th 1968 at the Memorial Auditorium
Houston - July 10th 1968 at the Sam Houston Coliseum
Seattle - July 12th 1968 at the Center Arena
Honolulu - July 20th 1968 at the International Civic Arena
New York - August 2nd 1968 at the Singer Bowl
Cleveland - August 3rd 1968 at the Public Auditorium
Philadelphia - August 4th 1968 at the Arena
Columbia - August 30th 1968 at the Merriweather Post Pavilion
Asbury Park - August 31st 1968 at the Convention Hall
Saratoga Springs - September 1st 1968 at the Peforming Arts Center
| | |
| --- | --- |
| | < Click Here To Read a Review! |
Screenings:
05/30/1969 - Cinematheque 16 - West Hollywood, CA (Private Screening)
05/31/1969 - Cinematheque 16 - West Hollywood, CA (Private Screening)
06/06/1969 - Cinematheque 16 - West Hollywood, CA (World Premiere)
06/07/1969 - Cinematheque 16 - West Hollywood, CA
06/08/1969 - Cinematheque 16 - West Hollywood, CA
06/08/1969 - Queen Elizabeth Theater - Vancouver, B.C.
06/19/1969 - P.N.E Garden Auditorium - Vancouver, B.C.
06/20/1969 - Memorial Arts Center - Atlanta, GA
07/04/1969 - Willingdon Juvenile Detention Home For Girls - Vancouver, B.C.
07/21/1969 - Aquarius Theatre - Hollywood, CA
08/18/1969 - Solomon Little Theatre - San Diego, CA
08/18/1969 - Edinburgh Film Festival - Edinburgh, SCT
09/06/1969 - Varsity Arena - Toronto, ON
09/29/1969 - Lincoln Center - New York, NY
10/31/1969 - Masonic Hall - San Francisco, CA
03/13/1970 - Aardvark Cinematheque - Chicago, IL
| | |
| --- | --- |
| | < Click Here To See a Print Ad from a Screening of 'Feast of Friends' in Chicago! |