On The Road:
Performance History:
Recording History:
Film History:
Publication History:
Radio History:
Other History:
NEWSPAPER ARTICLES:
---
FELIX VENABLE (1931-1970)
Image circa. 1950 - © The Long Beach Independent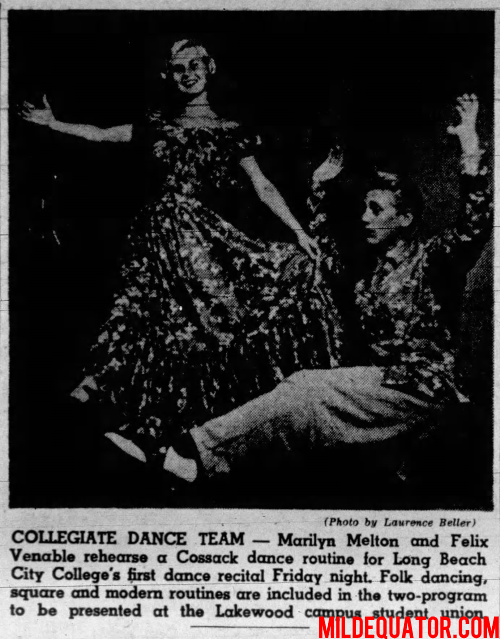 Name:
Felix Strickland Venable
Date of Birth:
October 18th, 1931
Place of Birth:
Unknown, Oklahoma
Date of Death:
November 14th, 1970
Place of Death:
Los Angeles, California
Cause of Death:
Pancreatic Cancer
Education History:
Long Beach City College - Unknown-1950-Unknown
U.C., Berkeley - Unknown
U.C., Los Angeles - Unknown-1964-1965-Unknown
"I remember Felix telling stories about his years of living in Berkeley, attending U.C. Berkeley and then driving a bus for a living. Felix was an undergraduate transfer into UCLA. A great storyteller. Also a consummate bullshitter. Two personality traits that worked well together in Felix. He has been mythologized as Mephistopheles to Jim's Faust. Maybe so, but life is always more complicated than a literary analogy. There was a third running buddy in those UCLA film school and (drug fueled) post-UCLA film school adventures - Phil O'leno. Phil's still alive, somewhere in Northern California. Felix had applied to, and been accepted into the UCLA Film School Graduate Program, beginning in the fall of 1970, when he died of stomach cancer on November 14th, 1970."
By David Thompson, UCLA Film School Graduate & Hollywood Bowl Cameraman
A Special Thanks to David for providing his commentary to MildEquator.com!

| | |
| --- | --- |
| | < Click Here to read an early newspaper mention of Felix! |
JIM MORRISON DEATH REPORTS - 1971
Newspaper: The Tucson Daily Citizen
Author: Unknown
Publish Date: July 9th - 1971
Copyright © The Tucson Daily Citizen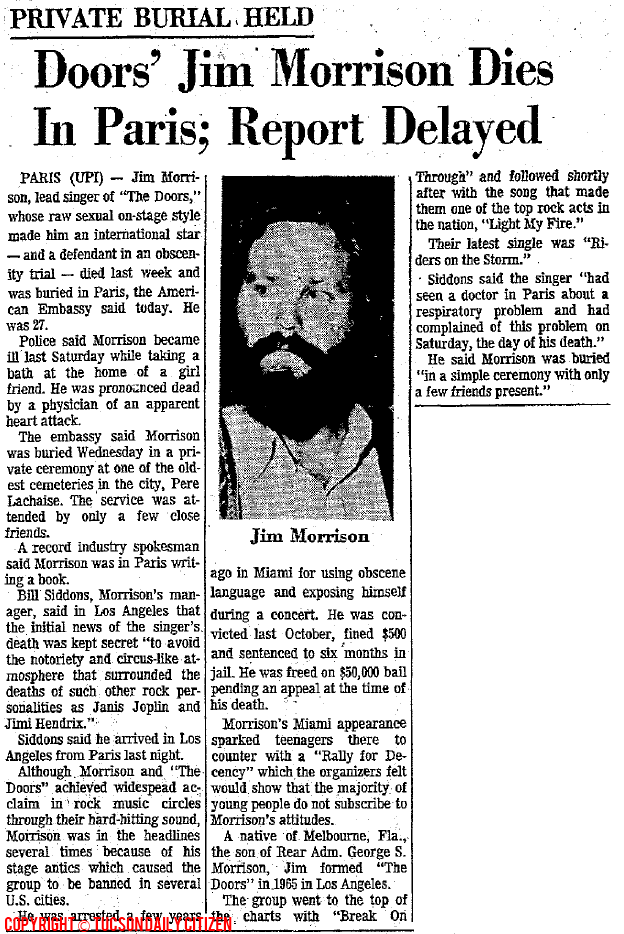 Newspaper: The Pasadena Star
Author: Unknown
Publish Date: July 9th - 1971
Copyright © The Pasadena Star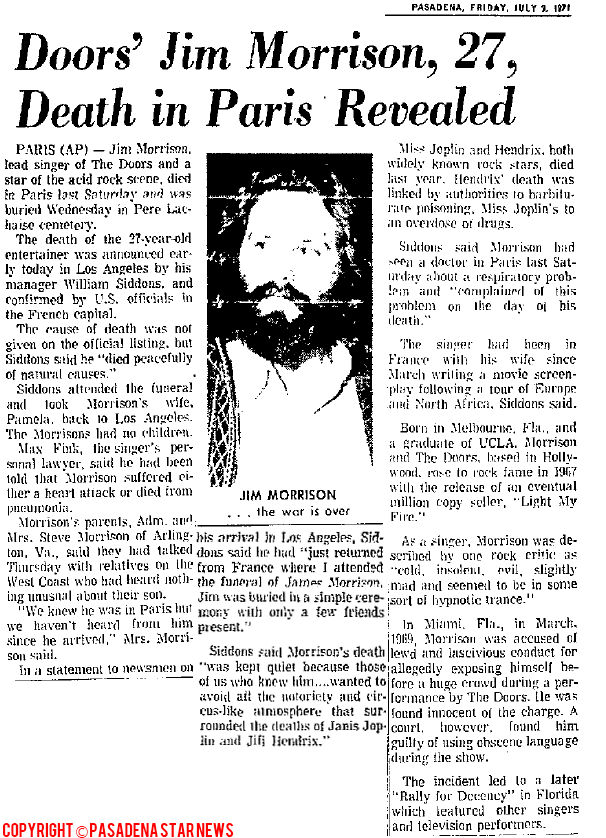 Newspaper: Kentucky New Era
Author: Ken Conway (AP)
Publish Date: July 9th - 1971
Copyright © Kentucky New Era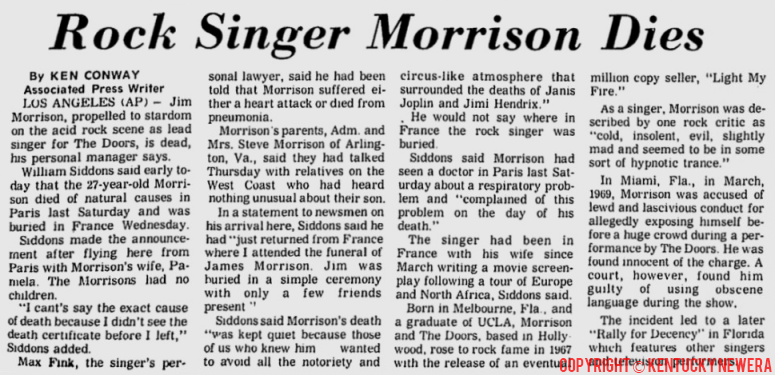 Newspaper: The Sarasota Journal
Author: Unknown
Publish Date: July 9th - 1971
Copyright © The Sarasota Journal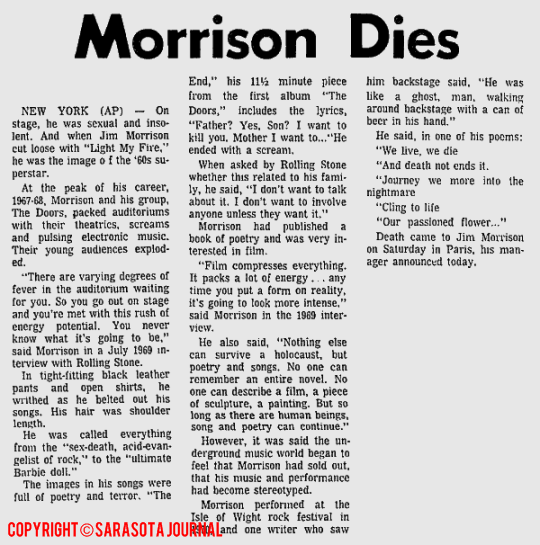 Newspaper: The Altoona Mirror
Author: Unknown
Publish Date: July 9th - 1971
Copyright © The Altoona Mirror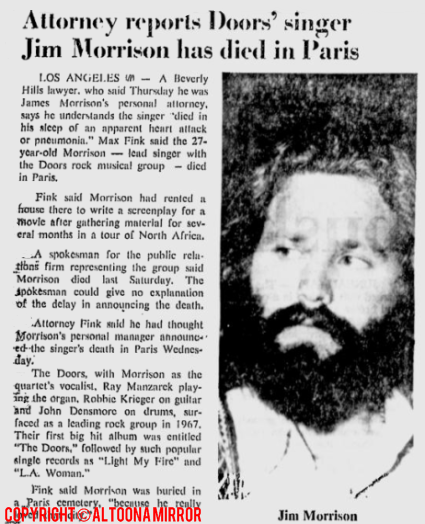 Newspaper: Milwaukee Journal
Author: Tony Kornheiser
Publish Date: July 13th - 1971
Copyright © Milwaukee Journal


Newspaper: Deseret News
Author: Celeste Carlisle
Publish Date: July 16th - 1971
Copyright © Deseret News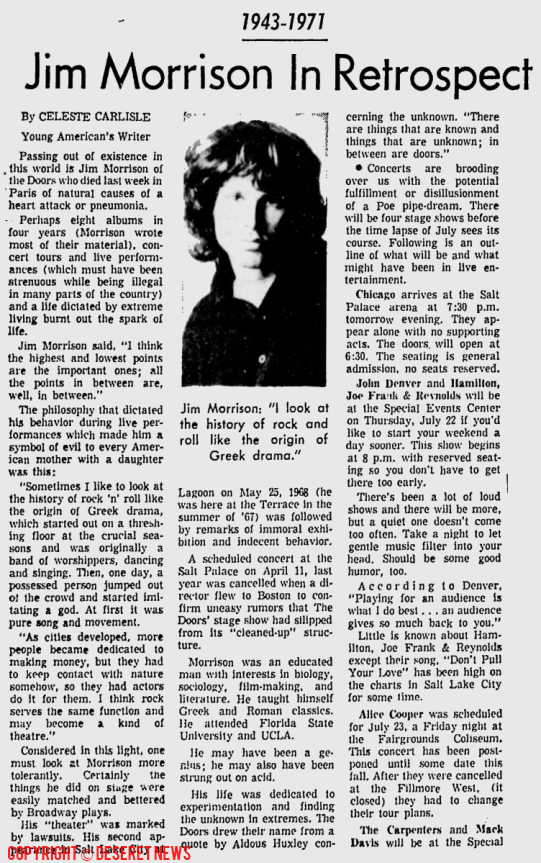 Newspaper: Oakland Tribune (Los Angeles Times)
Author: Mike Jahn
Publish Date: July 21st - 1971
Copyright © Oakland Tribune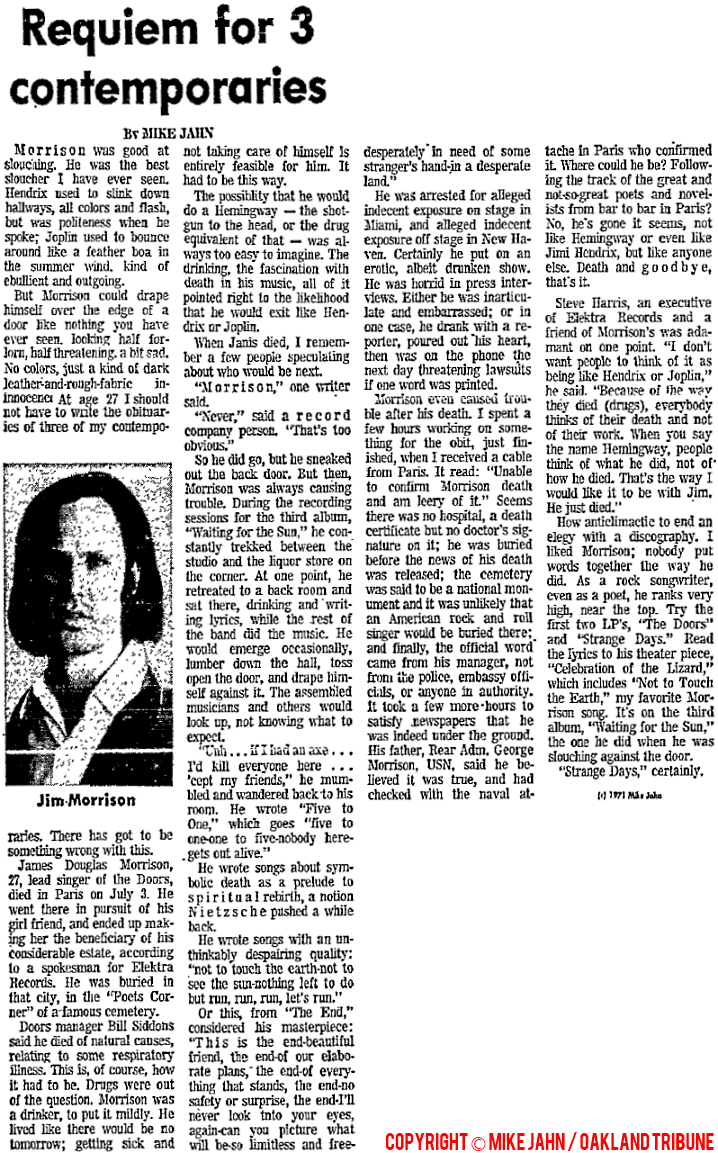 Newspaper: Charleston Gazette (Los Angeles Times)
Author: Bill Cunningham
Publish Date: November 18th - 1972
Copyright © Charleston Gazette