On The Road:
Performance History:
Recording History:
Film History:
Publication History:
Radio History:
Other History:
TRIALS & ARRESTS: LAS VEGAS
---
ARRESTED: JANUARY 28th, 1968 - 11:50pm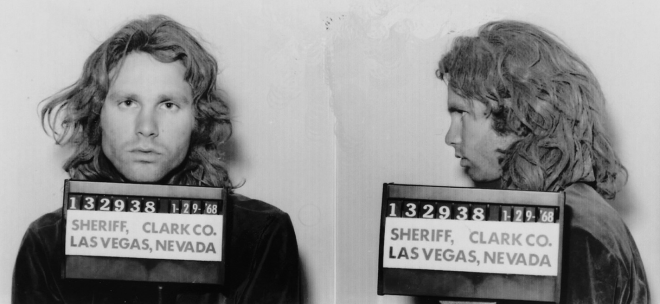 Jim Morrison's Las Vegas Mugshot - Taken During The Early Hours of January 29th, 1968
CHARGES:
Drunk In Public (Mis.)
Shortly before midnight on January 28th, 1968, Jim Morrison is arrested outside the Pussycat-A-Go-Go in Las Vegas for being drunk in public while visiting the city with author Robert Gover, who is also arrested. Prior to the arrest, Jim Morrison is said to be imitating the smoking of a joint for which he is struck over the head by a security guard from the nightclub. Following this incident, the police are then called who arrive to arrest Jim and Robert. A later police report indicates that Jim had an abrasion on the left side of his chin at the time of arrest. Further documents on the incident indicate that Jim had a total of $80.00 in his pocket at the time of arrest and no personal identification.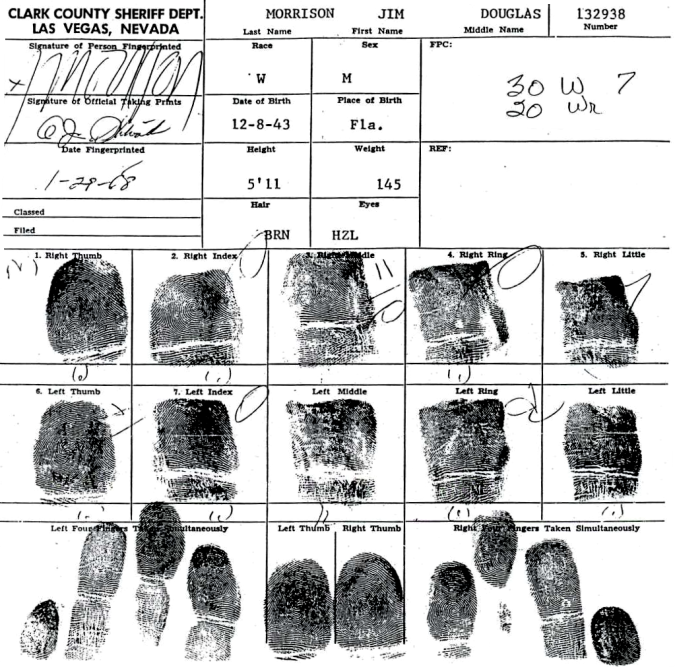 Jim Morrison's Fingerprints From The Clark County Sheriff's Department of Las Vegas