On The Road:
Performance History:
Recording History:
Film History:
Publication History:
Radio History:
Other History:
TRIALS & ARRESTS: MIAMI
---
ARRESTED: NOVEMBER 9TH, 1969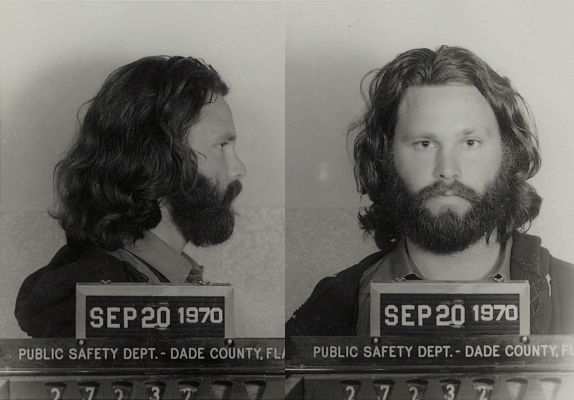 Jim Morrison's Miami Mugshot - September 20th, 1970
CHARGES:
Lewd and Lascivious Behavior In Public (Fel.) - Florida Statute 798.02
Indecent Exposure (Mis.) - Florida Statute 800.03
Open Profanity (Mis.) - Florida Statute 847.04
Public Drunkeness (Mis.) - Florida Statute 856.01
On March 1st, 1969 The Doors perform at the Miami Dinner Key Auditorium and Jim Morrison is later faced with numerous charges due to supposed incidents taking place during the show. Unaware of their future troubles with the law, Jim and The Doors board a plane the next day and head to Jamaica for a holiday. In the subsequent days while on vacation, Miami officials begin to issue warrants for Jim's arrest, and the media begins reporting the event nationwide. Jim Morrison returns to the U.S. only to learn that he is being charged with a felony and is now a wanted man in Florida.

On April 3rd, Jim turns himself in to authorities at the Los Angeles Federal Building after a second felony charge is laid against him for fleeing Miami. He waives extradition charges, and is eventually arrested on November 9th in Miami where he is released 20 minutes later on bond. All official documents pertaining to the trial and arrest indicate that Jim had a total of 4 charges laid against him - Lewd and Lascivious Behavior (a felony), Indecent Exposure, Open Profanity and Public Drunkeness.

On August 10th, 1970 the trial officially begins at the Dade County Courthouse as Case No. 69-2355 "State Of Florida vs. James Douglas Morrison". Max Fink is selected as Jim's defense lawyer for the case along with local attorney Robert Josefsberg. From August to October of 1970, details on Jim Morrison's trial are given national attention and the trial is looked upon as a farce by Jim, the band members, and legal attorneys on both sides of the case. Despite their opinions, Judge Murray Goodman is determined to make an example out of Jim for political and financial reasons, and all efforts are made to convict him. On September 20th, Jim is convicted with Open Profanity and Indecent Exposure, with the right to appeal, and given a 6 month prison sentence and $500 fine. He is released on bond pending his appeal, and states that he intends to appeal the case for as long as it takes. In February of 1971, Jim is residing in Paris where French law indicates that he cannot legally be extradited back to the U.S. to face the charges. He never returns from Paris.


COMPLAINANT:

Robert Jennings (Asst. State Attorney)



ARRESTING OFFICERS:

Sgt. Jim Cox
Ted Seaman



JUDGE:

Hon. Murray Goodman



ATTORNEYS:

Max Fink (Defendant)
Robert Josefsberg (Defendant)
Terrence McWilliams (Prosecutor)
Leonard Rivkind (Prosecutor)



JURY:

Karl Beidi (Mechanic)
William Bowen (Art Teacher)
John Cone (Machinery Operator)
Herbert Franks (Tile Setter)
Elaine Hemperly (Housewife)
Audrey Tompkins (Housewife)



PROSECUTORS WITNESSES:

Colleen Clary (Audience Member)
Karl Huffstutlear (Audience Member)
Robert Jennings (Audience Member)
Larry Pizzi (Audience Member)
Betty Racine (Police Officer)
Jeff Simon (Photographer)
James Wood (Audience Member)



DEFENDANTS WITNESSES:

John Densmore
Robby Krieger
David LeVine (Photographer)
Ray Manzarek
Jim Morrison



PHOTOGRAPHERS:

Sal Crisanti (Miami News)
Sam Feinsilver
David LeVine (Freelance)
Bruce MacCallum (Miami Hurricane)
John Pineda (Miami Herald)
Bill Sanders (Miami Herald)
David Sobel (ROCK Magazine)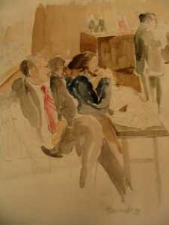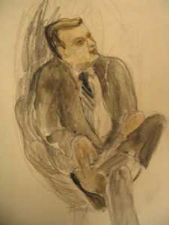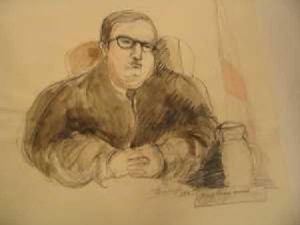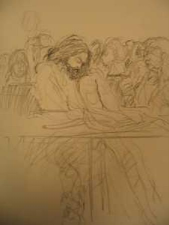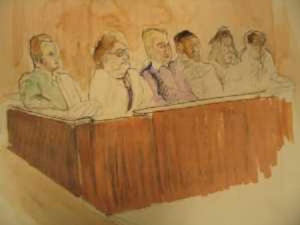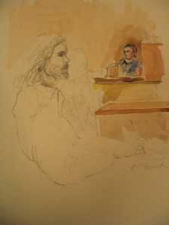 Original Trial Sketches Feature Robert Josefsberg & Jim Morrison, Max Fink, and Judge Murray Goodman - Unknown Artist
---
TIMELINE: 1969
MARCH 1
- The Doors perform for a beyond capacity crowd at the Dinner Key Auditorium in Miami. The venue is overheated due to lack of air conditioning, Jim Morrison is drinking, and The Doors are late going onstage. During the performance a live animal named 'Sunshine' (a lamb) is handed to Jim by Lewis Marvin aka Moonfire, in which he states "I'd fuck her but she's too young". In straying from his performance as a singer, Jim stirs up the crowd by telling them they are "all a bunch of fucking idiots!" and encourages them to 'love' their friends and neighbors with a statement that there are "no limits and no laws". He later threatens to reveal his male organ to the audience and imitates doing so. Before the show is over the band is forced to leave the stage due to audience members crowding the instruments and equipment. A police officer whose hat was thrown into the crowd by Jim is reimbursed in the dressing room following the show. A recording of the performance is made by a youth in the audience, and multiple photographers are present including Edgar Bernstein, David LeVine and Jeff Simon. No arrests are made during or after the show.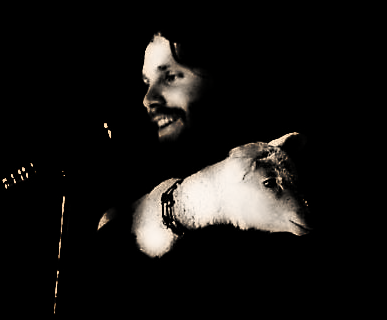 Jim Morrison and Moonfire's Lamb 'Sunshine' - Photograph By David LeVine
MARCH 2
- The Doors board a plane and fly to Jamaica for a vacation, unaware of impending troubles with the law.
MARCH 3
- In the first media report that trouble with the law has arisen from the Miami show, the Miami Herald reports that acting Police Chief Paul Denham has stated "I've issued orders that as soon as we can find a policeman that witnessed it that we will take out a warrant for Jim Morrison."
MARCH 4
- An FBI report indicates that a captain of the police department has found sufficient evidence to lay a misdemeanor charge against Jim Morrison and is continuing an investigation in hopes of charging Jim with a felony.
MARCH 5
- Warrants are taken out for Jim Morrison after 20 year old Robert Jennings from the Dade State Attorney's Office signs the complaint against Jim Morrison.
- Acting police chief Paul Denham states in a press conference that warrants for are taken out for Jim Morrison and that delays had taken place in the acquisition of recordings and photographic evidence of the performance. Judge Edward Kline signs the warrants, and bond is set at $2,500 for the felony and another $2,500 for the City Of Miami's misdemeanor charges.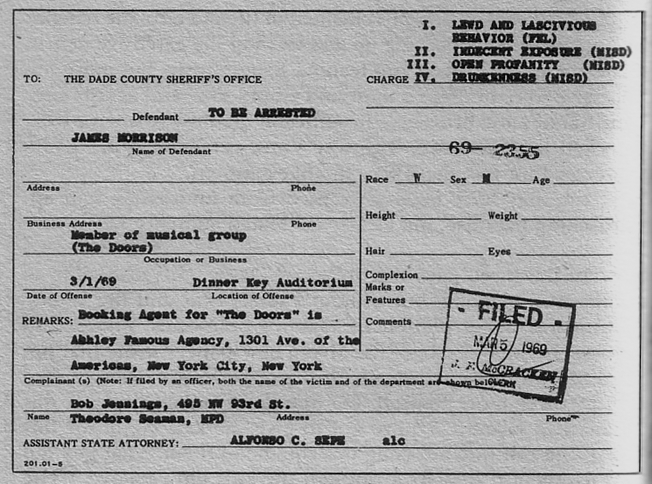 Four Warrants Are Taken Out for Jim Morrison's Arrest
MARCH 6
- Newspapers begin reporting on the warrants that have been issued for Jim Morrison's arrest, stating that further charges may be laid, and that authorities do not know the current whereabouts of the band members.
- An internal memo at the U.S. Department of Justice indicates that the maximum prison sentence would be 3 years, 150 days in the Raiford State Penitentiary.
MARCH 9
- The Doors are scheduled to perform in Jacksonville, FL. on this date, however the show is ordered cancelled by Mayor Hans Tanzler and is the first of many concerts that will no longer take place due to the Miami incident.
MARCH 11
- Art Grace, a reporter for the Miami News who was in attendance at the Miami show blasts the media and public in an article for the public condemnation of The Doors and and Jim Morrison's performance at Dinnery Key Auditorium. He states that there was no riot, the 'exposure' was a bore and that if Jim did show himself to the audience, the venue was much too large for 90% of the audience to have even seen it.
MARCH 20
- Regarding The Doors and other bands, an unidentified member of the FBI writes a confidential letter to J. Edgar Hoover concerning "such trash". J. Edgar Hoover responds to the letter on March 26th, agreeing with the author.
MARCH 23
- In lieu of The Doors performance, a rally for decency is staged at the Orange Bowl in Miami, attracting 35,000 and features musical performances and appearances by Jackie Gleason, Anita Bryant and Ted Mack. The event sparks a series of decency rallies across the United States.
MARCH 24
- A letter from Richard Nixon is written to Mike Levesque regarding the decency rally of the day before, congratulating him on his initiative to stage the event.
MARCH 27
- A federal warrant charging Jim Morrison with Unlawful Flight to Avoid Prosecution (UFAP) is filed in Miami, prompting Jim Morrison to turn himself in. The charge would not have withstood the defense as no charges had been laid at the time of the band's departure from the state of Florida. Nonetheless, Max Fink petitions of the state of California in a fight against the extradition, arguing that the statutes of Florida are vague and outdated and an unfair trial is likely to be received in turn.
APRIL 3
- Following his filming of HWY in the days prior, Jim Morrison, accompanied by Max Fink, turns himself in to authorities at the Los Angeles Federal Building. He is later released on bonds totalling $5,000.
APRIL 4
- Jim Morrison's warrants are to be forwarded to Sgt. James D. Price at the Los Angeles Sheriff's Office. Jim is not to be pursued by authorities unless instructed to do so.
APRIL 14
- Jim Morrison is scheduled for a hearing on this date. He is arraigned, and waives extradition to Florida. Upon arrival he is filmed and photographed by the local press.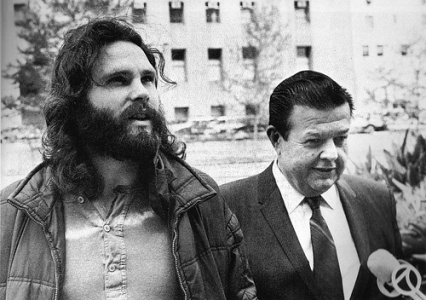 Jim Morrison and Max Fink Are Greeted By The Press - Unknown Photographer
APRIL 28
- The Doors perform and record music for PBS Critique at PBS Studios on this date.
APRIL 29
- Assistant U.S. Attorney Michael J. Osman denies prosecution of Jim Morrison on federal charges of Unlawful Flight to Avoid Prosecution and recommends that the charges be dismissed due to Jim turning himself in on April 3rd. The charges are officially dismissed on May 1st.
- The Doors record an interview with Richard Goldstein for PBS Critique on this date. No questions are asked about Miami and the performance is not mentioned.
May 1
- Federal charges against Jim Morrison for Unlawful Flight To Avoid Prosecution are officially dropped on this date and Jim is no longer a fugitive. The specified date of dismissal of these charges is April 29th.
May 25
- The Doors PBS Critique special broadcasts on WNET Channel 13 in New York. This is the first opportunity the public has had to see the band since the Miami show.
JUNE 14
- Between performances at the Chicago Auditorium Theatre, James Spurlock is granted an interview with Jim by press agent Leon Barnard where he is instructed not to ask questions about Miami. During this time period before the trial starts, all interviewers receive the same instructions. These are The Doors first performances in front of a live audience since the Miami show.
NOVEMBER 7
- Jim Morrison's attorneys appear in court on this date to insure that Jim will be released on bond when he surrenders. Judge Murray Goodman sets the bond at $5,000.
NOVEMBER 9
- Jim Morrison arrives in Miami and turns himself in to the Dade County Public Safety Department. He is arrested at 9:50pm. He pleads not guilty and is released 20 minutes later on a $5,000 bond. The case is then adjourned until April 27th, 1970.
NOVEMBER 11
- Jim Morrison and Tom Baker are arrested in Phoenix, AZ.
1970
FEBRUARY 27
- An article is published in a local Miami newspaper on this date requesting witnesses for Jim's defense. Those who may be able to explain what really happened at the show are asked to contact the newspaper and come forward. The plea for witnesses is printed on behalf of Max Fink's associate attorney David C. Tardiff.
APRIL 27
- Jim Morrison is scheduled to begin trial on this date but it is reported that the trial is delayed 4 times before officially beginning on August 10th.
JUNE 9
- Max Fink files a motion that Jim Morrison's case be dropped based on grounds that Jim Morrison's conduct is outside their jurisdiction. The motion is rejected.
JUNE 27
- Jim Morrison and press agent Leon Barnard arrive in Paris, France and remain in Europe until late July. Jim Morrison later indicates that this time is used to prepare for the trial.
AUGUST 3
- The trial is originally set to begin on this date at 9:00AM but is rescheduled to August 10th.
AUGUST 6
- Jim Morrison is arrested in West Hollywood, CA.
AUGUST 7
- Jim Morrison is scheduled to appear in Hollywood on this date for the misdeamnor charge of the previous morning.
AUGUST 8
- Jim Morrison arrives in Miami in the evening.
THE STATE OF FLORIDA VS. JAMES DOUGLAS MORRISON
AUGUST 10
- This is the first day of the Miami trial, and Jim Morrison arrives at the Dade County Courthouse at approximately 10am. He is in company of The Doors, Babe Hill, and legal attorneys Max Fink, David Tardiff and Robert Josefsberg. Television reporters, photographers, teenagers and fans gather at the courthouse to witness the event. Max Fink and Robert Josefsberg have been selected to represent Jim in case No. 69-2355 "The State Of Florida vs. James Douglas Morrison", stating that they expect the trial to last 6 to 10 weeks. Due to an overbooked docket, the trial is once again delayed until August 12th.
- Prior to the start of the trial, Max Fink seeks permission to show half a dozen films to the court, including "I Am Curious, Yellow", and informs Judge Murray Goodman that he won't even bother mentioning X-rated films. He also declares that "We have to accept the generation gap. People like Morrison's group, The Doors, are protesting the problems created by their forebears." and that he will base Jim Morrison's defense on Freedom of Expression.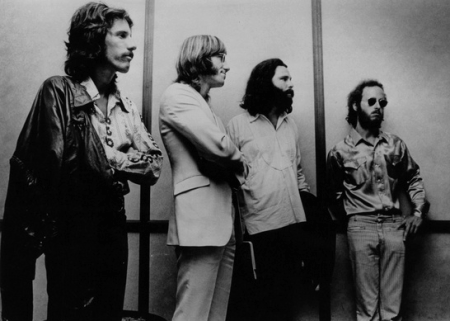 Jim Morrison and The Doors at the Dade County Courthouse - Miami Herald Staff Photographer
AUGUST 12
- The trial resumes at approximately 1:00pm on this date and jury selection begins.
- A local television crew for WTVJ interviews Jim Morrison at the courthouse in which he discusses nudity, and complete freedom of expression for a performer.
AUGUST 14
- Jury selection is now complete. Six local citizens, consisting of four men and two women, are chosen as members - Karl Beidi, William Bowen, John Cone, Herbert Franks, Elaine Hemperly, and Audrey Tompkins.
- Jim Morrison attends a performance by Creedence Clearwater Revival later this evening, followed by an appearance and an unscheduled performance with Canned Heat at The Marco Polo Hotel in a lounge known as The Hump. Miami Herald photographers are watching Jim Morrison during this time period due to the trial and capture photographs of him performing with Canned Heat.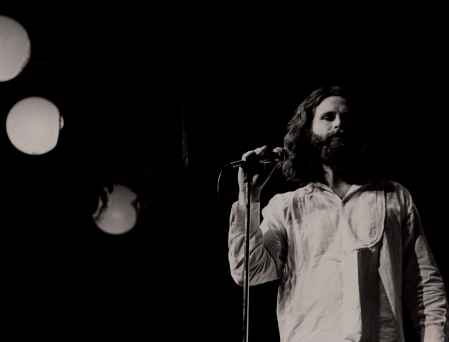 Jim Morrison Performs With Canned Heat - Photograph By Mario Castellanos, Miami Herald Staff
AUGUST 17
- On the morning of this trial session, 17 year old prosecutors witness Colleen Clary testifies that Jim Morrison had dropped his pants. Following a lunch break, her boyfriend Karl Huffstutlear and her mother also testify that Jim had exposed himself. Colleen and her mother are captured on film as they enter the courtroom. In his defense, Jim's attorneys point out that the testimonies are largely inconsistent with statements given prior to the trial.
- Max Fink requests that events such as Woodstock be admitted to the trial as evidence for a judgement based on 'community standards'.
AUGUST 19
- Police Officer Betty Racine testifies on this date that Jim Morrison had dropped his pants. Previous statements from the officer indicate that she heard or saw nothing of the sort.
- Photographer Jeff Simon presents over 100 photographs from the performance in Miami but testifies that Jim Morrison did not expose himself. Jeff indicates that he was mere feet away from the stage and clearly witnessed the events that took place. He is the prosecutors witness.
- Admission of evidence is denied to the defense for judgement based on 'community standards'. Judge Murray Goodman states in a written order that "no books or periodicals will be admitted, no motion pictures or stage plays will be viewed by the jury. The court finds that such evidence would be irrelevant to the offenses charged." Max Fink argues a motion to set aside the order, stating that "To exclude evidence concerning community standards in regards to words we freely admit we used, to exclude expert testimony concerning effect of these words on the audience in this day and age, would be a denial of a fair trial." Judge Goodman denies the motion with no further comment and forbids the defense to present selected psychiatrists and educators for testimony.
AUGUST 20
- Robert Jennings, the assistant for the State Attorney's Office who originally signed the complaint against Jim Morrison for the State Of Florida testifies on this date as a witness to the performance. Defense attorney Max Fink finds many inconsistencies with the testimony, and Robert's friend James Wood is then called to the stand. James Wood testifies that he did not see any exposures or simulated sex acts by Jim Morrison.
AUGUST 21
- The Doors perform in Bakersfield. Jim Morrison is interviewed backstage by a local television crew, discussing his views on freedom for an artist to perform, and his hope that the trial will be over before an upcoming European tour.
AUGUST 22
- The Doors perform in San Diego.
AUGUST 25
- A police officer testifies that no arrest was made during the performance in Miami due to fear of a riot from the audience. Defense attorney Max Fink argues that an arrest could have been made following the show but was not, and concludes that police were pressured into filing charges due to extensive media reporting.
AUGUST 27
- A recording of the Miami performance is played before the courts on this date. Copies of this recording have survived to the present date and are known to collectors.
AUGUST 29
- The Doors perform at the Isle Of Wight Festival but are forced to return to the U.S. and cancel a scheduled European tour due to the obligations of the Miami trial.
SEPTEMBER 2
- The prosecutions final witness takes the stand at the start of this session and indicates that he was photographing the performance from the balcony above and that Jim Morrison had exposed himself. When asked why no photograph was taken of the exposure, he indicates that he did not want to get into trouble for taking an 'obscene' photo.
- The defense begins presenting witnesses to the court and photographer David LeVine is the first to give his testimony. He indicates that 36 photographs were taken on the night of the performance with approx. 10 that are not out of focus. He is later instructed to simulate masturbatory movements made by Jim Morrison on the night of the show, which he does, and it has been reported that Jim Morrison had a smirk on his face during this portion of David's testimony.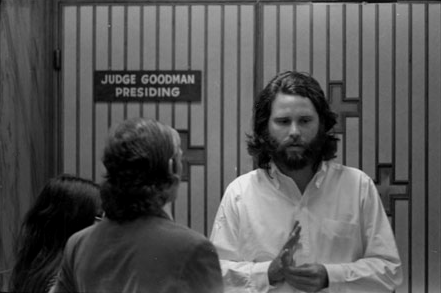 Jim Morrison at the Dade County Courthouse - Photograph By David LeVine
SEPTEMBER 3
- At the end of the proceedings on this date, an eleven day recess is called to the trial. The Doors are aggravated by the recess due to the cancellation of a European tour in having to comply with the obligations of the trial.
SEPTEMBER 4
- Jim Morrison, Max Fink, Frank Lisciandro and Babe Hill use the recess to venture off on a fishing trip in the Bahamas. Frank Lisciandro has his camera on hand and snaps a few photos of the group.
Babe Hill, Jim Morrison and Max Fink - Photograph By Frank Lisciandro
SEPTEMBER 12
- Jim Morrison attends an Elvis Presley concert in Miami on this date.
SEPTEMBER 14
- The defense resumes calling witnesses to testify in the trial. John Densmore, Robby Krieger and Ray Manzarek give their testimonies prior to Jim Morrison, answering questions about the nature of The Doors performances and the view they had of Jim from their stage positions. All three testimonies are highly inconclusive and do not offer evidence against Jim Morrison.
SEPTEMBER 16
- Jim Morrison's testimony begins on this date. Max Fink questions Jim on his travel schedule on the day of the performance, the nature of the audience that night, and Moonfire's lamb. He is also asked questions about the design of his leather pants. The trial is recessed and Jim Morrison's testimony resumes the following day.
SEPTEMBER 17
- Max Fink resumes his examination of Jim Morrison on this date. He is then cross-examined by prosecutor Terry McWilliams, answering questions on such matters as "do your cowhide pants have pockets?" and "did you pour the contents of a glass bottle onto someone's head?" in which Jim replies that yes, he did pour a bottle of champagne over an audience members head and that they seemed to enjoy it. He answers the question as to wether or not he revealed any male organs during the show, stating that he did not. He also indicates that he was wearing boxer shorts underneath his leather pants, something he normally does not do. While being questioned about his admiration of Robby Krieger's guitar playing from his knees, he tells the court that Robby "gets better all the time". Max Fink then resumes asking questions to Jim on such matters as the oversale of tickets to the show by concert promoters and his lack of control of it.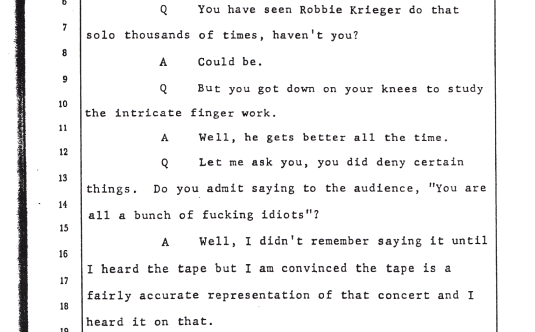 An Excerpt From Jim Morrison's Testimony of September 17th, 1970
SEPTEMBER 19
- The defense offers their closing statements for the trial and the jury begins deliberation. An hour and a half meeting then takes place between Judge Murray Goodman and attorneys Max Fink, Robert Josefsberg and Terrence McWilliams where Jim Morrison's bond is raised from $5,000 to $50,000.
SEPTEMBER 20
- Jim Morrison is convicted of Indecent Exposure and Open Profanity on this date and escorted to the Dade County Jail by local officers at approx. 12:00pm. He is later released on a $50,000 bond and sentencing is scheduled for October 23rd. He is found not guilty of the felony Lewd And Lascivious Behavior, and Public Drunkeness. Photographers and television crews are present for this event.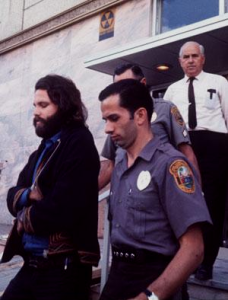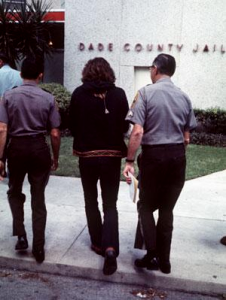 Jim Morrison Is Convicted - Photographs By John Pineda, Miami Herald Staff
SEPTEMBER 21
- Newspapers all over the country begin reporting on Jim Morrison's arrest and conviction of the previous day.
SEPTEMBER 23
- Jim Morrison and Babe Hill are arrested in Clearwater, FL.
SEPTEMBER 24
- A letter from Probation Supervisor Robert Disher is written to Jim Morrison's father Admiral Morrison on this date requesting comment on his son. Admiral Morrison replies to this letter on October 2nd.
SEPTEMBER 27
- A journalist covering the trial for ROCK Magazine publishes an article on this date concerning the matters taking place in Miami. Titled 'Apathy For The Devil', the article is accompanied by a photo of Jim Morrison taken by David Sobel, and strongly ridicules the behavior of the prosecutors witnesses and legal attorneys.
OCTOBER 2
- Jim Morrison's father replies to a letter written by Probation Supervisor Robert Disher, indicating that while had not seen Jim in 5 years, his son was an excellent student, and an intellectual rebel who had always obeyed and respected authority. He blames his lack of communication with Jim partly on himself due to some criticism he had given Jim for pursuing a career as a singer. He continues to explain that he is proud of his son and believes his performance in Miami was not in character.
OCTOBER 9
- Having returned to California, Jim Morrison is working at The Doors office on this date. He responds to a letter from T.E. Breitenbach requesting a triptych be painted with specific scenery for an upcoming poetry album. (See the letters and triptych in our Showcase feature.)
OCTOBER 13
- Jim Morrison is interviewed by Salli Stevenson for CIRCUS Magazine at The Doors office. He tells Salli that he will be admitting to the charge of Open Profanity but will be appealing Indecent Exposure. He also explains that the profanity charge could easily be done away with due to the First Amendment guaranteeing total freedom of expression during a theatrical performance, meaning that the charge is unconstitutional to begin with. Jim also reveals his plan to appeal the charges for as long as it takes for them to be dropped in order to rid him of his pending prison sentence. Photographer Kurt Ingham is also present during this interview, occasionally offering his own questions and comments.
OCTOBER 23
- The sentencing scheduled for this date has been moved to October 30th.
OCTOBER 30
- Judge Murray Goodman lectures Jim Morrison on his responsibilities before announcing his sentence of six months in jail and a $500 fine for Indecent Exposure and Open Profanity. He remains free on his $50,000 bond pending his appeal. Various photographers and television crews are present at the courthouse on this date.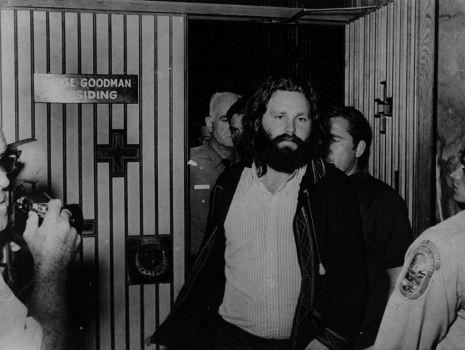 Jim Morrison Leaves the Courtroom Following Sentencing - Photograph By Bill Sanders, Miami Herald Staff
1971
FEBRUARY
- Jim Morrison leaves for Paris and will avoid the sentencing given to him in Miami. French law states that he cannot be extradited back to Florida for misdemeanor charges. He never returns to the U.S.