On The Road:
Performance History:
Recording History:
Film History:
Publication History:
Radio History:
Other History:
TRIALS & ARRESTS: NEW HAVEN
---
ARRESTED: DECEMBER 9th, 1967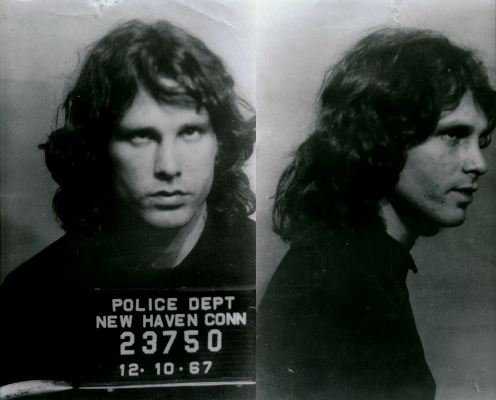 Jim Morrison's New Haven Mugshot - Taken During The Early Hours of December 10th, 1967
CHARGES:
Lewd And Obscene Performance (Mis.)
Breach Of Peace (Mis.)
Resisting Arrest (Mis.)
During The Doors performance in New Haven on December 9th 1967, Jim Morrison is arrested on-stage and charged with Lewd & Obscene Performance, Breach Of Peace, and Resisting Arrest. Reporters and associates of LIFE magazine are also taken into custody, and concert-goers later arrive at police headquarters to protest, only to be arrested. A color 8mm film shot by an audience member captures the on-stage arrest in its entirety, indicating a heated situation between Jim and the local law enforcement at the venue.

It is later revealed that Jim Morrison is maced backstage by an officer prior to the show, resulting in the mockery and embarassment of authorities onstage. The performance was originally to be cancelled following the macing, however in fear of a riot by audience members, authorities allow the show to go on. During Jim Morrison's protest of his treatment backstage, it is announced by Lt. Kelly of the New Haven Police Dept. that the show is over. Refusing to comply, Jim is then arrested.

Jim is released on a $1,500 bond, and later reports on his arrest state that he will be fined $25.00 for Breach Of Peace, but Nolle Prosequi on the other two charges (no prosecution). Jim Morrison is scheduled to appear on January 16th, 1968 but does not make the date, forfeiting his bond. He chooses never to return to Connecticut.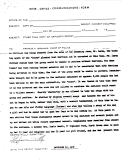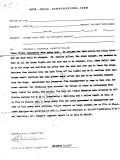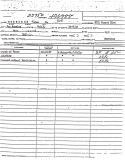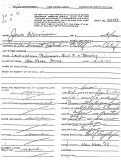 > See our New Haven concert info page for magazine and newspaper articles concerning the arrest, or click on the thumbnails above to see files from the police report!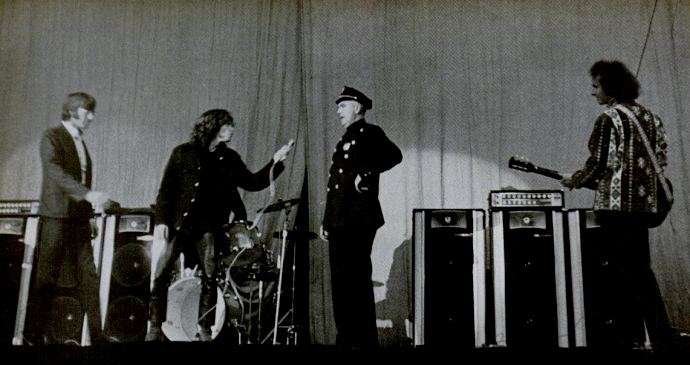 Jim Morrison and Lt. Kelly Onstage in New Haven - Photograph By Tim Page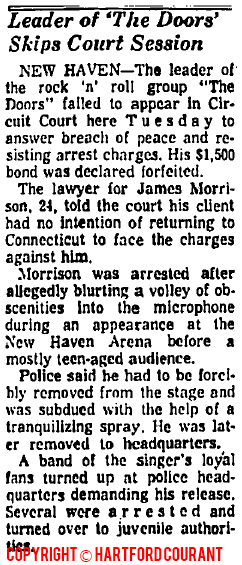 Jim Morrison Fails To Appear In Court - Hartford Courant, January 17th, 1968