On The Road:
Performance History:
Recording History:
Film History:
Publication History:
Radio History:
Other History:
TRIALS & ARRESTS: SAN BERNARDINO
---
CASE NO. 148686
On July 4th 1967, The Doors perform at the Kaiser Dome in San Bernardino. While no one was arrested during this performance or afterwards, The Doors and KMEN/Radio Associates Inc. are later sued by the mother of audience member June Johnson for a physical injury caused by Jim Morrison during the show. The plaintiff alleges the band and KMEN are responsible for a stage light coming into contact with the audience member, a minor, causing harm and possibly permanent physical and emotional damages. Legal documents pertaining to the incident reveal that the band was sued for $25,000, the presumed cost in medical care for the attendee, plus special damages with proof.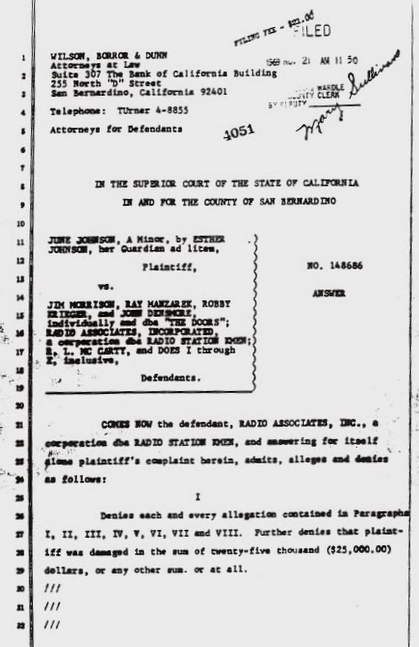 A Sample From The Kaiser Dome Lawsuit Documentation