Venue Address: UCLA Campus - Le Conte Ave & Westwood Blvd - Westwood, CA


Promotion: UCLA Committee of Fine Arts Production / Department of Theater Arts
Event: Op, Pop & Kicky Flicks (Student Film Screenings)

Also Performing:
N/A

Setlist:
(Instrumental)

Recordings / Film:
Unavailable

Photographers:
Unavailable

Reviews / Info:
-8:00pm scheduled start time.
-The Doors perform during a screening of Ray Manzarek's 'Who And Where I Live' at a UCLA student film showcase event.
-There is a possibility that The Doors performed during any of the scheduled screening events on December 10th, 11th, 17th, 18th and 19th.


ARCHIVE/MEMORABILIA:
---
PROGRAM:
Inside:
Contributed By:
jim4371
TYPE AD: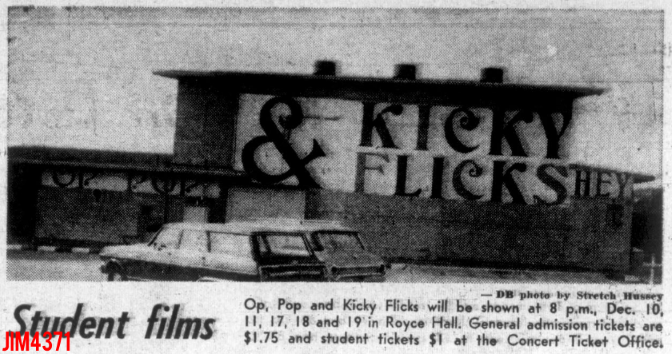 Contributed By: jim4371
---