Venue Address: 1805 Geary St. - San Francisco, CA


Promotion: Bill Graham Presents
Event: In Concert

Also Performing:
Grateful Dead
Junior Wells Chicago Blues Band
Immediate Family (Auditioning)

Setlist:
(Unknown)

Recordings / Film:
Unavailable

Photographers:
Unavailable

Reviews / Info:
-9:00pm scheduled start time.
-Promotional artwork by Wes Wilson (Poster; Handbill;)
-The Doors headline one of these performances after a no-show by the Grateful Dead.
-The Immediate Family perform one audition for Bill Graham on the night the Grateful Dead are missing.


ARCHIVE/MEMORABILIA:
---
TYPE AD #1: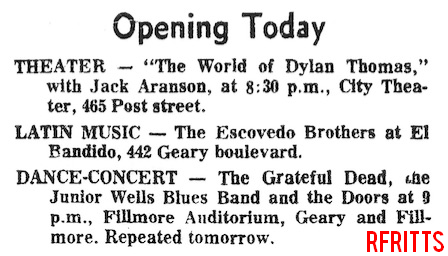 Contributed By: RFritts
TYPE AD #2:

Contributed By: RFritts
---