Venue Address: 568 Sacramento St. - San Francisco, CA


Promotion: The Whisky A Go-Go
Event: In Concert

Also Performing:
The Peanut Butter Conspiracy
Kathy Holland (Go-Go Dancer)

Setlist:
(Unknown)

Recordings / Film:
Unavailable

Photographers:
Unavailable

Reviews / Info:
-8:00pm scheduled start time.
-Promotional artwork printed by 'Double-H Press'.
-This performance features popular Go-Go dancer Kathy Holland.
-Lights by 'Love Conspiracy Commune'.
-This is not the famous Whisky A Go Go venue located in Los Angeles.
-The Doors perform at this venue again the following night.
-The Doors do not perform on Valentine's Day again until 1970.


ARCHIVE/MEMORABILIA:
---
ARTICLE:
Newspaper:
San Francisco Chronicle
Author:
Unknown
Publish Date:
February 11th - 1967
Copyright © San Francisco Chronicle

PRINT AD: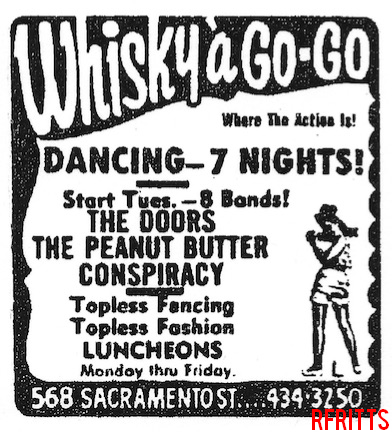 Contributed By: RFritts
HANDBILL:
Contributed by:
BallroomDays67
---