Venue Address: 3138 Fillmore St. - San Francisco, CA


Promotion: Peter Abram/Gary Jackson
Event: Venue Exclusive

Also Performing:
Larry Vargo

Setlist:

1st Set
(Unknown)

2nd Set
(Unknown)

3rd Set
(Unknown)

Recordings / Film:
Unavailable
Photographers:
Unavailable
Reviews / Info:
-The Doors give their second set of performances at The Matrix in San Francisco.
-Promotional artwork by Victor Moscoso (Poster).
-9:30pm to 2:00am scheduled performance window.
-Minors are welcome at these shows.
-Approx. 100 in attendance at tables and chairs.
-Performances on this date are not recorded by club owner Peter Abram.
-Setlists are likely similar to the previous night's performances.
-The exact number of performances given on this night are unknown.
-Photographs from these shows have never surfaced.
ARCHIVE/MEMORABILIA:
---
TYPE AD:

Contributed by: jim4371
PRINT AD: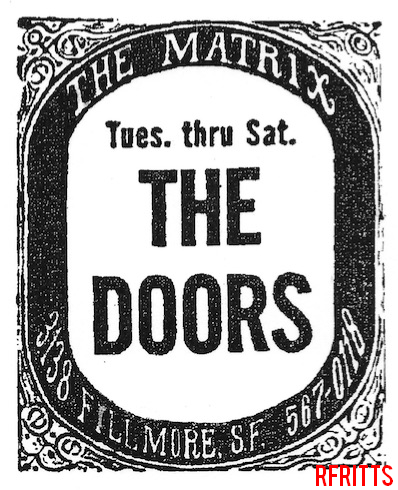 Contributed By: RFritts
---