Venue Address: 3138 Fillmore St. - San Francisco, CA


Promotion: Peter Abram/Gary Jackson
Event: Venue Exclusive

Also Performing:
Larry Vargo

Setlist:

1st Set
My Eyes Have Seen You
Soul Kitchen
I Can't See Your Face In My Mind
People Are Strange
When The Music's Over
-Confusion


2nd Set
Money
Who Do You Love
Moonlight Drive
-Fishes For Your Friends
Summer's Almost Gone
I'm A King Bee (Ray On Vocals)
Gloria
-Meet Me In The Graveyard
Break On Through
Summertime (Instrumental)
Back Door Man
-I've Got The Right
Alabama Song

Recordings / Film:
Professional Stage Recording
Photographers:
Unavailable
Reviews / Info:
-The Doors give their fourth set of performances at The Matrix in San Francisco.
-Promotional artwork by Victor Moscoso (Poster).
-9:30pm to 2:00am scheduled performance window.
-Minors are welcome at these shows.
-Approx. 100 in attendance at tables and chairs.
-The exact number of performances given on this night are unknown.
-Two of The Doors sets are recorded using the tapes from the previous nights performances.
-These shows produce the only known live recording of 'Summer's Almost Gone'.
-Photographs from these shows have never surfaced.
ARCHIVE/MEMORABILIA:
---
TYPE AD:

Contributed by: jim4371
PRINT AD: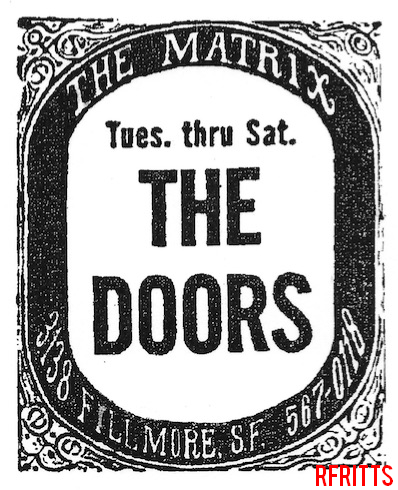 Contributed By: RFritts
---