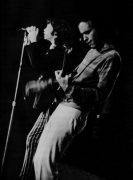 Venue Address: 105 2nd Ave. - New York, NY


Promotion: Sid Bernstein & Fred Weintraub/WOR
Event: WOR-FM's First Anniversary Show


Also Performing:
Janis Ian
The Blues Project
The Chambers Brothers
Richie Havens
Jeremy and the Satyrs

WOR-FM Personalities:
Jim Lounsbury
Johnny Michaels
Scott Muni
Murray The K
Rosko Mercer

Setlist:

Early Show
Alabama Song
(Incomplete)

Late Show
When The Music's Over
(Incomplete)

Recordings / Film:
16mm Stage Film
Photographers:
David Hoff
Reviews / Info:
-These are Bill Siddons first performances as road manager.
-These performances are heavily advertised by WOR radio (98.7FM) for their 1st anniversary celebration.
-7:00pm & 9:45pm scheduled start times.
-Concert announcers include Rosko Mercer, Murray The K, and other radio personalities from WOR.
-Approx. 2,700 in attendance during both performances.
-The Doors are the highlight of the evening and reviews are positive.
-The Doors perform at the Village Theatre again on September 9th, 1967.
-Bill Graham re-opens this venue as the Fillmore East on March 8th, 1968.
16MM COLOR FILM
---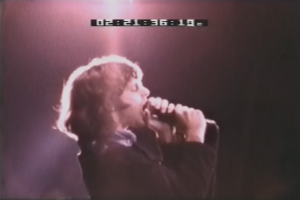 Info:
Following performances at Tamalpais Mountain Theater and the Fillmore Auditorium on the previous day, The Doors travel to New York for two more shows at the Village Theatre, later known as the Fillmore East. This 16mm color footage is shot on and around the stage during at least one of the two shows given that night at the venue. While the footage is of excellent quality, it does not feature sound.




ARCHIVE/MEMORABILIA:
---
ARTICLE:
Newspaper:
Unknown
Author:
Unknown
Publish Date:
Unknown - 1967
Copyright © Unknown

Contributed By: RFritts
PRINT AD #1:

Contributed By: TWarden

< Click Here to See Inside!

PRINT AD #2: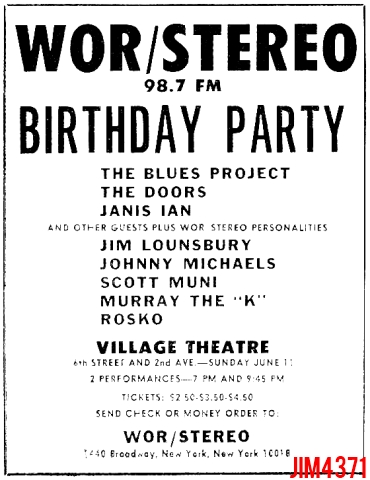 Contributed By:
jim4371
---