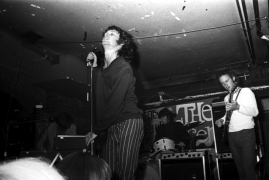 Venue Address: 301 W. 46th St. - New York, NY


Promotion: Steve Paul
Event: Venue Exclusive

Also Performing:
The Free Spirits
Dianne Brooks
Eric Mercury & The Soul Searchers
Tiny Tim

Setlist (Typical):
House Announcer (Steve Paul)
Break On Through
Back Door Man
Alabama Song
When The Music's Over
Light My Fire
The End
-I'm A Man
-Coda Queen

Recordings / Film:
Unavailable

Photographers:
Colin Beard - Click HERE to see these photographs!
David Hoff

Reviews / Info:
-The Doors are hired to perform at Steve Paul's 'The Scene' throughout the month of June.
-Setlists during these performances likely include Self-Titled and Strange Days album tracks.
-Jim Morrison experiments with improvised poetry during longer songs.
-The Doors perform on the 'Clay Cole Show' on June 13th.
-Jimi Hendrix attends The Doors performance on June 14th.
-The Doors perform on 'Disc-O-Teen' on June 15th.


COLIN BEARD PHOTOGRAPHY:
---
"Lilian wanted us to go to the 'The Scene' disco that was the all the rage in New York, particularly for those involved in the Pop scene. She also wanted me to meet a female 'Pop' photographer called Lyn Eastman. Lilian thought that Lyn and I, both being photographers, both involved in the Pop scene were bound to hit it off so she made a date for us to meet at the disco. On the way to 'The Scene' with Lily and Lilian, I learned that Lyn Eastman was the daughter of George Eastman, the Eastman-Kodak magnate which for some reason made me feel anxious. Perhaps it wasn't so surprising - I was on my way to a blind date with a girl who was not only conspicuous as a photographer in the biggest arena of all, but she possessed a family name that was synonymous with photography.
Lyn was already at the disco when we arrived, surrounded by friends or contacts, chattering breathlessly, hailing familiar people across the darkly lit floor. Lilian introduced me as "Australia's leading Pop photographer - been in London for four months - photographed absolutely every body, darling - 'The Stones', 'The Who'. Absolutely brilliant, darling - you two should have lots in common."
Lyn was a tall girl with a pale complexion and a thatch of blonde hair tied back like a bale of straw with a ribbon. It was noisy in the Disco, records playing full volume with boosted bass and people shouting ever louder to make themselves heard. It was not a good time to get to know a stranger. After the initial introduction, she barely looked at me again. I watched her eyes dart excitedly from person to person and her red painted lips like a caricatured puppet chatter silently and it all felt like an hallucination. I wandered off. I lost myself amid the bubbling disco lights and watched the people dancing.
Suddenly, the music stopped and the babbling voices seemed to dissolve into an unnatural silence which I initially suspected was the effects of the cannabis smoke that hovered pungently around my nose. There was an announcement over the PA system, but it made little sense to me but I noticed that clusters of people were sidling across the dance floor and sitting cross-legged in front of the low stage.
The lights went down until it was almost pitch black but I could make out dark shapes shuffle onto the stage. "Ladies and gentlemen - The Scene presents - the latest New York sensation - The Doors!". The shriek of the electric guitars pierced the darkness, bringing with it flashes of vibrant blue light. A lithe figure towered over me his snake-like hips strangely twisted and wrapped around the microphone stand:
You know that it would be untrue,
You know that I would be a liar,
If I was to say to you,
Girl we couldn't get much higher!

The singer's face was almost lost within a mass of dark curly hair flowing down to his shoulders and hidden behind the microphone which he hugged in both hands, caressing it to his lips like the face of woman he was about to kiss. I was conscious of the girl sitting beside me, her mouth agape and her chest heaving conspicuously. "Who is he?" I shouted to her.
She leaned over and yelled directly into my ear. "Jim Morrison - isn't he fabulous?" She began bouncing on her crossed legs and so did I. The singer had his arms around the microphone, fondling the long metal stand. He was astride it, rubbing himself against it, moaning to it, screaming at it with the ferocity of a man trying to release a passion too painful to bear. "Baby let me light your fire," he screamed through the microphone. The girl next to me was certainly on fire. She threw herself at me, flinging her arms around my head, hugging my face into her breasts and squeezing me like a tube of toothpaste. I could feel her groans reverberating inside her. "Let me set the world on fie-ere".
Jim Morrison left the stage as mysteriously as he had appeared, leaping into the adjoining darkness in two spectacular bounds. The audience screamed and stamped their feet in unison. "We want 'The Doors' - we want Jim - more, more, more." But they weren't getting more. Instead, a strange pale-faced man (Tiny Tim) trotted onto the vacated stage. His hair was long and hung carelessly about his face in ringlets, his nose long and beak-like and he carried a tiny ukulele under his arm. I watched as he leaned his long, awkward body towards the microphone, and plucked each string of his ukulele to check the tuning. The ukulele looked ridiculously toy-like within his large clumsy hands, but the cords rang out sonorously followed by a tuneless falsetto voice - "Tiptoe, through the tulips, through the tulips - come walk with me." Was this man serious?
"He turns up everywhere," the girl informed me. "He's a real joke - he follows all the top bands around and gets up on stage after them - always sings the same song."
The audience were jeering at him, mocking him, laughing at him - he did have courage or else a very thick skin. I spent the rest of the evening at the disco dancing with the girl who had been set on fire. She was a strong looking girl, dark haired with the full lips and slightly lumpy cheek bones that suggested New York Jewish parentage. I didn't run into Lyn Eastman again that night."
Colin Beard
Melbourne, Australia
Copyright © 2013 Colin Beard
A Special Thanks to
Colin Beard
for providing his review and photographs of the show to
MildEquator.com!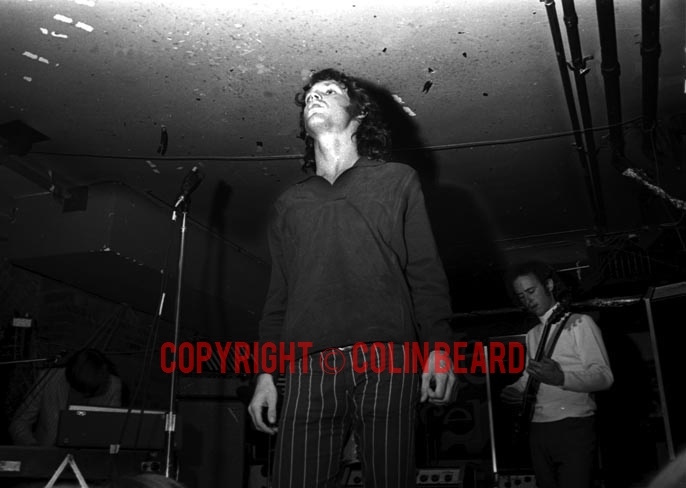 Contributed by:
Colin Beard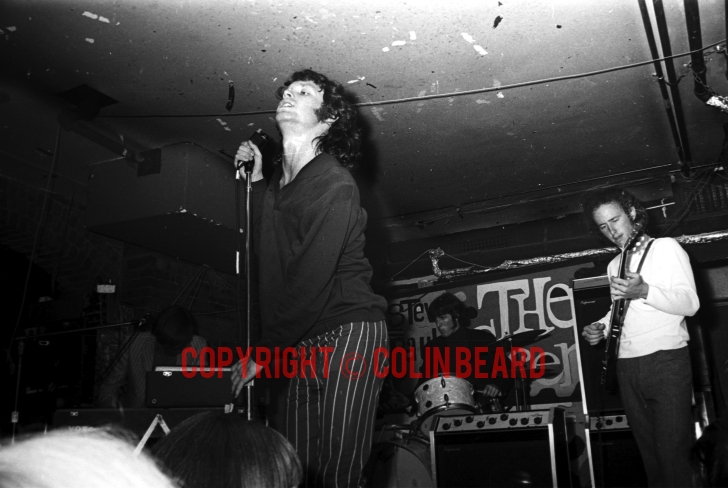 Contributed by:
Colin Beard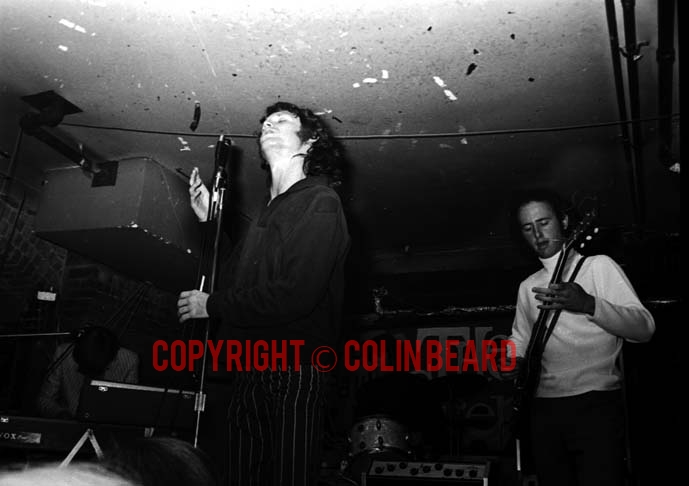 Contributed by:
Colin Beard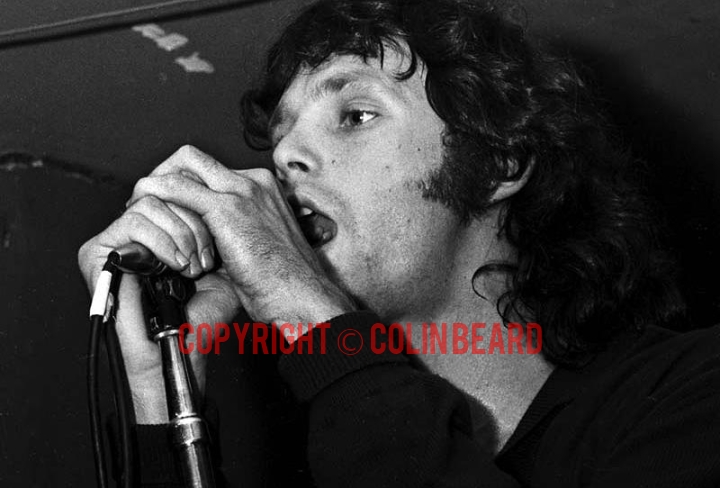 Contributed by:
Colin Beard
ARCHIVE/MEMORABILIA:
---
PRINT AD #1: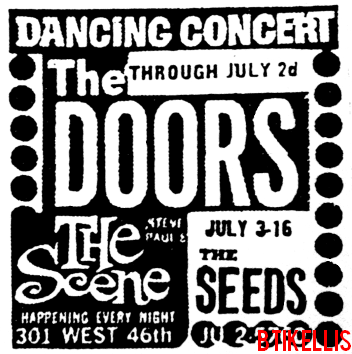 Contributed by:
BTikellis
---