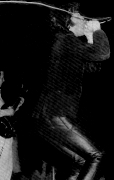 Venue Address: 689 S. E Street - San Bernardino, CA


Promotion: KMEN
Event: In Person

Also Performing:
The Light

Setlist:
House Announcer (Dave McCormick)
When The Music's Over
Horse Latitudes (Poem) >
Break On Through
Alabama Song
Light My Fire

Recordings / Film:
Amateur/Audience Recording

Photographers:
Unidentified (K/MEN)

Reviews / Info:
-8:00pm scheduled start time.
-Approx. 1,600 in attendance.
-The Doors experience difficulties with the P.A. system and cut to a performance of 'Light My Fire'.
-Jim Morrison indicates that The Doors will return to the stage if/when the P.A. is fixed.
-An audience member is hit by a stage light kicked into the crowd by Jim Morrison, and The Doors are later sued for $25,000.
-Setlist for this show may be incomplete.
-There is a possibility that The Doors do not return to the stage.


ARCHIVE/MEMORABILIA:
---
Unavailable
---