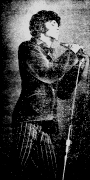 Venue Address: 1405 Park Blvd. - San Diego, CA


Promotion: Chicken Of The Sea/James C. Pagni Company
Event: Band Battle Concert

Also Performing:
Marsha & The Esquires
The Lyrics
Linda & The Centaurs

Setlist:
Break On Through
Back Door Man
Light My Fire
The End
(Incomplete)

Recordings / Film:
Unavailable

Photographers:
Jerry Rife

Reviews / Info:
-8:30pm scheduled start time.
-The Doors arrive for this show in a white station wagon.
-A brief interview with the band is given to reporters upon their arrival at the venue.
-John Densmore explains that a new album is in the works and most likely titled 'Strange Days'.
-The stage is set up on the five-yard line.
-After eating, The Doors pull up to the stage in the white station wagon for their performance.
-Local authorities are prompted to hold back teenagers as they try to approach the stage.


ARCHIVE/MEMORABILIA:
---
ARTICLE:
Newspaper:
Unknown
Author:
Jim Mann
Publish Date:
Unknown - 1967
Copyright © Unknown

Contributed By: RFritts
REVIEW:
Newspaper:
Unknown
Author:
Dick Barnes
Publish Date:
July 10th - 1967
Copyright © Unknown

Contributed By: RFritts
PRINT AD: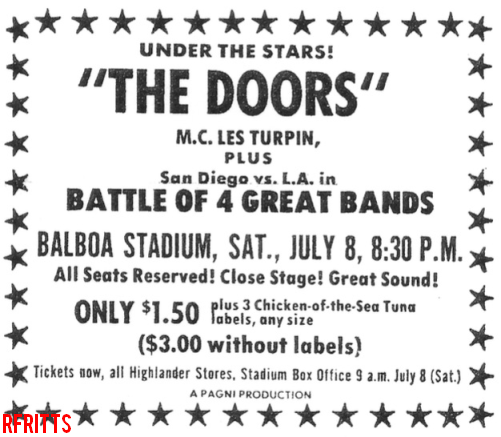 Contributed By: RFritts
---