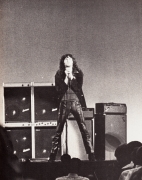 Venue Address: 800 W. Katella Ave. - Anaheim, CA


Promotion: Tommy Walker/KFWB
Event: In Concert

Also Performing:
Jefferson Airplane
Merry Go Round

Setlist:

Early Show
Light My Fire
(Incomplete)

Late Show
Alabama Song
The Crystal Ship
When The Music's Over
Break On Through
Light My Fire
The End
(Incomplete)

Recordings / Film:
Radio Promotional Advertisement
Photographers:
Unidentified - Click
HERE
to see a MildEquator.com exclusive photograph!
Reviews / Info:
-This new venue opens in July 1967.
-The Doors perform at Devonshire Downs earlier in the afternoon.
-Approx. 8,500 in attendance during both performances.
-Lights by 'Piccadilly Inc.'
-The Doors take a 4-day break from performing following their exhaustive midsummer tour schedule.
"I, and a few of my friends went to see The Doors at the Anaheim Convention Center in June, 1967. We actually went to see Jefferson Airplane as they were a real favorite of ours. We were in a band with a female singer and covered a number of their tunes, and kept a stash with us. As was our custom, we smoke a few joints before we went in. The show started with Merry Go Round, a very 'poppy', Beatle-ish band that we had considered 'bubble-gummers'. Actually we ended up pretty impressed by their arrangements and vocals. The Airplane just kicked the shit out of the place. They had a BIG sound which is essential in bigger venues. Grace Slick had a huge voice and the band didn't miss a lick. Not so with The Doors unfortunately. They were just coming off a long tour and Jim's voice was shot - so was Jim. Mostly out-of-key, hoarse mumbles punctuated by ear shattering screams every so often. My biggest memory is of Jim, at the end of his show, lying spread-eagled on his back on the stage mumbling something incoherent into the microphone while he did what looked like snow angels while he lay on top of all the cords and wires. It was unprofessional, decadent, horrible - and we thought it was the coolest thing we'd ever seen (we WERE 16 at the time, after all). Our singer tried to do it at our next gig and we almost got our ass kicked off the stage! We were awed by Anaheim. Before then, the biggest venue we'd been to was the Palladium in Hollywood which was very laid back and, already by that time, going to seed and shabby. On the other hand, it DID have a balcony which somehow we got up into and it was the first time I saw people smoking dope and fucking in public. Great fun. Anaheim was brand new, plush, formal, big, well-lit with a good sound system. We passed joints around but otherwise, behaved ourselves. Fantastic experience which actually made us all great Doors fans from that time on.
I got invited to attend a show by Ray Manzarek in Bakersfield a year or two before his death. while at this little show by Ray (think Manzarek in a piano bar), I happened to mention to my group of friends that I had seen The Doors in concert. Everyone near us turned around in amazement that I had actually done so - I became a mini-celebrity for a few seconds. I was taken aback by their reaction at first until I realized that these people were all much younger than me - too young to have ever seen the band. They loved The Doors for the myth (and music) of The Doors as much as an actual living, breathing band. Interesting experience and speaks volumes on how legends are born. When something ends 'too soon' or 'before its time', it freezes it in time and becomes more poignant in the human memory. It doesn't hurt to leave behind a lot of great songs and a truly original 'sound.
Mike Schons
Anaheim, CA
Copyright © 2016 Mike Schons
A Special Thanks to
Mike Schons
for providing his review of the concert to
MildEquator.com!
ANAHEIM CONVENTION CENTER RADIO PROMO SPOT:

---
Broadcast Date: Pre-July 15th - 1967
Station ID: Unknown
Programming: Concert Promotion
Host: Unknown
Recording Date: Presumed June - 1967
Recording Location: Unknown Location - Los Angeles, CA

Info:
A radio advertisement for The Doors and Jefferson Airplane's performances at the "New Anaheim Convention Center" on July 15th, 1967. This original promo runs for approximately one minute.



ARCHIVE/MEMORABILIA:
---
REVIEW:
Newspaper:
The Los Angeles Times
Author:
Tom Paegel
Publish Date:
July 18th - 1967
Copyright © The Los Angeles Times

PHOTOGRAPH: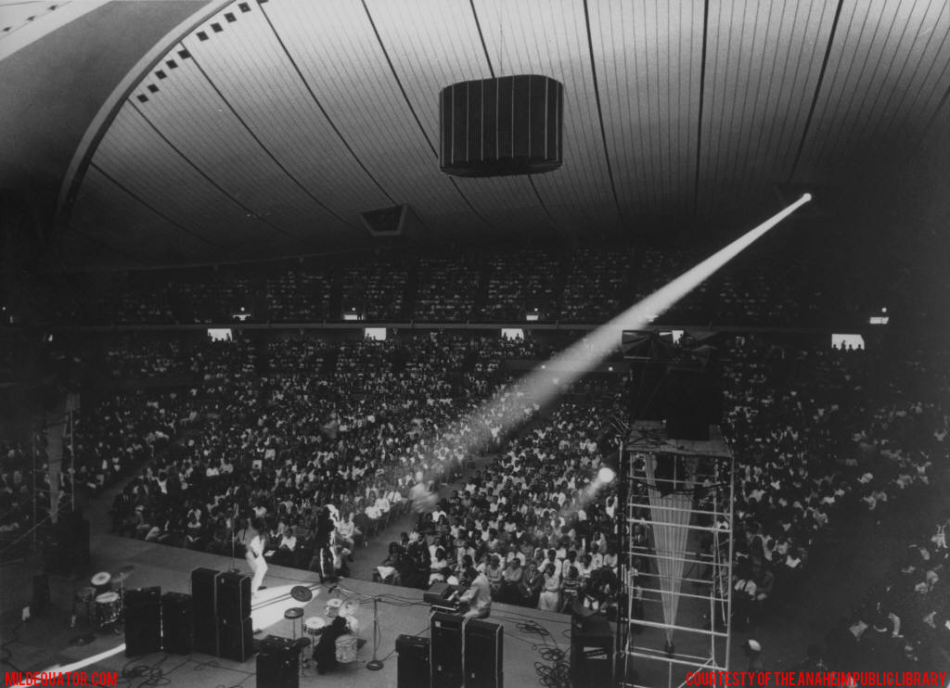 Contributed by:
Anaheim Public Library
---