Venue Address: 1024 Davie St. - Vancouver, B.C.


Promotion: Dante's Inferno/CKLG
Event: In Concert

Also Performing:
The Collectors
Painted Ship

Setlist:
(Unknown)

Recordings / Film:
Unavailable

Photographers:
Unavailable

Reviews / Info:
-9:00pm scheduled start time.
-Promotional artwork by Bob Masse (Poster; Handbill;)
-This venue was known as the Retinal Circus in 1968 and later purchased by Tommy Chong.
-Jim Morrison performs at this venue in 1970 with 'Django' while it's known as the Elegant Parlor.


ARCHIVE/MEMORABILIA:
---
PRINT AD: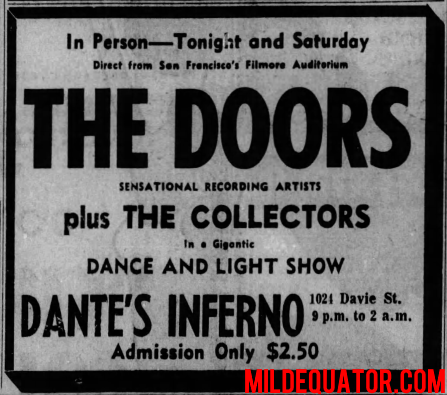 ---