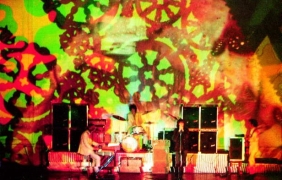 Venue Address: 1805 Geary St. - San Francisco, CA


Promotion: Bill Graham Presents
Event: In Concert

Also Performing:
James Cotton Blues Band
Richie Havens

Setlist:
Light My Fire (July 28th)
(Incomplete)

Recordings / Film:
Backstage Interview

Photographers:
Paul Ferrara
Unidentified (Amateur)

Reviews / Info:
-The Doors make their fourth appearance at the Fillmore Auditorium.
-Promotional artwork by Bonnie Maclean (Poster; Handbill; Ticket)
-The Doors perform a 10 minute version of Light My Fire at the Friday show.
-A backstage interview by Lennart Wretlind is recorded during these dates.
-Paul Ferrara photographs The Doors in various locations around San Francisco on these dates.


ARCHIVE/MEMORABILIA:
---
ARTICLE #1:
Newspaper:
The San Francisco Chronicle
Author:
Unknown
Publish Date:
Unknown - 1967
Copyright © Unknown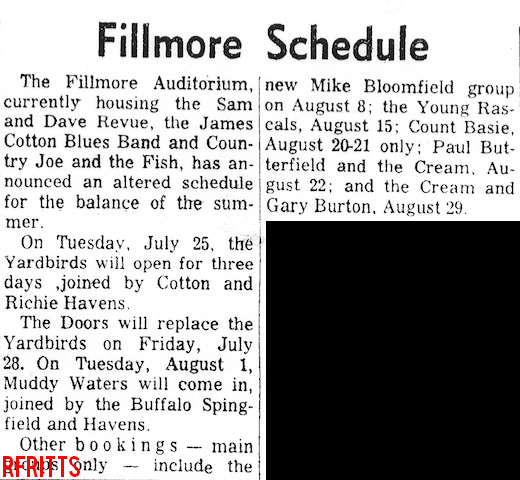 Contributed By: RFritts
ARTICLE #2:
Newspaper:
The San Francisco Chronicle
Author:
Unknown
Publish Date:
Unknown - 1967
Copyright © Unknown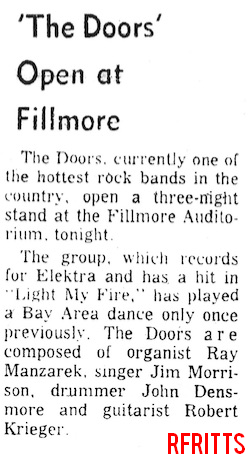 Contributed By: RFritts
HANDBILL: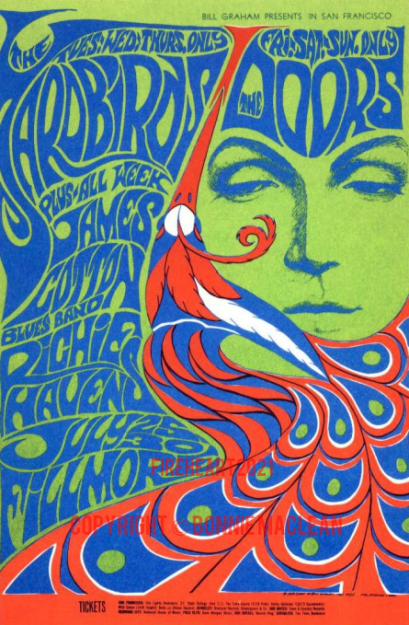 Contributed By:
FireHeart2021
TICKET #1:
Concert Date: Jul. 28 / 1967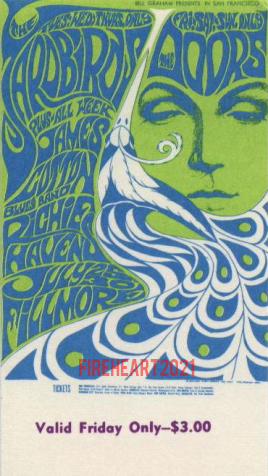 Contributed By:
FireHeart2021
TICKET #2:
Concert Date: Jul. 29 / 1967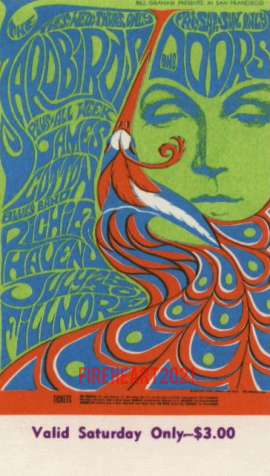 Contributed By:
FireHeart2021
TICKET #3:
Concert Date: Jul. 30 / 1967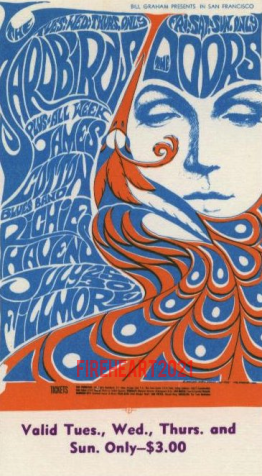 Contributed By:
FireHeart2021
---