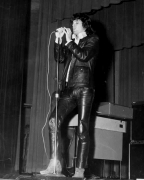 Venue Address: 1001 N Main St. - Canton, IL


Promotion: Student Council
Event: In Concert

Also Performing:
Wild Life

Setlist:
Break On Through
Light My Fire
(Incomplete)

Recordings / Film:
Unavailable

Photographers:
Conni Smith
Unidentified (Professional)

Reviews / Info:
-A supper is given backstage and a Q&A takes place with The Doors.
-7:00pm scheduled start time.
-The audience reacts with silence towards Jim Morrison's stage antics.
-Reviews of this performance are positive.


"The Canton audience was too quiet and freaked out by The Doors that night. The minister's daughter was sitting next to me and her mouth kept dropping open as Jim did gross things with the mic. During 'Light My Fire', Jim scowled down at me due to the bewildered audience response - and so cut the song short, and muttered (and I quote), "Let's get the fuck out of here," and stomped off-stage.

By that point, I was already deep into my writer's mode, about how to actually describe to readers what was going down. I needed to get home and write this up and get it typed up in the newsroom by 7:00 am - as well as finish up a paper for my mid-day English class."

Connie Smith
Canton, IL
Copyright © 2013 Connie Smith


A Special Thanks to Connie Smith for providing her review of the concert to MildEquator.com!


ARCHIVE/MEMORABILIA:
---
REVIEW #1:
Newspaper:
The Daily Ledger
Author:
Conni Smith
Publish Date:
September 15th - 1967
Copyright © Conni Cook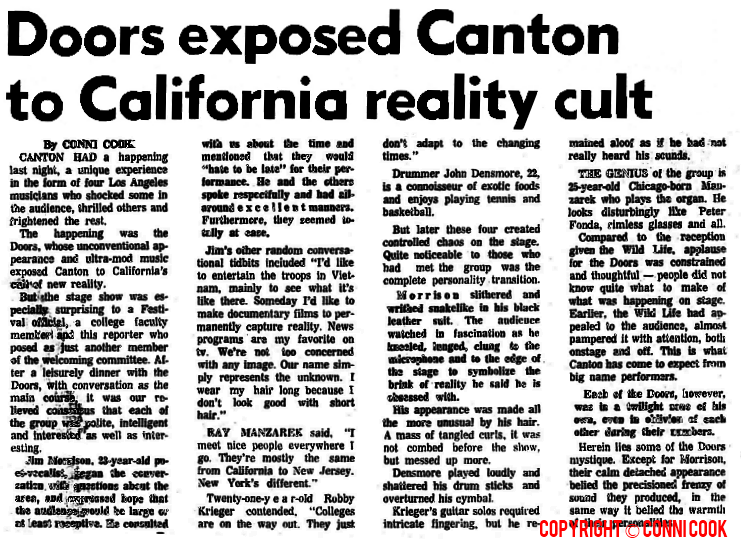 Contributed by: Connie Smith
REVIEW #2:
Newspaper:
Unknown
Author:
Skip Daniels
Publish Date:
Unknown - 1967
Copyright © Unknown

Contributed by: jim4371
PHOTOGRAPH:
Newspaper:
The Daily Ledger
Photographer:
Conni Smith
Publish Date:
September 15th - 1967
Copyright © Conni Cook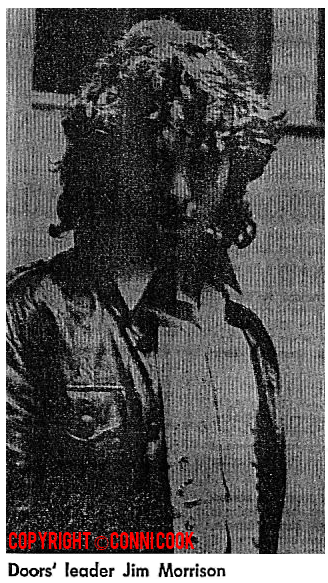 Contributed by: Connie Smith
YEARBOOK: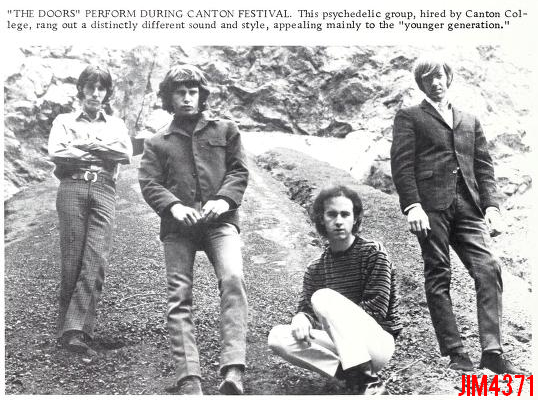 Contributed By: jim4371
---