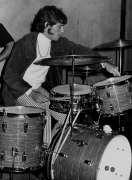 Venue Address: 70 North Ave. - Westport, CT


Promotion: Staples High Student Council/Dick Sandhaus
Event: In Concert

Also Performing:
The Coming Storm (aka The Ravens)
Strawberry Fun Band
Mandrake Root

Setlist:
Break On Through
Alabama Song
People Are Strange
The Crystal Ship
Light My Fire
The End
(Incomplete)

Recordings / Film:
Unavailable

Photographers:
Lynn Dick

Reviews / Info:
-7:00pm scheduled start time.


John Anthony: "Like many musicians at the time, I was a big fan of The Doors and Jim Morrison in particular. When The Doors tour bus came in, I watched Morrison go into the bathroom. I walked into the bathroom shortly after him. I walked behind him to the far right end of the sinks, turned around and stood there staring at him like a cigar store Indian. I'm thinking for a while, "Okay JA, you are in here now, what are you going to ask/say to the guy?" He was cleaning up from the road and started shaving. After a minute or two of this he turned to me and said, "Hey man, do you get a kick out of watching people shave?" It startled me as I realized I'd been staring at the guy and had said nothing. I mumbled something about really liking The Doors. Just then Joe Gracia walked in. I'll let him take it from here..."

Joe Gracia: "We were ready for a sound check on stage and I was looking for John. When I looked in the bathroom I found him talking with Jim Morrison. Wow, I thought. That's cool. (We used to say 'cool' a lot back then). I didn't want to interrupt so I walked up to the sink and began washing my hands. Just then Morrison said to John," "Why the shades?". John said he'd seen John Lennon wearing a pair in a photo on the back of an early Beatle album jacket, thought they looked cool, and decided he would wear them all of the time. "Plus," he said, "people don't know where you are really looking". Morrison then said something about thinking they were good reasons for wearing them. At that point I told John we were ready for a sound check and we left."

John Anthony: "Shortly after this encounter with Jim, Joe called me one night to tell me that in a few minutes The Doors were going to be on TV on The Jonathan Winters Show. We both watched while we were still on the phone. My face lit up when I saw Jim Morrison that night, front and center, singing Moonlight Drive, wearing shades pretty similar to the ones I wore that night. Joe said, "Hey John, looks like your shades made a big impression on Morrison." Maybe so, Joe. At any rate, other than that one TV performance, I never saw him in the press, on TV or in any other coverage in an indoors setting wearing shades again. Apparently, a short-lived thing for him. There is a video of that performance, which aired 12/27/67.

Later that night we went out and did our songs. As we finished, their road manager came over and asked if we could leave one of our monitor speakers for them to use as one of theirs had gone out. "Sure thing," I said. With a little bit of help from our speaker monitor, The Doors lit everyone's fire with their sound and gave an excellent performance that night."

John Anthony & Joe Gracia
Copyright © 2010 The Ravens
http://jamusicland.com/ravens-home.html

A Special Thanks to John Anthony & Joe Gracia for providing their commentary to MildEquator.com!


ARCHIVE/MEMORABILIA:
---
REVIEW:
Newspaper:
The Bridgeport Post
Author:
Brian Doohan
Publish Date:
October 15th - 1967
Copyright © The Bridgeport Post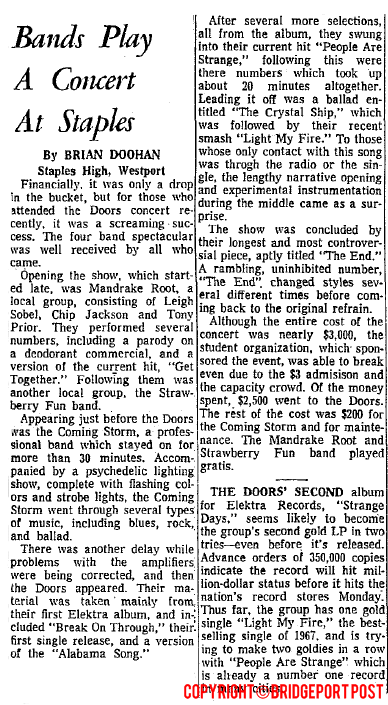 ---