Venue Address: 10th & Pleasant - Des Moines, IA


Promotion: Interstate Productions
Event: In Concert

Also Performing:
Pete Klint Quintet
The Quarry

Setlist:
Break On Through
People Are Strange
(Incomplete)

Recordings / Film:
Unavailable

Photographers:
Unavailable

Reviews / Info:
-The Doors are not well known in Iowa and ticket sales for this show are very low.
-This is the first of what was to be a set of concerts put on monthly by the KRNT Theater.
-8:00pm scheduled start time.
-Lights By Flower Power & Light Co.
-Approx. 566 in attendance.
-Ushers at this show are allowed to take a seat for the performance.
-Jim Morrison is disappointed with the low turnout in the audience.
-The Doors do not return to Des Moines.


ARCHIVE/MEMORABILIA:
---
PRINT AD: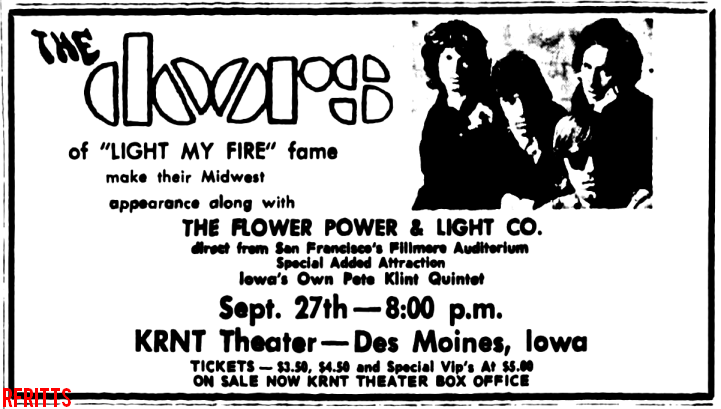 Contributed By: RFritts
TICKET:

Contributed By:
FireHeart2021
---