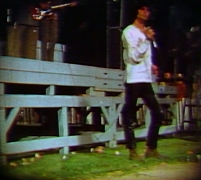 Venue Address: 3400 E. Camino Campestre - Tucson, AZ


Promotion: Unknown
Event: In Concert

Also Performing:
The Visions
Stonehenge Circus

Setlist:
The End
(Incomplete)

Recordings / Film:
Documentary Footage - 'Rock It'

Photographers:
Unavailable

Reviews / Info:
-7:30pm scheduled start time.
-Tickets for this show are $2.50 and $3.00
-Portions of The Doors performance are captured on 16mm film. (See Below)
-Jim Morrison jumps off and performs in front of the stage towards the end of the show.
-The Doors return to Tucson in 1968.


'ROCK IT' - A FILM BY MARTIN HOLT
---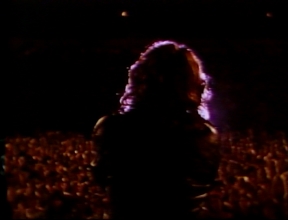 Info:
The semi-documentary film titled 'Rock It' by Martin Holt includes approximately 5 minutes of footage shot near and on the stage at The Doors performance in Tucson at Hi Corbett Field on October 7th, 1967. Along with other 60s era footage, the film includes a soundtrack featuring Jefferson Airplane. The Doors portion of the final cut is said to have been made from approximately 10 minutes worth of 16mm film that do not feature audio. The master footage reels are believed to be intact, but have not been located at present date.






ARCHIVE/MEMORABILIA:
---
PRINT AD: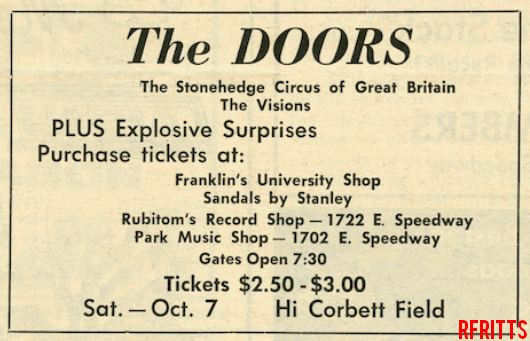 Contributed By: RFritts
---