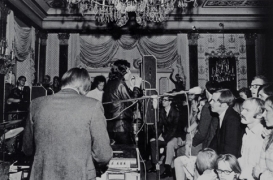 Venue Address: 1 Lake Ave. - Colorado Springs, CO


Promotion: Colorado College Homecoming Committee/Blue Key
Event: Colorado College Homecoming Dance

Also Performing:
The Broadway Shell Band

Setlist:
Back Door Man
People Are Strange
Break On Through
Wake Up!
Light My Fire

Recordings / Film:
Amateur/Audience Recording

Photographers:
Unidentified (Yearbook)

Reviews / Info:
-The Doors attempt to break their contract for this show due to new found fame.
-This homecoming dance takes place from 9:00pm through 1:00am.
-Couples are admitted with a $6.00 ticket.
-The Doors perform a very short set.
-The audience recording originally included an interview with Jim Morrison in the Broadmoor Drug Store.


"Light My Fire had been playing on the radio in 1967, so we all knew the song well. When my sister asked if I'd be her date to the Colorado College Homecoming dance in October of that year, I asked her what band was playing. She said the Homecoming Committee had booked a group out of Los Angeles called The Doors. Sure, 'Light My Fire'. That would be cool. The other band was the Broadway Shell Band, a local psychedelic group. The Doors, as you may recall, tried to get out of the contract with the Homecoming Committee because they were now in the big time. But the Committee held them to it. So, The Doors, I assume, reluctantly did the minimum for the dance. I think they only played four songs: 'Break on Through', 'Back Door Man', 'People Are Strange' and 'Light My Fire' with a sort of 'Horse Latitudes' - style intro that broke into 'Light My Fire'. It was dissonant instrumentation behind obtuse poetry, delivered by Morrison in varying volumes and emphasis.

Prior to the dance, which was held in a ballroom of the Broadmoor Hotel, I was in the hotel drug and sundry store near the lobby. I had my little National (now called Panasonic), reel to reel tape recorder with me that I had purchased in Tokyo in 1964 during the Olympics. I had been intrigued by spy movies like James Bond where they had used such miniature devices. I had been planning to record 'Light My Fire', just for fun that night. Morrison was looking at some magazines in the drug store, and I approached him. He had on the signature black leather pants (did he ever take those off?!) with concha belt. Not knowing that he was the leader of The Doors, or the singer, I turned on my recorder and asked "Are you one of the Doors?" He was either blasted out of his mind or not interested in talking with me, but he did give me a brief interview. Most of which was unintelligible. Alas, when I found the little reel to reel tape in my basement a few years ago, the first feet had disintegrated, and all the interview was lost. I did manage to get part of one song, and a whole song from The Broadway Shell Band. I also got all four of The Doors' songs. Amazingly, the quality was pretty good considering that I was dancing with the recorder tied to my belt and the microphone in my hand."

Tom Reynolds
Colorado Springs, CO
Copyright © 2010 Tom Reynolds

A Special Thanks to Tom Reynolds for providing his review of the concert to MildEquator.com! Be sure to check out Tom's ticket for the show (See Below), only available on MildEquator!


ARCHIVE/MEMORABILIA:
---
TICKET: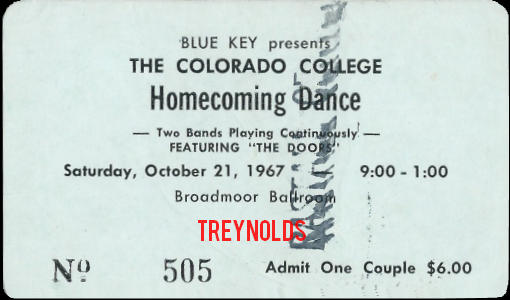 Contributed by: TReynolds
---