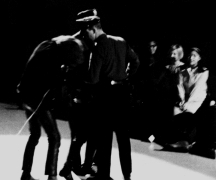 Venue Address: 300 N Winning St. - Portland, OR
Promotion: KISN
Event: In Concert

Also Performing:
Glen Campbell

Setlist:
Back Door Man
Soul Kitchen
Gloria
Unhappy Girl
People Are Strange
Light My Fire

Recordings / Film:
Amateur Audience Recording
Hotel Interview

Photographers:
Douglas Kent Hall

Reviews / Info:
-8:00pm scheduled start time.
-During 'Light My Fire', Jim Morrison jumps off the stage and yells "The blueberries have the guns, but we have the power!"
-Audience members rush the stage.
-Local police warn Jim Morrison to return to the stage and he does not comply.
-After finishing 'Light My Fire', police end the show.
-The Doors intend to perform 'The End' but do not after the show is halted.
-This performance is recorded by two high school students along with a hotel interview with Jim Morrison at the Holiday Inn.


ARCHIVE/MEMORABILIA:
---
TICKET #1: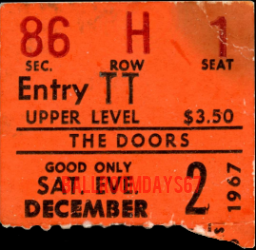 Contributed By:
BallroomDays67
TICKET #2: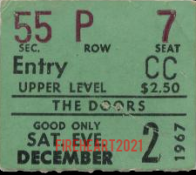 Contributed By:
FireHeart2021
---