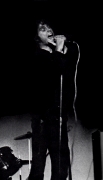 Venue Address: Peoples Dr. - Troy, NY


Promotion: Tau Epsilon PHI
Event: Frosh Fling Weekend/Tau Epsilon PHI 10th Anniversary

Also Performing:
Tim Rose

Setlist:
Break On Through
Alabama Song >
Back Door Man >
Five To One (Poem)
People Are Strange
When The Music's Over
Light My Fire

Recordings / Film:
Unavailable

Photographers:
Klaus A. Schnitzer
Unidentified (Student Newspaper)

Reviews / Info:
-This show takes place on Jim Morrison's 24th birthday.
-This show is put on to help mark the 10th anniversary of the Tau Epsilon PHI fraternity.
-8:30pm scheduled start time.
-Approx. 2,000 in attendance.
-Jim Morrison misses his plane and is driven 170 miles from New York City in a limousine.
-Setlist includes an early or partial performance of 'Five To One'.
-Jim Morrison is displeased with the audience and declares "If this is Troy, I'm with the Greeks."
-The Doors perform for approx. 45 minutes.
-Following the show, Jim Morrison waits backstage for a response from the audience but no encore is given.
-Audience members later complain of the performance being too short.
-Journalist Fred Powledge documents this show for LIFE magazine along with the New Haven show in the April 12th, 1968 issue.
-Jim Morrison is arrested onstage in New Haven at the following night's show.


ARCHIVE/MEMORABILIA:
---
MAGAZINE ARTICLE:
Magazine: LIFE
Issue Date: April 12th 1968
Article: 'Wicked Go The Doors'
Author: Fred Powledge

INSIDE:
| | | | | |
| --- | --- | --- | --- | --- |
| ALTERNATE COVER: | | | LETTERS TO THE EDITOR: | |
| | | | |
| --- | --- | --- | --- |
| | < The first version of the Vol.65 No.15 issue of LIFE originally featured President Lyndon B. Johnson on the cover. Following the death of Martin Luther King Jr. on April 4th, the magazine quickly reprinted this issue so as to feature MLK on the cover. | | < Click To Read The Letters To The Editor, Published in the May 3rd 1968 issue of LIFE! |
REVIEW #1:
Newspaper:
The Knickerbocker News
Author:
Lorraine Dusky
Publish Date:
December 9th - 1967
Copyright © The Knickerbocker News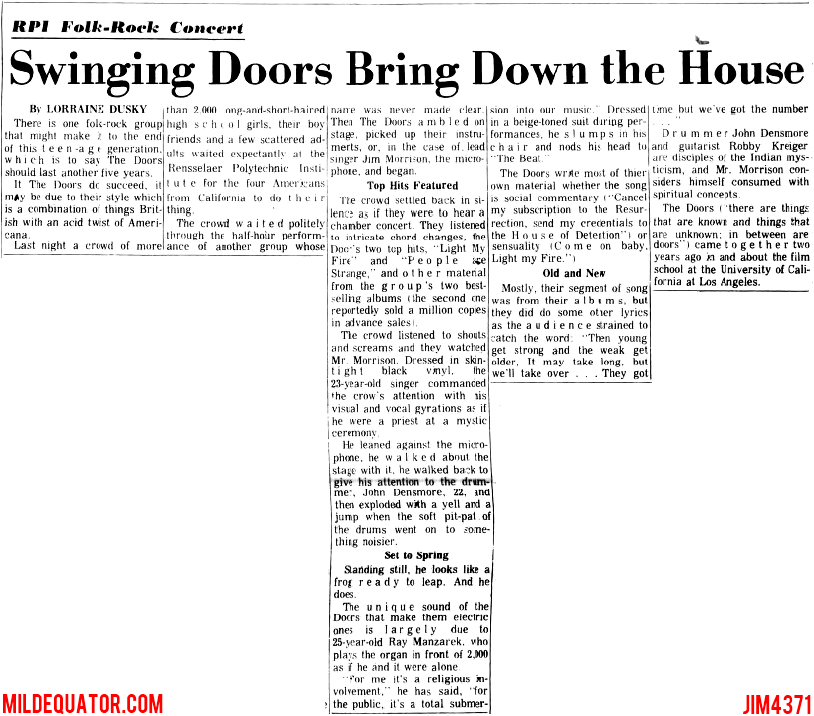 Contributed By:
jim4371
REVIEW #2:
Newspaper:
The Polytechnic
Author:
Bob Cunningham
Publish Date:
December 13th - 1967
Copyright © The Polytechnic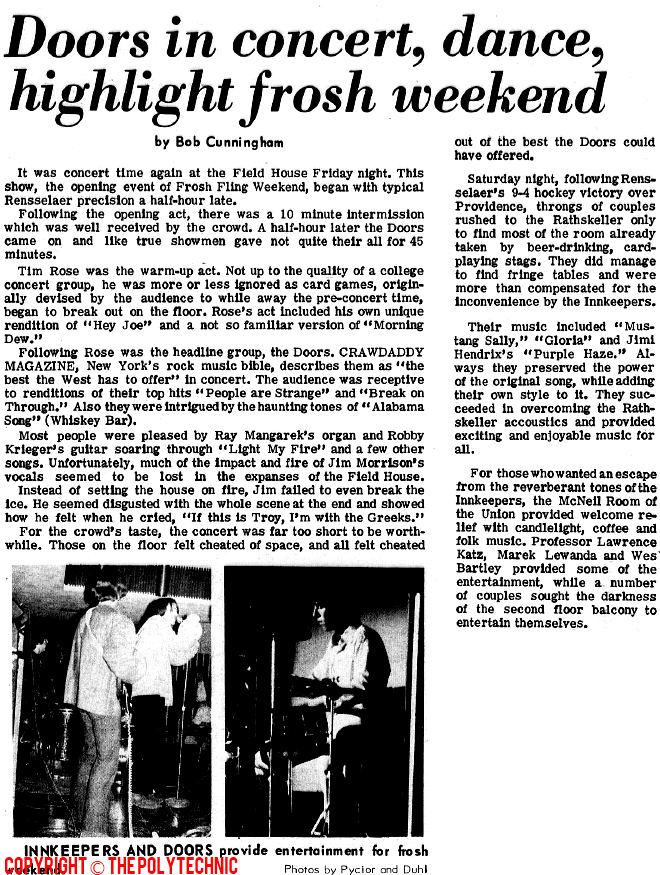 Contributed By:
MiltonJ
ARTICLE #1:
Newspaper:
Schenectady Gazette
Author:
Unknown
Publish Date:
December 2nd - 1967
Copyright © Schenectady Gazette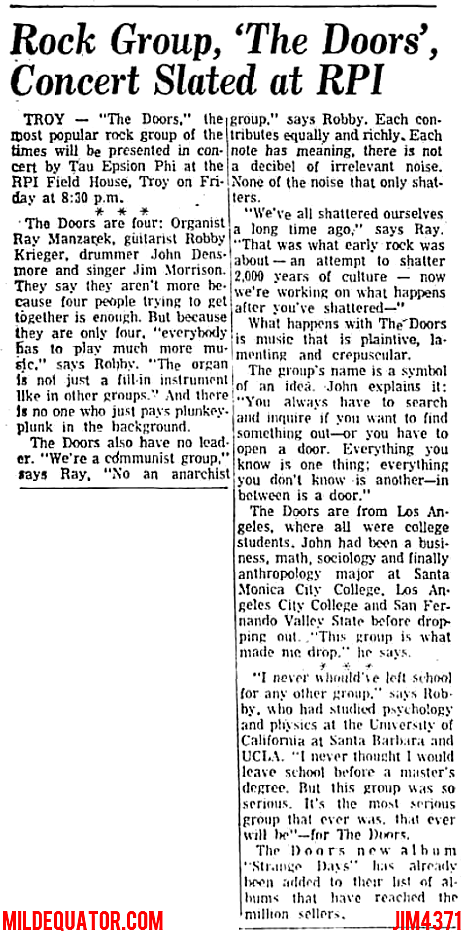 Contributed By:
jim4371
ARTICLE #2:
Newspaper:
The Times Record
Author:
Unknown
Publish Date:
December 2nd - 1967
Copyright © The Times Record

Contributed By:
jim4371
TYPE AD #1: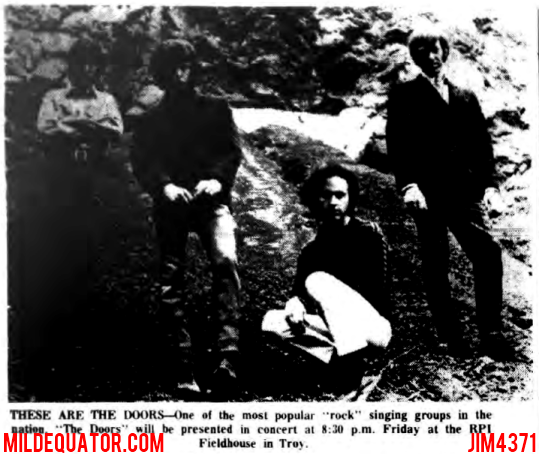 Contributed By:
jim4371
TYPE AD #2: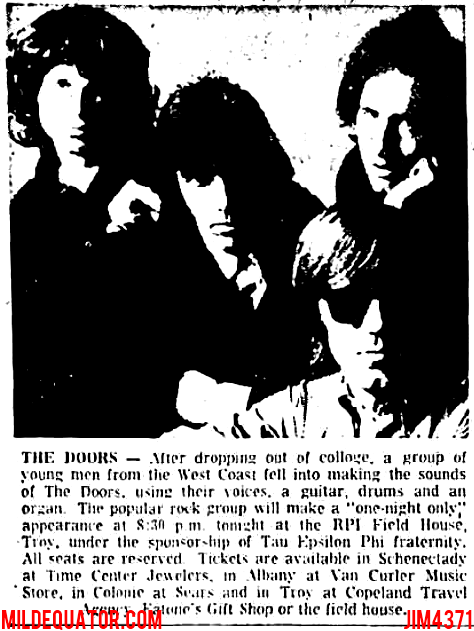 Contributed By:
jim4371
PRINT AD #1: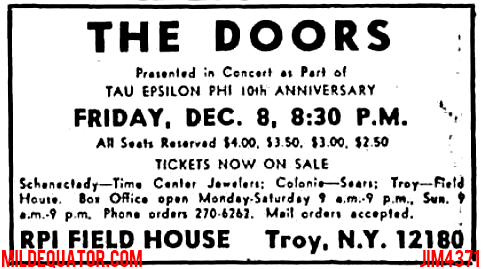 Contributed By:
jim4371
PRINT AD #2: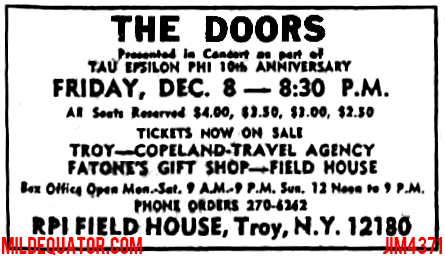 Contributed By:
jim4371
PRINT AD #3: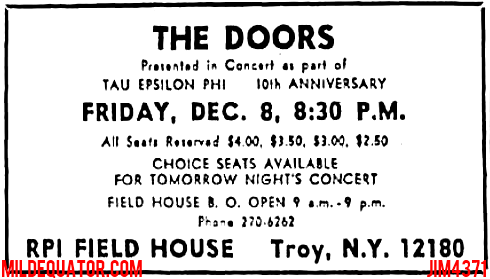 Contributed By:
jim4371
PRINT AD #4: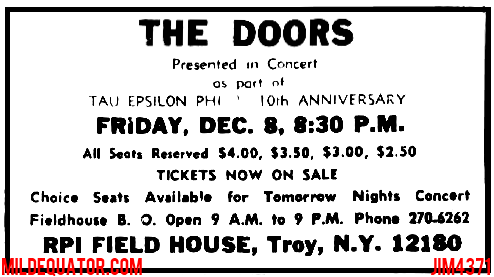 Contributed By:
jim4371
---