Venue Address: 1400 J St. - Sacramento, CA


Promotion: Scenic Sounds
Event: In Concert

Also Performing:
Hamilton Streetcar
The Creators

Setlist:

Early Show
Unknown Song
(Aborted)

Late Show
(Cancelled)

Recordings / Film:
Unavailable
Photographers:
Unavailable
Reviews / Info:
-Promotional artwork by Jim Ford (Poster; Handbill;)
-Lights by 'Simultaneous Avalanche'.
-6:30pm & 9:30pm scheduled start times.
-Free albums, posters and photos are given to the first 300 girls at the door.
-The Doors begin their first performance without Jim Morrison, and the show is aborted.
-The late show is cancelled due to Jim Morrison's inability to perform.
-The Doors return to
Sacramento in 1968
.
ARCHIVE/MEMORABILIA:
---
ARTICLE:
Newspaper:
Unknown
Author:
Unknown
Publish Date:
Unknown - 1967
Copyright © Unknown

Contributed By: RFritts
REVIEW:
Newspaper:
Unknown
Author:
Unknown
Publish Date:
Unknown - 1967
Copyright © Unknown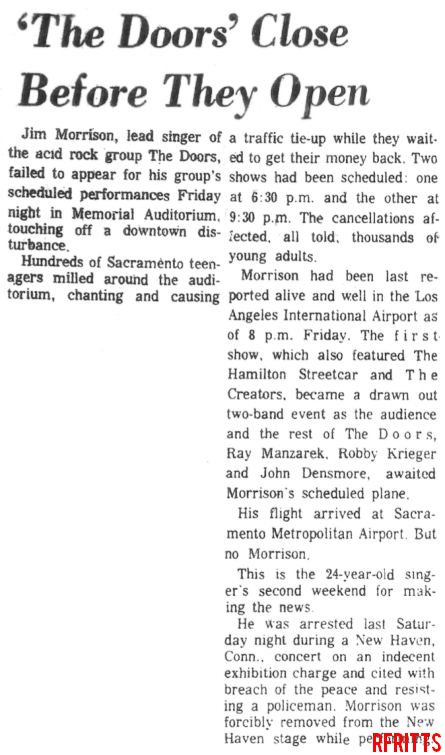 Contributed By: RFritts
---