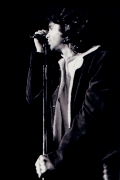 Venue Address: Post & Steiner St. - San Francisco, CA


Promotion: Bill Graham Presents
Event: In Concert

Also Performing:
Chuck Berry
Salvation

Setlist:
Back Door Man
Break On Through
-There You Sit
When The Music's Over
-Poor Otis, Dead And Gone
Close To You (Ray On Vocals) >
I'm A Man (Ray On Vocals)
Light My Fire

Recordings / Film:
Amateur/Audience Recording

Photographers:
George B. Feist
Baron Wolman

Reviews / Info:
-Promotional artwork by Bonnie Maclean (Poster; Handbill; Ticket;)
-Lights by Holy See.
-Vince Treanor begins his 4-year engagement with The Doors at this show.
-Setlist includes a rare performance of I'm A Man with Ray on vocals.
-Photographer Baron Wolman may have shot The Doors on any of the three nights at Winterland.
-An audience recording from this first night at Winterland is known to collectors and fans.
-The Doors play this venue for two more nights following this show.


AUDIENCE TAPE RECORDING
---
Contributed By: George B. Feist via Chris Simondet
In late December 1967, George B. Feist attends two of the three performances by The Doors at Winterland Arena in San Francisco, capturing both performances on a Wollensak cassette recorder. While these recordings were previously known to collectors and fans, new transfers of the master tapes reveal the excellent sound quality still preserved on the tapes today. We'd like to give a special thanks to George B. Feist for loaning out his tapes, and we extend our gratitude to Chris Simondet for his professional handling and transferring of the tapes to digital format for our viewers to listen to right here on the site!
DETAILS:
RECORDING DATE:
December 26th - 1967
TRACK TIME: 45:32
TRACKLIST:



Back Door Man
Break On Through
-There You Sit
When The Music's Over
-Poor Otis, Dead And Gone
Close To You (Ray On Vocals) >
I'm A Man (Ray On Vocals)
Light My Fire





ARCHIVE/MEMORABILIA:
---
TYPE AD:


Contributed By: RFritts



TICKET:
Concert Date: Dec. 26 / 1967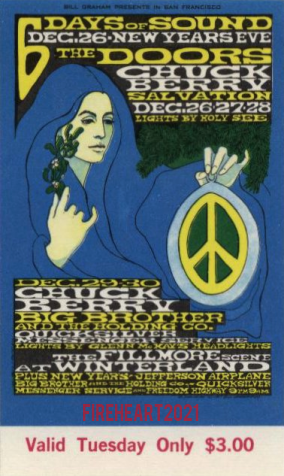 Contributed By: FireHeart2021



---