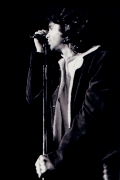 Venue Address: Post & Steiner St. - San Francisco, CA


Promotion: Bill Graham Presents
Event: In Concert

Also Performing:
Chuck Berry
Salvation

Setlist:
Back Door Man
Break On Through
-There You Sit
When The Music's Over
-Poor Otis, Dead And Gone
Close To You (Ray On Vocals) >
I'm A Man (Ray On Vocals)
Light My Fire

Recordings / Film:
Amateur/Audience Recording

Photographers:
Baron Wolman

Reviews / Info:
-Promotional artwork by Bonnie Maclean (Poster; Handbill; Ticket;)
-Lights by Holy See.
-Vince Treanor begins his 4-year engagement with The Doors at this show.
-Setlist includes a rare performance of I'm A Man with Ray on vocals.
-Photographer Baron Wolman may have shot The Doors on any of the three nights at Winterland.
-An audience recording from this first night at Winterland is known to collectors and fans.
-The Doors play this venue for two more nights following this show.


ARCHIVE/MEMORABILIA:
---
TYPE AD:

Contributed By: RFritts
TICKET:
Concert Date: Dec. 26 / 1967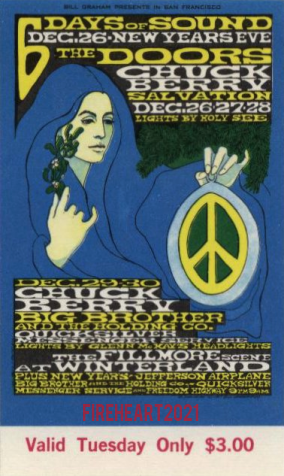 Contributed By:
FireHeart2021
---