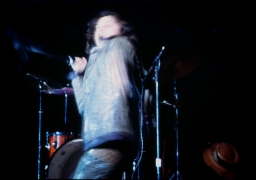 Venue Address: 26 Gibbs St. - Rochester, NY


Promotion: Civic Music Association Presentations
Event: In Concert

Also Performing:
Linda Ronstadt & The Stone Poneys

Setlist:
When The Music's Over
Light My Fire
The Unknown Soldier
(Incomplete)

Recordings / Film:
8mm Professional Film - 'Not To Touch The Earth'

Photographers:
Bill Hosley (Amateur)

Reviews / Info:
-8:15pm scheduled start time.
-The Doors finish this set with a performance of 'The Unknown Soldier'.
-Footage shot at this venue appears in Bob Neuwirth's 8mm film project 'Not To Touch The Earth'.
-Reviews of this performance are positive.


"Both my brother, Russell, and I attended the March 16, 1968 Doors concert in Rochester, NY. We were both in high school. Russell was the lead guitarist and did back up vocals for a local rock band called 'The Avengers'. I know that Russell still has his Fender guitar and is very passionate about music, especially the music we grew up listening to in the 1950s and 1960s. We both left Rochester long ago, but we hold on to the memories and some memorabilia.

I know my brother and I did not take photos or film of that concert, and nor do I remember any films being played while waiting for The Doors. I do remember that Linda Ronstadt wore a micro mini-dress during her performance. I was sitting in about the fourth row center so from my vantage point I was focused on her first. Jim Morrison was wearing what appeared to be worn leather pants, and I also remember wondering, since they appeared to be so tight, wether they would hold up or whether Jim Morrison would end up mooning the Rochester crowd. He did not. I remember the band played 'The Unknown Soldier', and what I believe was the long version with lengthy instrumentals and jamming."

Albert Raman
Formerly of Rochester, NY
Copyright © 2010 Albert Raman

A Special Thanks to Albert Raman for providing his review of the concert to MildEquator.com!


NOT TO TOUCH THE EARTH
---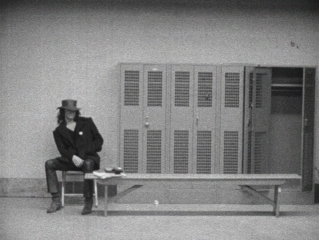 Info:
8mm B&w footage with a studio version of Not To Touch The Earth for a soundtrack. In March 1968, The Doors management hire famed New York artist Bobby Neuwirth to 'babysit' Jim Morrison and complete a short documentary film titled 'Not To Touch The Earth' as a companion to their recently recorded epic 'The Celebration of the Lizard'. The film includes footage of the The Doors performances taken on March 16th in Rochester, and March 17th in Boston. Also included is behind-the-scenes footage of the band in flight and backstage where Linda Ronstadt can be also be spotted. Outtake footage is known to exist, although details on the master footage reels are unknown.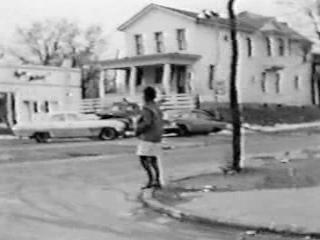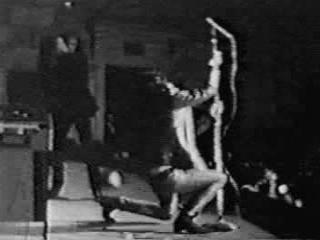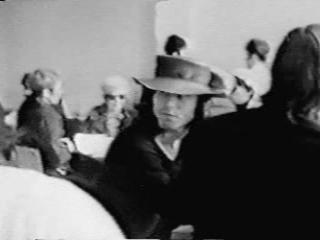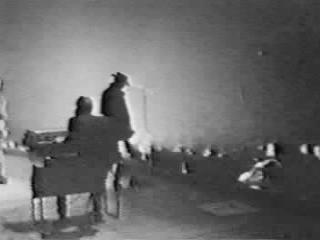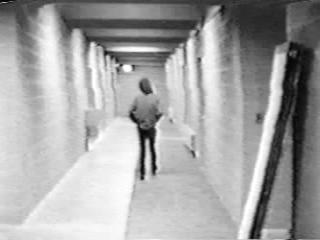 Film Locations:
Note: Portions of this filmwork do not contain performance footage.
Rochester - March 16th 1968 at the Eastman Theatre
Boston - March 17th 1968 at the Back Bay Theatre
ARCHIVE/MEMORABILIA:
---
ARTICLE:
Newspaper:
Rochester Times-Union
Author:
Digby Diehl
Publish Date:
March 9th - 1968
Copyright © Rochester Times-Union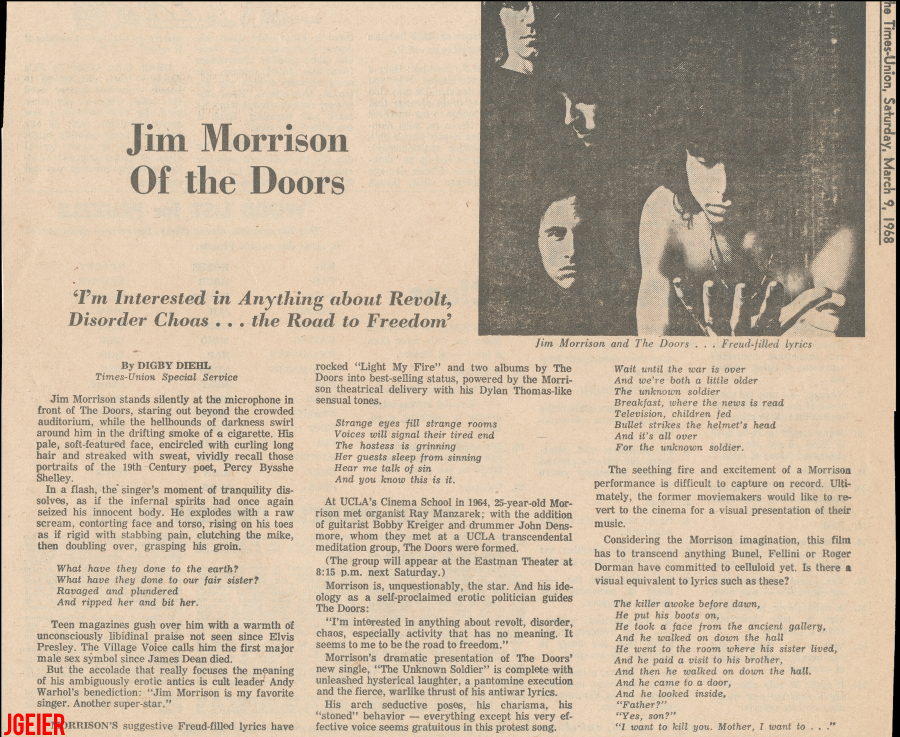 Contributed by:
JGreier
REVIEW:
Newspaper:
Rochester Times-Union
Author:
Mark Heisler
Publish Date:
March xx - 1968
Copyright © Rochester Times-Union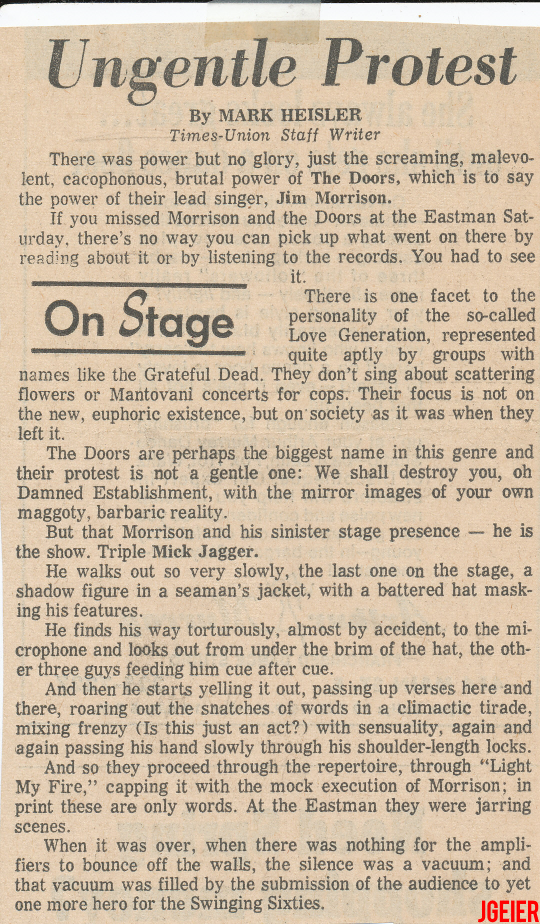 Contributed by:
JGreier
PRINT AD: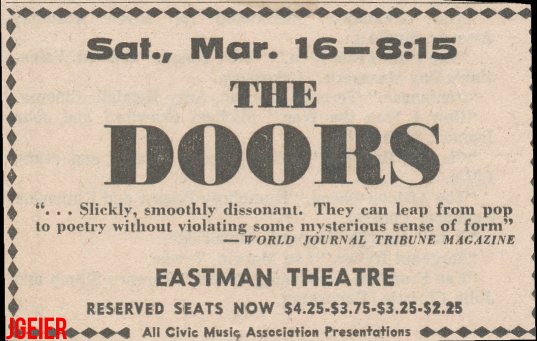 Contributed by:
JGreier
TICKET: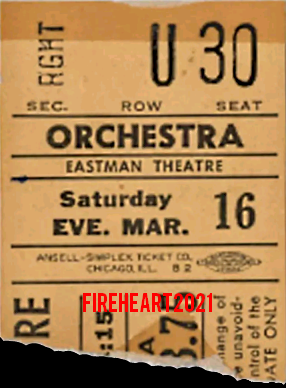 Contributed By: fireheart2021
OFFICIAL PROGRAM #1:


Contributed by: BallroomDays67



Info: The cover of this program is an advertisement for The Association's performance at the Eastman Theatre, and the backside features The Doors. An insert included with the program features an announcement from The Doors that Linda Ronstadt and The Stone Poney's will appear as their special guests! A special thanks to Mark for his contribution to the site!



INSIDE:
OFFICIAL PROGRAM #2:


Contributed by: R&ARaman



Info: Various programs were distributed for The Doors performance at the Eastman Theatre in Rochester, NY, March 1968. This copy was obtained by brothers Russell & Albert Raman. A ticket stub from the show was also kept by Albert. Thanks to the Raman's for their contribution to the site!



INSIDE:
---