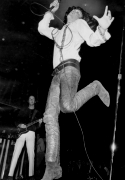 Venue Address: 100 Princes Blvd. - Toronto, ON


Promotion: John Brower/Cheuba
Event: In Concert

Also Performing:
Earth Opera
City Muffin Boys
Influence

Setlist:
Alabama Song
Love Me Two Times
When The Music's Over
The Unknown Soldier
Light My Fire
(Incomplete)

Recordings / Film:
16mm Professional Film - 'Feast of Friends'
16mm Newsreel Film

Photographers:
Tara Greene (Amateur)
Barry Philp

Reviews / Info:
-Footage from the Toronto International Airport is shot for 'Feast of Friends'.
-Promotional poster is designed with a ball-point pen by artist John Fraser.
-8:00pm scheduled start time.
-The Doors perform through a sub-par sound system to a disappointed audience.
-Reviews are critical of the promoter's choice of venue and unknown opening acts.
-This is The Doors 2nd appearance in Toronto.


THE DAY IT IS:
---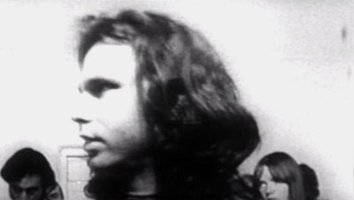 RECORDING DATE: 04/20/1968

LOCATION: CBC Studios Toronto - CAN

PRODUCTION: CBC Toronto

COLOR: B&W

LENGTH: Unknown

HOST: Warren Davis

Info:
The Doors appear on CBC's daily half hour news program The Day It Is, hosted by Warren Davis. Shot in black and white, the band visits CBC Studios following their arrival at the Toronto International Airport. Concert promoter John Brower is also present in the program, announcing over the phone that the band has arrived. While at CBC, Jim Morrison is heard commenting "What are all these people doing here? I hate people." and Ray also appears. The footage is intercut with performance footage of The Doors and other news footage. Also appearing in the program is Toronto folk singer Bonnie Dobson who performs four songs. This program was broadcast on May 28th, 1968.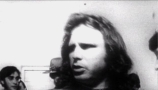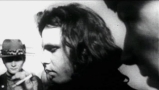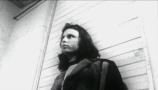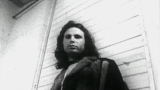 Photographers:
Tara Greene (Amateur)
(Various Unidentified)

Broadcasts:
05/28/1968 - CBC - Toronto, CAN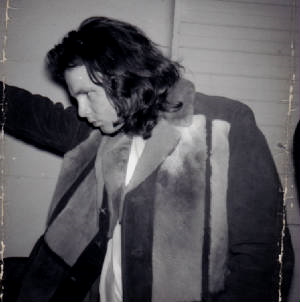 Photo by Tara Greene
---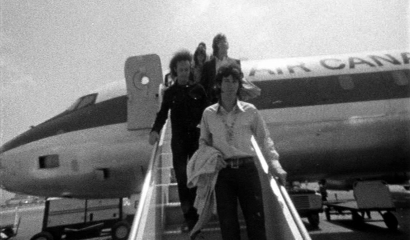 Info:
This black and white footage of the band's arrival at the Toronto International Airport was shot on April 20th, 1968 and includes filmwork of The Doors as they step off the plane, greet fans, and make their way through the terminal. In-flight segments of footage of the band and crew are shot as they travel from New York. Other black and white film segments from this time period may have been shot backstage at the Toronto concert venue, however performance footage does not appear to exist. Alternate 16mm black and white newsreel footage of Jim Morrison shot backstage by the Canadian Broadcasting Corporation includes native audio and confirms the date & location of various segments of 'Feast of Friends' footage. Babe Hill is present during this filming, recording audio with the Nagra.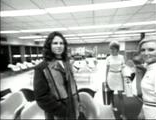 Following their arrival in Toronto, The Doors are taken to CBC Studio's in Toronto where they are filmed and photographed by various media outlets and fans, including CBC themselves. It was previously thought that these footage segments were shot backstage at the CNE Coliseum, however newly released segments indicate that no filming was done at the venue or during the performance.




ARCHIVE/MEMORABILIA:
---
REVIEW:
Newspaper:
The Toronto Star
Author:
Unknown
Publish Date:
April 22nd - 1968
Copyright © The Toronto Star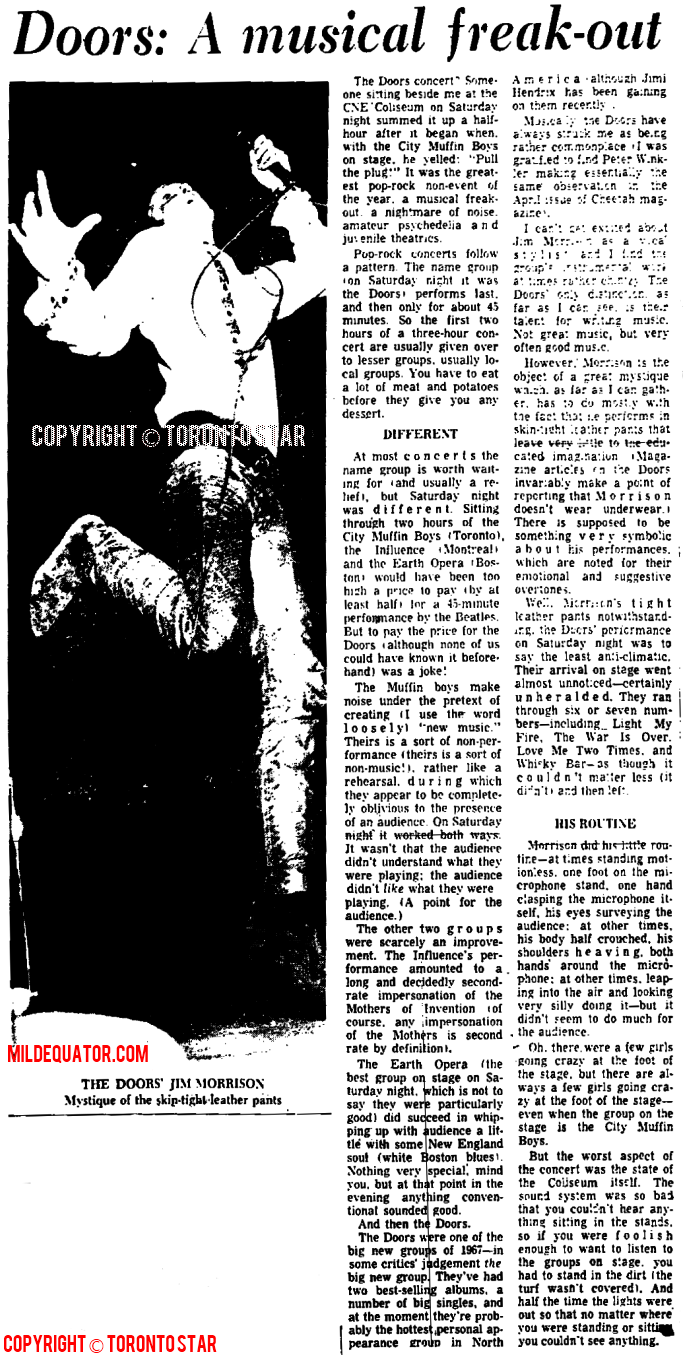 TICKET #1: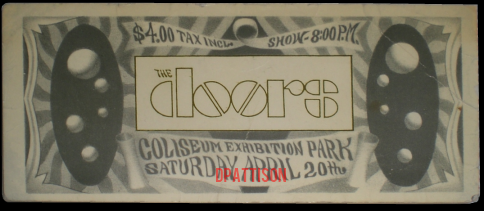 Contributed By:
DPattison
TICKET #2:

Contributed By:
BallroomDays67
---