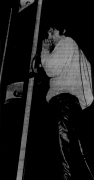 Venue Address: 3400 E Camino Campestre - Tucson, AZ


Promotion: KIKX
Event: Happening #2

Also Performing:
Unknown (Local Band)

Setlist:
Back Door Man
Anybody Got A Cigarette? (Dialogue)
Break On Through
(Power Cut)
Soul Kitchen
Moonlight Drive
When The Music's Over
Light My Fire
(Incomplete)

Recordings / Film:
Unavailable

Photographers:
Unidentified

Reviews / Info:
-8:30pm scheduled start time.
-Outdoor performance.
-Lights by 'Solar Flare'.
-The Doors arrive late for this show, causing the opening act to play two unrequested encores.
-Jim Morrison gives a highly provocative performance and the audience reacts enthusiastically.
-Many amateur photographs are said to have been taken during this show.
-During 'Break On Through' the stadium breakers flip, cutting the lights and stage power.
-Before the power is restored, Jim Morrison gazes up at the visible stars waiting for it to return.
-During a quiet passage in 'When The Music's Over', an audience member faints.
-Police carry away the fainted audience member after she is hoisted over the front row barrier.
-Jim Morrison swings the microphone over his head in bigger and bigger arcs narrowly missing Ray Manzarek.
-Vince Treanor runs in a crouch onto the stage to warn Jim Morrison as Ray does not see the microphone.
-Jim Morrison invites the audience to come on stage during 'Light My Fire'.
-Audience members trample the front row barrier in response to Jim Morrison's request.
-Police officers struggle to contain the audience, and The Doors leave the stage.


ARCHIVE/MEMORABILIA:
---
ARTICLE:
Newspaper:
Tucson Daily Citizen
Author:
Unknown
Publish Date:
May 16th - 1968
Copyright © Tucson Daily Citizen
---