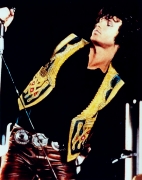 Venue Address: 2301 N Highland Ave. - Hollywood, CA


Promotion: KHJ/Elektra Records/Sight & Sound
Event: In Concert

Also Performing:
Steppenwolf
The Chambers Brothers

Setlist:
House Announcer (Tim McIntire)
When The Music's Over
Alabama Song >
Back Door Man >
Five To One
Back Door Man (Reprise)
Hello, I Love You
Moonlight Drive
-Horse Latitudes
A Little Game >
The Hill Dwellers
Spanish Caravan
Wake Up!
Light My Fire
The Unknown Soldier
The End
"Mr. Light Man"
-The Accident
-Ode To A Grasshopper
-Ensenada

Recordings / Film:
Radio Promotional Advertisements
16mm Professional Film - 'Feast of Friends'
Multi-track Recording
Amateur/Audience Recording

Photographers:
Frank Bez (Soundcheck)
Chuck Boyd (Backstage)
Ed Caraeff
Nancy Carter
Kerry Colonna (Soundcheck)
Gregg De Guire
Henry Diltz
Craig Lesser
Frank Lisciandro (FOF Cameraman)
Roland H. Thurman

Reviews / Info:
-Outdoor performance.
-8:30pm scheduled start time.
-Vince Treanor experiments with the 'gunshot' sound effect on July 4th causing a disturbance in the area.
-Mick Jagger attends this performance and visits with The Doors backstage.
-Richie Havens is present backstage with a private 8mm camera; footage is lost.
-The Doors performance is filmed in its entirety by Paul Ferrara's crew for 'Feast of Friends'.
-8-track recording by Wally Heider Mobile Studio.
-Frank Lisciandro operates both still & motion cameras during this performance.
-Harrison Ford is not present as a cameraman during this show.
-Tim McIntire introduces The Doors following performances by The Chambers Brothers and Steppenwolf.
-This performance is advertised primarily by radio and newspaper; original posters/handbills do not exist.
-Setlist includes the earliest known live performances of 'Hello, I Love You' and 'Spanish Caravan'.


RADIO PROMO SPOTS
---
Broadcast Date: May > July 5th - 1968
Station ID: KHJ - 93.5FM
Programming: Concert Promotion
Host: Various
Recording Date: May - 1968
Recording Location: KHJ Studio - Los Angeles, CA

Info:
Promotional advertisements for The Doors concert at the Hollywood Bowl aired frequently on local radio sponsor 93 KHJ. Various different broadcasts of the same promo spot are known to collectors.


LOST BACKSTAGE FILM
---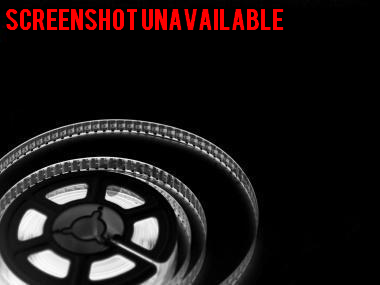 Info:
Jim Morrison and Mick Jagger are filmed backstage at the Hollywood Bowl. Paul Ferrara has confirmed that Richie Havens was filming Jim and Mick as they sat together backstage. Richie has been unable to find the footage. The only known photos from the event are of Mick Jagger and Don Steele, and do not feature Jim.
---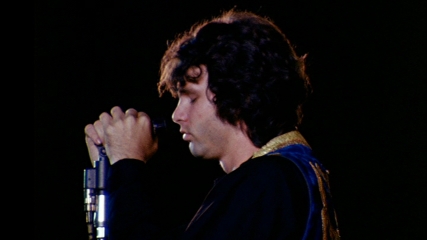 Info:
The final segment of the finished 'Feast of Friends' film is performance footage of 'The End' captured live at the Hollywood Bowl on July 5th, 1968. A full version of the entire concert was officially released in 1987 as 'Live At The Hollywood Bowl'. The filmwork is a mix of 3 different 16mm Airiflex cameras, one high speed 16mm camera, and features professional 8-track audio of the concert recorded by Paul Rothchild and Bruce Botnick in the Wally Heider remote truck. As a full concert film release was never intended, portions of audio and film from this show are missing or disrupted.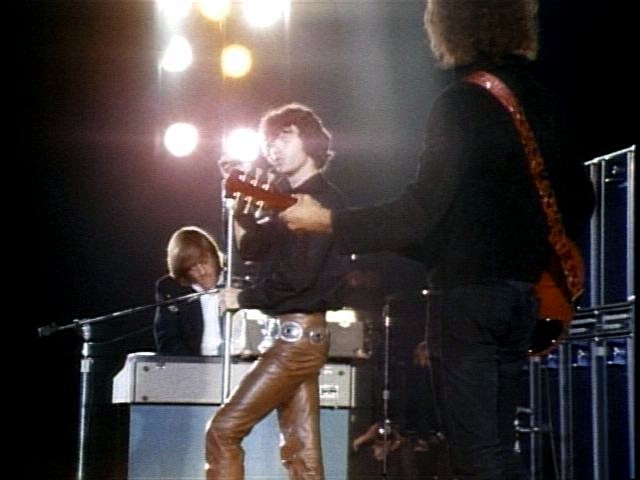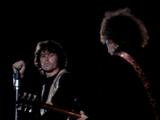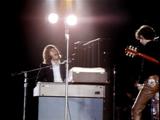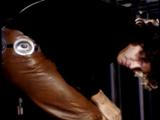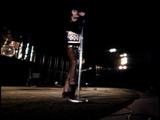 Film Crew:
Paul Ferrara - Center Seating Area / 16mm Arriflex
Frank Lisciandro - Stage Foot Area / 16mm Arriflex
David Thompson - Stage Area / 16mm Arriflex
Steve Wax - Seating Area (High Speed Camera) / 16mm

ARCHIVE/MEMORABILIA:
---
REVIEW:
Newspaper:
The Los Angeles Times
Author:
Pete Johnson
Publish Date:
July 8th - 1968
Copyright © The Los Angeles Times

PRINT AD: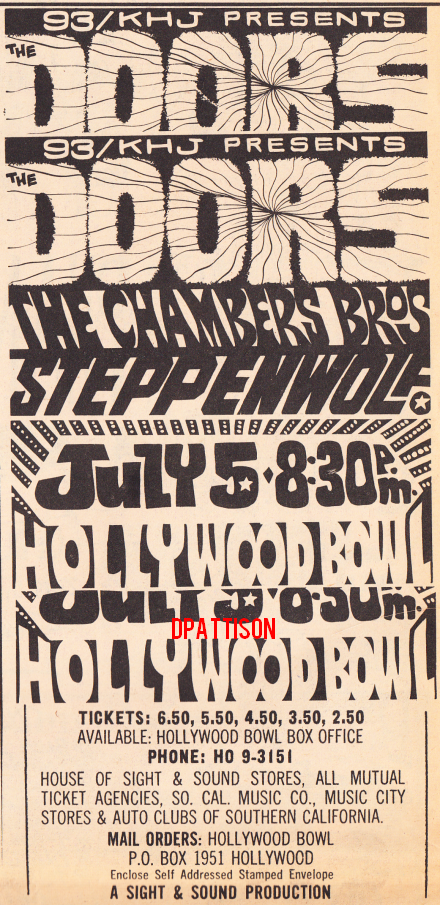 Contributed By:
DPattison
TICKET #1: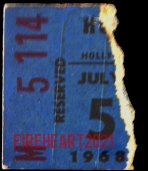 Contributed By:
FireHeart2021
TICKET #2: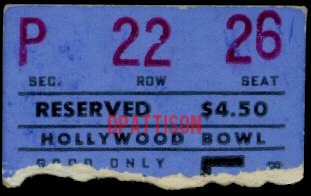 Contributed By:
DPattison
SURVEY AD:

Contributed By: BallroomDays67









Inside:
---