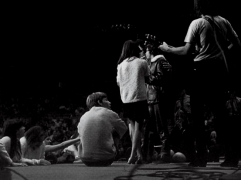 Venue Address: 100 N. Renfrew St. - Vancouver, B.C.


Promotion: Scenic Sounds
Event: In Concert

Also Performing:
Crome Syrcus
Tom Northcott
The Hydro Electric Streetcar

Setlist:
Back Door Man
When The Music's Over
Texas Radio & The Big Beat
Hello, I Love You
Five To One
Horse Latitudes
The Unknown Soldier
Wake Up!
Light My Fire
"Anybody Got A Cigarette?"
The End
(Incomplete)

Recordings / Film:
Unavailable

Photographers:
Peter Hulbert
Unidentified (Amateur)

Reviews / Info:
-The Doors make their second appearance in Vancouver.
-8:30pm scheduled start time.
-Approx. 13,000 in attendance.
-The Hydro Electric Streetcar may not have performed at this show.
-Audience members storm the stage during 'Light My Fire'.
-This performance was not filmed by the 'Feast of Friends' crew.
-The Doors return to Vancouver in 1970 for a performance on June 6th.


"I was on a family holiday with my Mom and Dad, and got to spend the afternoon with my oldest brother, Gord, who lived in Vancouver at the time. He and I were driving around town in his old Austin, when he asked me if I'd like to go to see The Doors that evening. "THE DOORS??", I asked... "Seriously?" Well, he was serious, and offered to pick up two tickets - one for me and one for himself - but only if I got "permission from Mom", since this would be my FIRST. EVER. ROCK. CONCERT.

Gord said, "These tickets aren't cheap, kid... they're $4.50 each". Oh, for those days again...

At that time, the pop charts were topped by Herb Alpert's 'This Guy's In Love With You' and Simon and Garfunkel's 'Mrs. Robinson'. As well, nearly every radio station also blared other hits by otherwise great pop (but definitely NOT rock) acts like Archie Bell and The Drells, Paul Mauriat, Bobby Goldsboro and Hugh Masekela. Against this aural and pop cultural backdrop, destiny and my brother were about to lead me to what is still - almost 44 years later - the best concert I have ever seen. Period.

But first... I needed PERMISSION to go. So, I duly asked Mom and she said 'yes', so I told Gord and he bought the tickets.

Next thing I recall, Gord I are walking toward Pacific Coliseum in the early summer evening. I'm sporting my just-purchased-that-afternoon, white Nehru shirt, featuring gaudy gold brocade around the neck and halfway down the front. I don't have a picture for evidence, but the shirt must have looked hilarious, in contrast with my brand new brush cut.

Anyhow, we made our way inside the building and to our seats, which were floors... just off dead center... about 60 feet from the stage.

I'd never been inside such a huge arena before, so while I soaked up the sights, the crowd filled in, brightly dressed in the fashion of the day - weekend hippie. Pretty soon, the lights went down and the three opening acts began their sets. I don't recall much of the openers, except for a moment, during (I think) Hydro-Electric Streetcar's set, when a few little kids started running about the stage, while the band played on!

A true, west coast sixties memory, if I've ever had one...

Now, to The Doors concert, itself. During the break between Tom Northcott's short set (which featured his hit version of Donovan's 'Sunny Goodge Street') and The Doors' show, I still very clearly remember counting the number of identical 'Acoustic' brand amp stacks onstage: 27!!! I also noticed that a giant, black fabric backdrop was hung behind the amps and ran nearly the entire length of the stage. That one backdrop would prove to be essential to the theatricality of this night's Doors' performance, which was about to begin any moment now.

Suddenly, the lights dimmed and, from out of the P.A. system, came this introduction "Now, from Los Angeles California... THE DOORS!!"

With that, John, Robby, and Ray strolled onstage... took their places at their instruments... tuned a bit... then began the 'group-loop' intro to Back Door Man, as the crowd continued cheering, all the while craning their necks to see where Jim might be. They must have played that one-bar intro for at least a minute or so, although it felt like an eternity to this 13 year old, what with no Jim yet and a circling spotlight adding tension to the beginning of their set. The more we all searched for Jim, the more the band played... the more the spotlight circled, the more excited I got... until WHAM!

From behind the backdrop on stage right, about 15 feet from where Ray jammed on his keys, came a puff of smoke, caught in a suddenly motionless beam of light, as it rose from behind the curtain. That tiny move alone elicited cheers from the crowd. It also seared itself into a solid, defining memory in my teenage (and now old guy's) brain, because that puff of smoke came from a smoke, smoked by none other than JIM in-the-flesh MORRISON!! Next thing I knew, out from behind the backdrop he stepped - hair cut shorter than recent promotional pictures in the teen mags of the day - wearing his trademark bomber jacket, leather pants, and what looked to me like motorcycle boots.

The band, by now, had played that same BDM intro loop for a couple of minutes before Morrison decided to begin his slow amble to the center microphone. The crowd went wild. Pretty soon, he was within inches of that mike, and looked ready to sing. In my young mind, the first "Oh yeah" from Back Door Man was supposed to be a shout/scream, like on the record. So when Jim almost mumbled the 'Oh yeah', I was taken aback, not knowing that artists sometimes vamp on their originally recorded melodies or phrases, particularly, great artists like Jim, John, Ray and Robby.

Anyhow, 'Oh yeah' sang Jim, and in that instant, he, the rest of The Doors AND the crowd became a living, breathing passion play - one which I still find myself reliving and recalling on a regular basis, including now.

Of course, I can't remember every single moment or every song they played... most likely because, at the age of 13, I was experiencing my first, ever contact high... but I do recall that they also played 'Five To One', released on that very day - July 13 - as The Doors followup to 'Hello, I Love You', which itself topped the U.S. charts only two weeks after they played this memorable gig at the Coliseum.

The setlist also included a very heavy 'Hello, I Love You'; 'The Unknown Soldier' (during which Morrison and his bandmates re-enacted the execution scene in stunningly powerful fashion); 'When The Music's Over', which featured a scream from Morrison, so blood-curdling, that I remember its visceral impact today; possibly 'Texas Radio and the Big Beat', but at the faster tempo they played it at, at the time, prior to its incredible chord-changed reincarnation as a blues anthem on L.A. Woman. I also vaguely recall another spoken word episode - possibly an intro to one of the latter songs, during which Jim might have intoned the unforgettable prose poetry that is 'Horse Latitudes'.

But the most unforgettable moments of the concert came during their finale, 'Light My Fire', when Ray and Robby embarked on solo flights of jazz-tinged fancy that took us all higher and higher... yet our collective, out-of-body experience was interrupted when Jim took his vocal microphone and asked "Has anybody got a cigarette?" Within seconds, through a clammer of stage-front hands, heads and hair, emerged, in Morrison's grasp, what must have been a pretty full pack of smokes, because the next thing he said was "Anyone want a smoke?", which prompted screams and a flurry of bodies, rushing the stage, directly in front of Jim. Next, pointing to various young girls within his view, he said something like "Why don't you... and you... and you... come up onstage... and I'll light one for ya". To say there was pandemonium is a huge understatement, as a half dozen girls mounted the stage and - directed by Morrison - knelt in a shimmying semi-circle around him.

Meanwhile, the band played on, as Jim lit each cigarette and handed them, one after the other, to each girl onstage, saying off-mike things that only they themselves could hear. At that point, I was probably a bit too young to understand what was going on, symbolically, but I was happily freaked out no less. Time seemed to stand completely still. This was no longer just a concert, but a truly metaphysical experience!

Robby was most likely into his solo when Jim shouted "Why don't you all come up on the stage!"... and all Hell broke loose, as the mass of people immediately in front of the band climbed onstage... or tried to, as many were either denied access by police or summarily escorted offstage by the few arena security guys present.

If my brain still serves me well, I do seem to recall asking big brother Gord if I could rush to the stage, too. Probably the only reason I'm still here, in one piece and with a relatively unscathed mind, is that he must have replied "No, kid."...

Gerry Mosby
Toronto, ON
Copyright © 2012 Gerry Mosby

A Special Thanks to Gerry Mosby for providing his review of the concert to MildEquator.com!


ARCHIVE/MEMORABILIA:
---
REVIEW #1:
Newspaper:
The Vancouver Sun
Author:
Lloyd Dykk
Publish Date:
July 15th - 1968
Copyright © The Vancouver Sun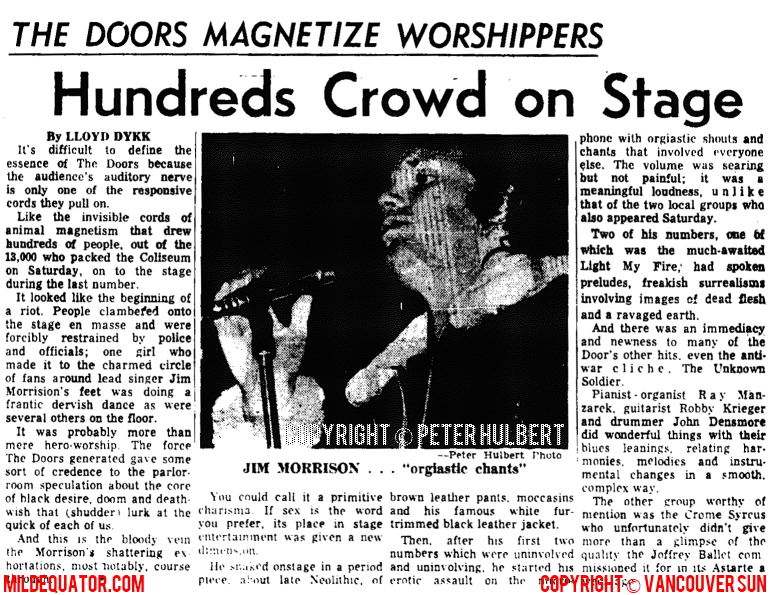 REVIEW #2:
Newspaper:
The Vancouver Sun
Author:
Brian Macleod
Publish Date:
July - 1968
Copyright © The Vancouver Sun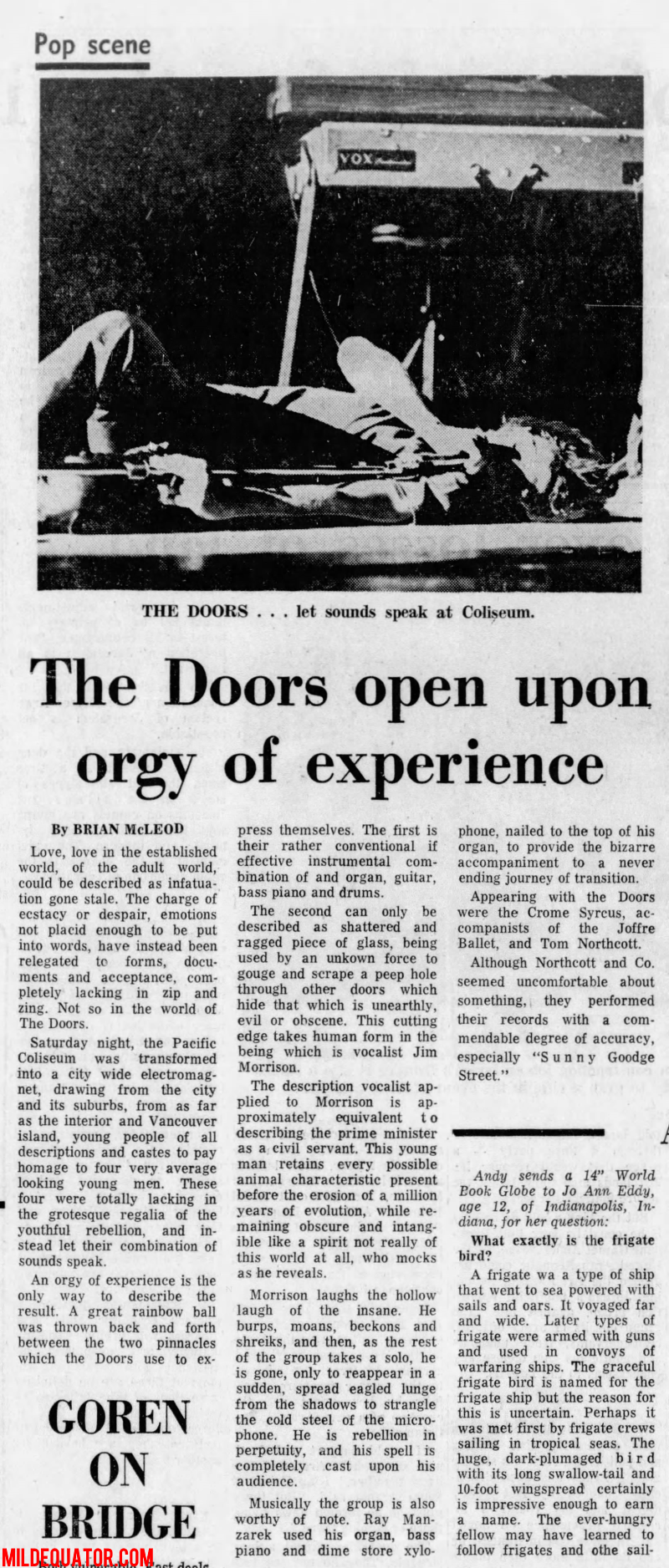 PRINT AD #1: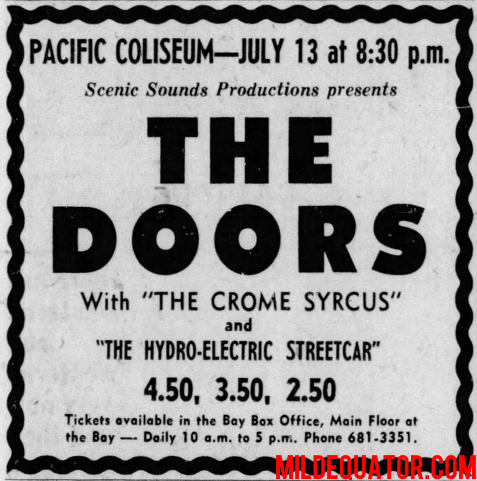 PRINT AD #2: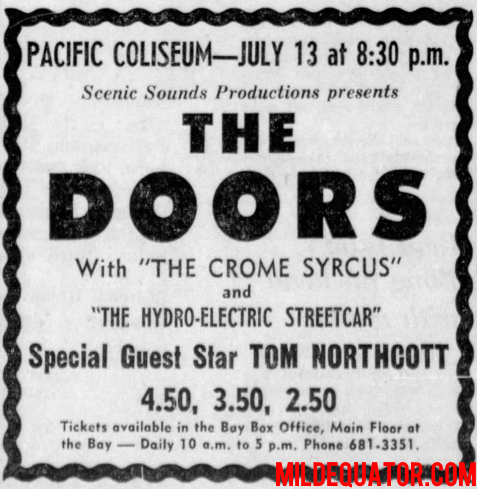 HANDBILL: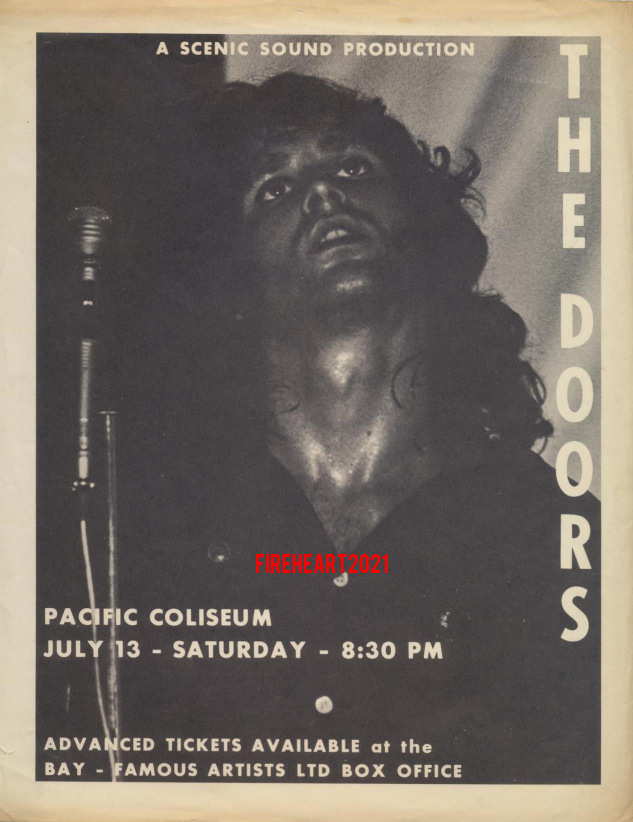 Contributed By:
FireHeart2021
TICKET #1: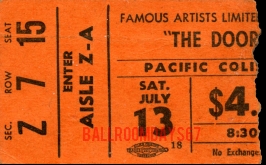 Contributed By:
BallroomDays67
TICKET #2: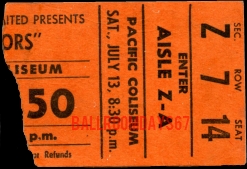 Contributed By:
BallroomDays67
TICKET #3: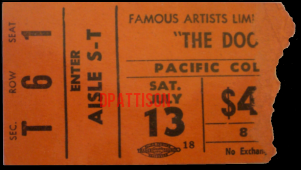 Contributed By:
DPattison
TICKET #4: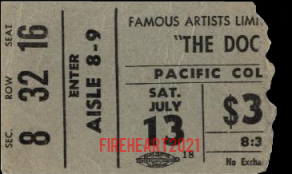 Contributed By:
FireHeart2021
---