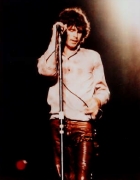 Venue Address: Flushing Meadows, Queens - New York, NY


Promotion: Gary Kurfirst & Shelley Finkel Present
Event: New York Rock Festival

Also Performing:
The Who
Kangaroo

Setlist:
Introduction (Scott Muni)
Backdoor Man >
Five To One
Break On Through
When The Music's Over
-Vast Radiant Beach
-Dawn's Highway
-The Royal Sperm
Wild Child
Wake Up!
Light My Fire
The End
-Strange Gods Are Coming
-The Sea Is Green
-I Hear You Calling
-Ensenada

Recordings / Film:
16mm Professional Film - 'Feast of Friends' (See Details Below)
8mm Amateur/Audience Film - First Source
8mm Amateur/Audience Film - Second Source
Amateur/Audience Recording - First Source
Amateur/Audience Recording - Second Source

Photographers:
Allan Grossman
Unidentified (Amateur & Professional)

Reviews / Info:
-8:30pm scheduled start time.
-Promotional artwork by Dominic Sicilia (Poster;Handbill;Print-Ads;)
-Outdoor performance.
-Approx. 16,500 in attendance.
-Jim Morrison mingles with the audience prior to The Doors performance.
-The Doors perform on a revolving stage which breaks down partway through their performance.
-Setlist includes the first known live performance of 'Wild Child'.
-Audience members repeatedly attempt to get on the stage.
-Backstage and performance footage is shot for 'Feast of Friends'.
-Cameraman Paul Ferrara protects his equipment by filming from behind John Densmore's drumkit.
-Approx. 200 audience members throw chairs causing injury following The Doors performance.
-Jim Morrison attempts to console an injured concert attendee after the show.
-This performance is recorded on tape by at least two audience members.


"I saw The Doors on August 2nd, 1968 at the Singer Bowl at the old World's Fair grounds in Flushing, NY. The Singer Bowl was my very first concert and manoman was I impressed! My father wouldn't let me go to the show because he knew about Morrison, but I told him that I was going to sneak out of the house and go anyway, and that he could kill me later. He relented. He was waiting for us outside after the show, threw me and my friend into the car and swore that I wouldn't be able to leave the house again until I was 36!

The opening act was a band called Kangaroo which featured Jon Hall later of the band Orleans and some hippie chick singer and the middle act that night was The Who! I was 12 years old at the time and wasn't too familiar with The Who and they rocked the house big time and smashed their instruments at the end of their performance.

The Doors came on after being introduced by WNEW FM DJ Scott Muni, and they were amazing. There was a revolving stage and it broke down with the band facing me. My seat was way up top, but when The Doors came on I went up front and was about 15 feet from them. Jim was wearing brown leathers and a purple paisley shirt and he looked great. I also remember thinking that Robbie Krieger looked like he was about to cry. He looked worried. The Doors finished their set with "The End" and then a riot broke out with the cops busting heads everywhere! I walked right through it knowing that no one would crack the skull of a 12 year old kid!

I borrowed my mom's Instamatic camera, but the pictures didn't come out too well, and I don't know where they are now. I don't have the ticket stub either, but I have a great memory of that amazing show!"

Steven Pearl
Los Angeles, CA
Copyright © 2010 Steven Pearl

A Special Thanks to Steven Pearl for providing his review of the concert to MildEquator.com!


8MM AUDIENCE FILM #1
---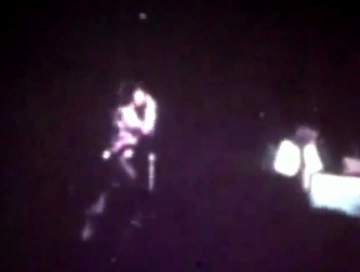 Info:
Silent color footage of The Doors shot on an 8mm Kodak camera with one 4-minute cartridge at the Singer Bowl in New York. Portions of the reel include performance footage of 'The Who'. Film shifts in and out of focus. Appears to have been shot close to the stage.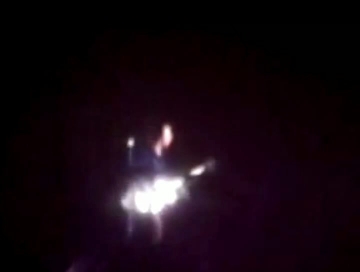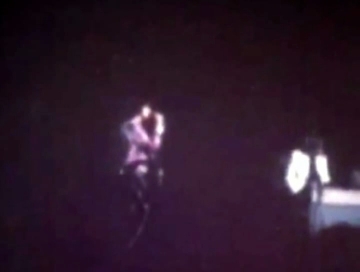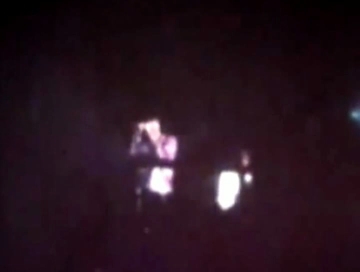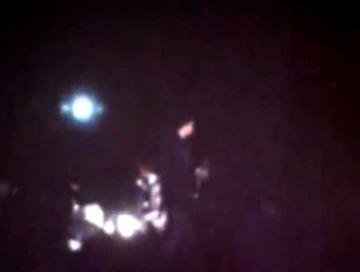 8MM AUDIENCE FILM #2
---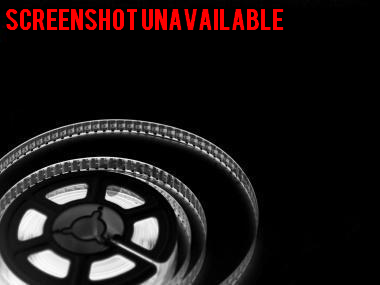 Info:
This source of film was shot over 4 different 8mm rolls, however it is possible that they do not all contain performance footage. The films whereabouts are currently unknown, and are said to be in the possession of the filmer.


---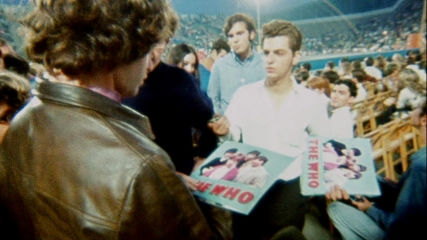 Info:
Backstage color footage with sound shot at the Singer Bowl in New York on August 2nd, 1968. Features Jim Morrison wandering through the audience prior to the performance while Paul Ferrara and Babe Hill follow in close. Numerous chairs thrown by the audience during this performance, however the event is not captured on film. Following the performance, Jim Morrison talks with an injured concert attendee.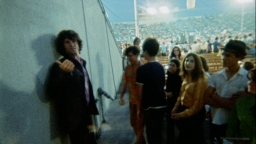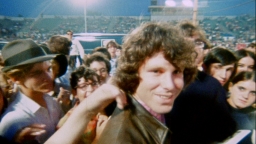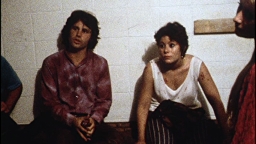 The Doors are captured on film during their performance at the Singer Bowl on August 2nd, 1968. Features footage of the band as they make their way to the stage, and Jim Morrison performs wildly to an aggressive audience. While filming on-stage during this performance, Paul Ferrara hides behind John Densmore's drums to shield himself and his camera from audience projectiles.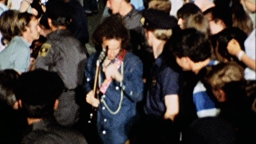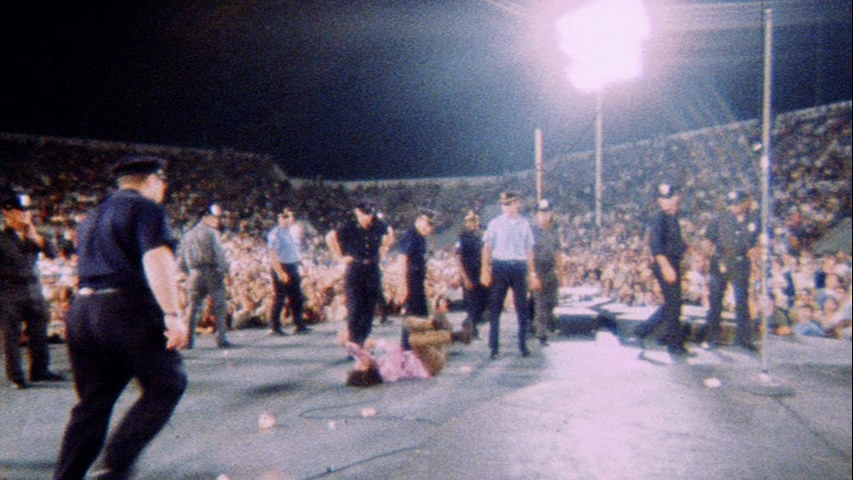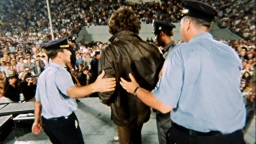 ARCHIVE/MEMORABILIA:
---
REVIEW:
Newspaper:
Bridgeport Post
Author:
Unknown
Publish Date:
August 3rd - 1968
Copyright © Bridgeport Post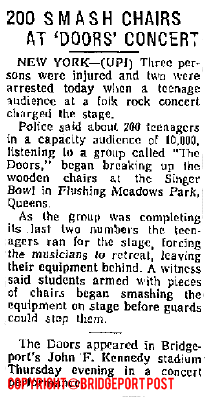 REVIEW:
Newspaper:
Nevada State Journal
Author:
Unknown
Publish Date:
August 4th - 1968
Copyright © Nevada State Journal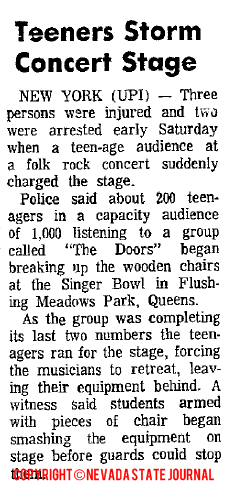 TICKET: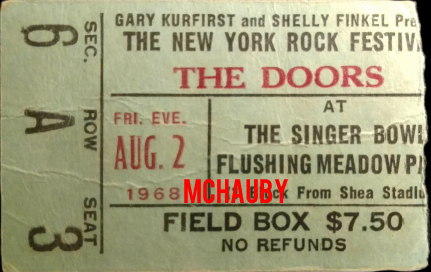 Contributed By: MChauby
PRINT AD: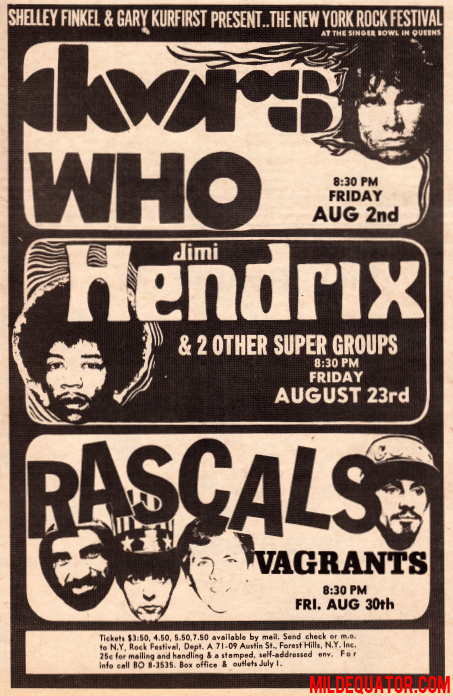 ---