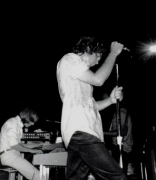 Venue Address: 46th & Market St. - Philadelphia, PA


Promotion: Bob Borden/WFIL
Event: In Concert

Also Performing:
Mandrake Memorial
All That The Name Implies
The American Dream

Setlist:
House Announcer (Bob Borden)
When The Music's Over
-The Royal Sperm
Alabama Song >
Back Door Man >
Five To One
Spanish Caravan
Texas Radio And The Big Beat
Hello, I Love You
Wake Up!
Light My Fire

Recordings / Film:
16mm Professional Film - 'Feast of Friends'
Amateur/Audience Recording

Photographers:
Dave Sweetman
Unidentified (Professional & Amateur)

Reviews / Info:
-This performance is falsely advertised as The Doors first appearance in Philadelphia.
-WFIL advertises this performance on the radio.
-8:00pm scheduled start time.
-Approx. 6,400 in attendance.
-The oversale of tickets result in a late appearance of The Doors at 10:45pm.
-Ticket holders behind the stage leave their seats for a better view.
-This venue is poorly air conditioned and audience members overheat.
-Performance footage is shot for 'Feast of Friends'.
-An audience member records the show on tape.
-The American Dream follow The Doors, though most of the audience has left.
-Audience members are pleased with The Doors performance but disappointed with concert authorities.


---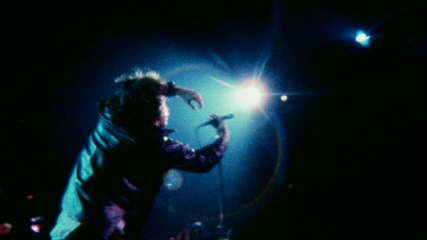 Info:
Color footage of the The Doors as they arrive on-stage at the Philadelphia Arena on August 4th, 1968. Paul Ferrara follows the band through the audience and onto the stage. Although official releases of this segment have been edited and overdubbed with audio representing the start of a performance by The Doors, the filmwork is silent. Performance footage segments are brief.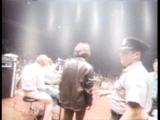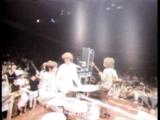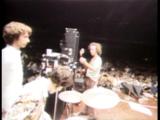 ARCHIVE/MEMORABILIA:
---
REVIEW:

Newspaper: Distant Drummer
Author: Ann Morrell
Publish Date: August 8th - 1968
Copyright © Ann Morrell

Contributed by: jim4371








< CLICK TO READ
PRINT AD #1: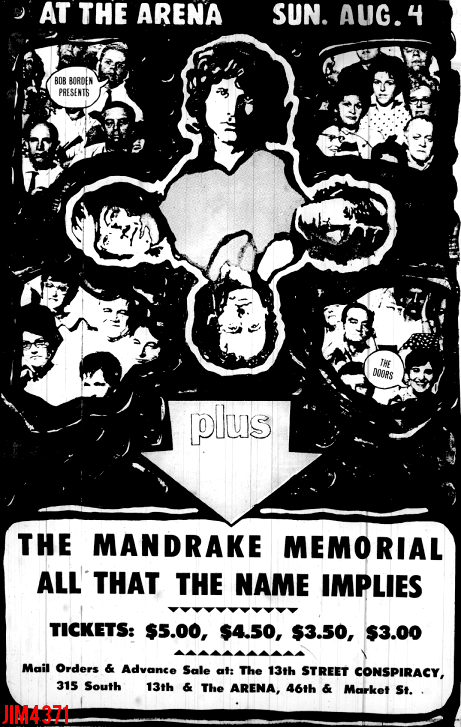 Contributed By:
jim4371
PRINT AD #2: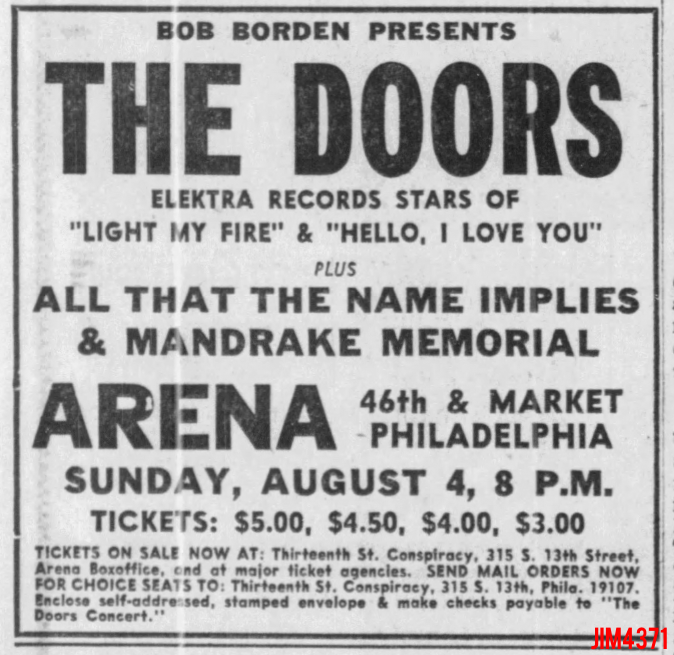 Contributed By:
jim4371
POSTER AD:
Contributed By:
MildEquator.com
---