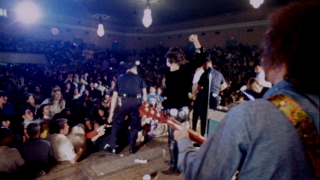 Venue Address: 1300 Ocean Ave. - Asbury Park, NJ


Promotion: Moe Septee Presents
Event: Summer Of Stars

Also Performing:
Earth Opera

Setlist:

Early Show
Back Door Man >
Five To One
Break On Through
Love Me Two Times
When The Music's Over
Spanish Caravan
Soul Kitchen
-Pray The Lord
-Louie Louie (Instrumental)
-Summer's Almost Gone
Wake Up!
Light My Fire
(Incomplete)


Late Show
Break On Through
Love Me Two Times
When the Music's Over
Spanish Caravan
Soul Kitchen
Light My Fire
The End
(Incomplete)

Recordings / Film:
16mm Professional Film - 'Feast of Friends'
Amateur/Audience Recording (Early Show)
Photographers:
Eric Rudolph
Reviews / Info:
-7:30pm & 9:45pm scheduled start times.
-Backstage and performance footage is shot for 'Feast of Friends'.
-Early show setlist may actually represent the late show.
"The circumstance of my first Doors concert was truly a fluke. On a Saturday morning, a friend called and offered a pair of tickets to my roommate and I for the concert that night. My friend Bonnie and her boyfriend had argued and broken up the night before and would NOT be using the tickets, and didn't want them to go to waste!
I took my 2-year old son to my Mom's for the night, and Pat and I set off for Asbury Park. It was probably a 90-minute drive from Flemington on those New Jersey roads that led down the shore, heading to my very first rock concert, ever.
Our goldenrod colored tickets showed a price of $5.50 and were for the late show at 9:45 P.M. The opener was a real trippy band called Earth Opera. I had never heard of them before that night, but they had a psychedelic album and lengthy title song called 'Great American Eagle Tragedy'. I still have that vinyl album which I bought after seeing their performance.
Our seats were not real close, but this was not a large venue. I do know that we had NEVER seen anything like that slinky, sexy vision in black leather onstage. And, I remember the music being made by the musicians onstage was absolutely mesmerizing and hypnotic.
During Bruce Springsteen's recent 2002 tour rehearsals and Today Show appearance from Asbury Park Convention Hall, I really studied the interior shots trying to refresh my memories. The exterior of the building looks just the same now as it did back then. I've been back to Asbury Park several times in recent years to see Robby perform at the Stone Pony, and went down the boardwalk to the Convention Hall to take pictures and reminisce. The building was vacant & idle for many years, so I'm happy that it has been revived and there were some concerts there in summer of 2002."
Ida Miller
Los Angeles, CA
Copyright © 2011 Ida Miller
A Special Thanks to
Ida Miller
of
IdaFan.com
for providing her memories of the concert to
MildEquator.com!
---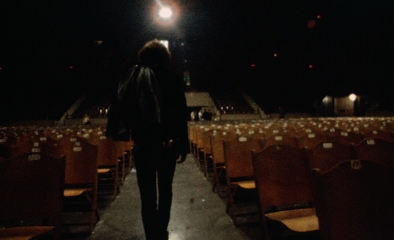 Info:
Color footage shot prior to The Doors performance at the Asbury Park Convention Hall on August 31st, 1968. Jim Morrison can be seen wandering through various parts of the venue as Paul Ferrara follows with the camera. Various scenes from this venue appear to have been shot intentionally. Paul Ferrara's video 'Those Were The Days' features alternate footage of Jim Morrison and John Densmore on the boardwalk.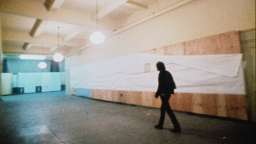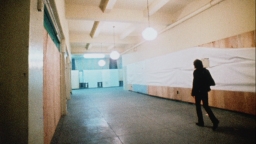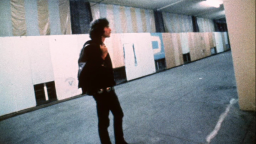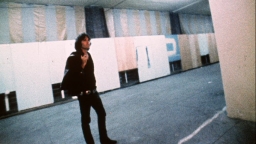 Color performance footage shot at the Asbury Park Convention Hall during at least one of two shows. Features a scene in which a necklace thrown on-stage by an audience member lands around Jim Morrison's neck. Offically released performance clips from this venue are brief.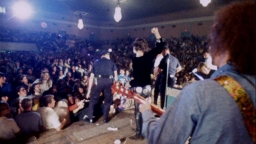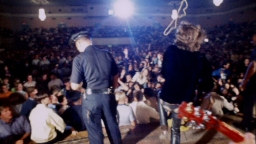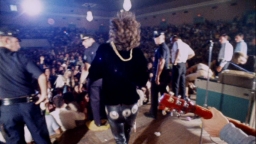 ARCHIVE/MEMORABILIA:
---
POSTCARD: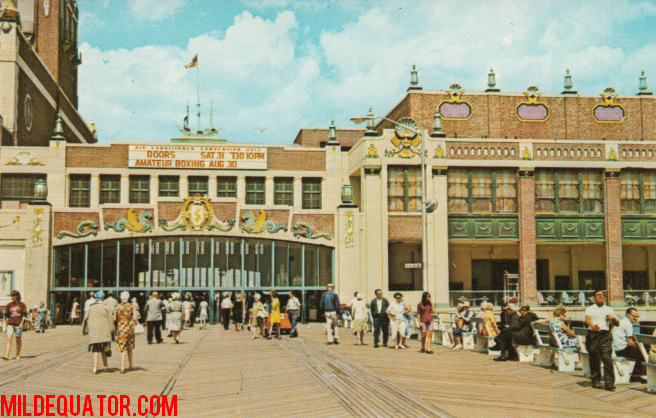 Contributed By:
MildEquator.com
REVIEW:
Newspaper:
Asbury Park Press
Author:
Joan Pikula
Publish Date:
Sept. - 1968
Copyright © Asbury Park Press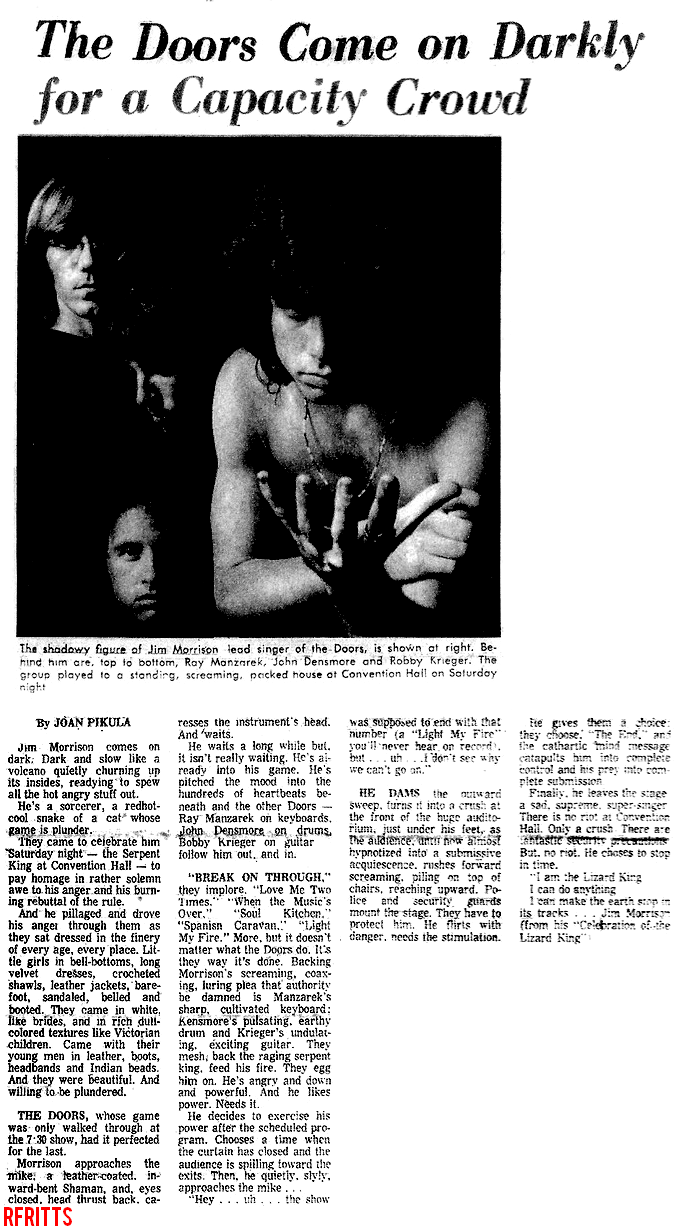 Contributed By: RFritts
PICTURE AD: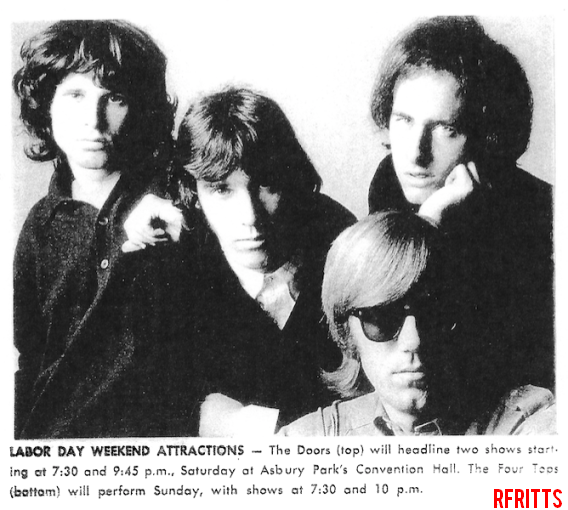 Contributed By: RFritts
TICKET #1: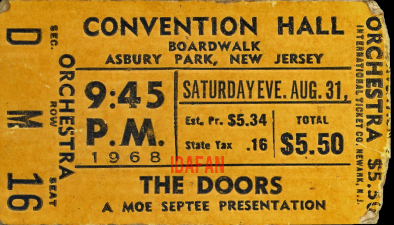 Contributed By:
Ida Miller
TICKET #2: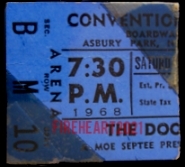 Contributed By:
FireHeart2021
TICKET #3: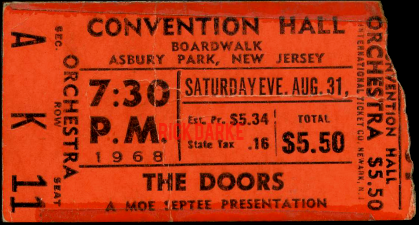 Contributed By:
Rick Darke
---