Venue Address: Hotorget 8, 111 57 - Stockholm, SE


Promotion: Karusell Konsertbyra
Event: In Concert

Also Performing:
International Harvester

Setlist:

Early Show
House Announcer (Unknown)
Five To One
Love Street
Love Me Two Times
When The Music's Over
A Little Game >
The Hill Dwellers
Light My Fire
-Persian Night
The Unknown Soldier


Late Show
Five To One
Mack The Knife >
Alabama Song >
Back Door Man
You're Lost Little Girl
Love Me Two Times
When The Music's Over
Wild Child
Money
Wake Up!
Light My Fire
The End

Recordings / Film:
Interview Recording
Multi-track Recording
Photographers:
Unidentified
Reviews / Info:
-Sveriges Radio personality Lennart Wretlind records an interview with Jim Morrison at the Hotel Appolonia on September 19th with the other members of The Doors present.
-7:00pm & 9:30pm scheduled start times.
-After failing to perform in Amsterdam a few days prior, Jim Morrison is determined to put on a good show.
-Setlists include rare performances of 'Mack The Knife', 'Love Street' and 'You're Lost Little Girl'.
-Both performances are recorded and broadcast by Sveriges (Swedish) Radio.
-Jefferson Airplane does not perform with The Doors on this night.
HOTEL RECORDING
---
Recording Date: September 19th - 1968
Interview Location: Hotel Appolonia - Stockholm, SE
Publication: Unpublished
Length: Unknown

Info:
This interview recorded by Lennart Wretlind was conducted at the Hotel Appolonia in Stockholm, Sweden on September 19th, 1968. A portion of this recording features unique poetry read by Jim Morrison with improvised 'musical' accompaniment by the band.


SWEDISH RADIO CONCERT BROADCAST
---
Broadcast Date: Possibly Live on September 20th - 1968
Station ID: Sveriges Radio
Programming: Concert Broadcast
Host: Unknown
Recording Date: September 20th - 1968
Recording Location: Konserthuset - Stockholm, SE

Info:
Both concerts performed on this night were recorded and broadcast on Sveriges Radio in Stockholm, Sweden.


ARCHIVE/MEMORABILIA:
---
TICKET: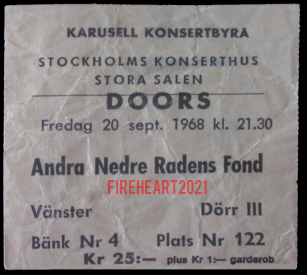 Contributed By:
FireHeart2021
---