Venue Address: Rimrock Rd. - Madison, WI


Promotion: Triangle Theatrical Productions
Event: In Concert

Also Performing:
Midwest Hydraulic Company

Setlist:
Back Door Man
When The Music's Over
The Crystal Ship
Light My Fire
The Celebration Of The Lizard
(Incomplete)

Recordings / Film:
Unavailable

Photographers:
Unavailable

Reviews / Info:
-8:30pm scheduled start time.
-Approx. 5,000 in attendance.
-The Doors go on stage at approx. 9:50pm.
-Jim Morrison destroys his microphone during 'Light My Fire'.


ARCHIVE/MEMORABILIA:
---
REVIEW:
Newspaper:
Wisconsin State Journal
Author:
John W. English
Publish Date:
November 9th - 1968
Copyright © The Wisconsin State Journal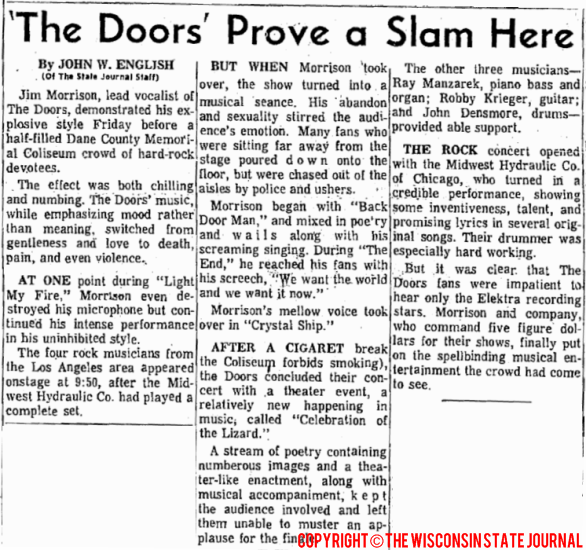 REVIEW:
Newspaper:
Madison Capital Times
Author:
Unknown
Publish Date:
November 9th - 1968
Copyright © The Madison Capital Times

Contributed By:
jim4371
---