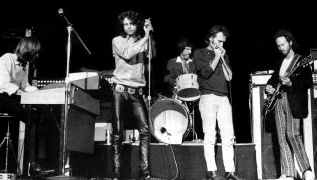 Venue Address: 1301 2nd Ave. S. - Minneapolis, MN


Promotion: Triangle Theatrical Productions / Franklin Fried Presents
Event: In Concert

Also Performing:
Midwest Hydraulic Company

Setlist:
Soul Kitchen
Break On Through
When The Music's Over
Back Door Man*
-Blues Jam (Instrumental)
-Next One Comin' Down The Line
Little Red Rooster*
Wild Child*
Money*
Love Me Two Times*
-Blues Jam (Instrumental)
-All Night Long
-Mystery Train
Light My Fire
-Summertime (Instrumental)
-Eleanor Rigby (Instrumental)

* Featuring Tony Glover on Harmonica

Recordings / Film:
Amateur/Audience Recording

Photographers:
Mike Barich
Denny Schwartz

Reviews / Info:
-8:00pm scheduled start time.
-Tony Glover is invited on-stage to perform with The Doors.
-Jim Morrison drinks numerous Hamm's beers from 16oz. cans on stage.
-Tony Glover makes a request in local newspapers for a recording of this performance.
-Reviews of this performance are positive.


ARCHIVE/MEMORABILIA:
---
PRINT AD: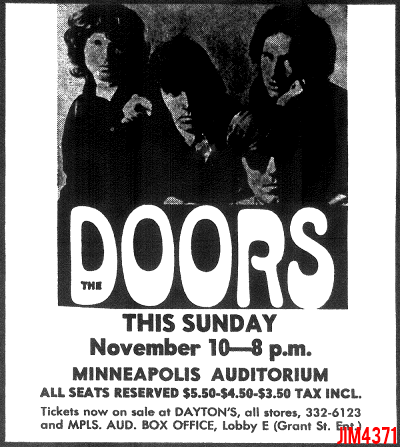 Contributed By:
jim4371
---