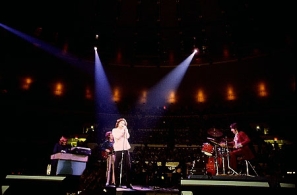 Venue Address: 4 Pennsylvania Plaza - New York, NY


Promotion: Elektra
Event: In Concert

Also Performing:
The Staple Singers

Setlist:
Rehearsal (Jan. 23)
(Unknown)

Soundcheck
(Unknown)

Performance
Touch Me
The Soft Parade
Tell All The People
Love Me Two Times
Who Scared You
Spanish Caravan
Wild Child
Light My Fire
"Anybody Got A Cigarette?"
Back Door Man
-Woman Is A Devil
Five To One
(Band Introductions)
Forget This Is The Square Garden (Dialogue)
Adolf Hitler (Poem)
When The Music's Over
"This whole performance is being telecast live for national TV..."

Recordings / Film:
Amateur/Audience Recording
16mm Film
(See Below)
8mm Amateur/Audience Film
(See Below)
Photographers:
Dan Berliner (Amateur)
Cal Deal
Thomas Monaster
Ron Rizzi (Amateur)
Joe Sia
Unidentified (Amateur & Professional)
Reviews / Info:
-The Doors rehearse with full orchestra at Steinway & Sons in Manhattan on the day prior to this performance.
-Scheduled start times vary between 8:00pm and 8:30pm in known advertisements.
-Promotional posters or handbills do not exist for this show.
-Approx. 20,000 in attendance.
-This performance features Curtis Amy and George Bohanon in their on-stage orchestra.
-Harvey Brooks plays bass guitar at this show.
-Setlist includes a rare live performance of The Soft Parade and Who Scared You.
-Jim Morrison gives the first known recitation of 'Adolf Hitler' during this performance.
-At least one color 8mm film is shot by an audience member at this show.
-Jim Morrison indicates that this performance is being
telecast live on TV
.
"I had no way to get to the box office in New York City for these tickets; a NYC customer of my employer bought them for me, and treated my friends and I to the show. This ticket was pale green and had a $5.00 price on it (See Below). Pat, the same friend who shared that first, "life-altering" concert with me, plus two other friends and I took a train from Princeton, New Jersey into Penn Station in NYC.
Our seats were TERRIBLE... 2nd Promenade is nosebleed level, for sure. This place held 20,000 people. The Doors were on a stage so far away, way down there... Jim was a tiny figure in a white shirt. The horn section was onstage for part of the time, as this was the 'Soft Parade' era.
I have often heard the guys mention that this was their favorite show, I guess because of the venue prestige and audience size. It remains my LEAST favorite of all five shows, because I was so far away and felt disconnected, unable to really 'experience' the show."
Ida Miller
Los Angeles, CA
Copyright © 2011 Ida Miller
A Special Thanks to
Ida Miller
of
IdaFan.com
for providing her memories of the concert to
MildEquator.com!
16MM FOOTAGE
---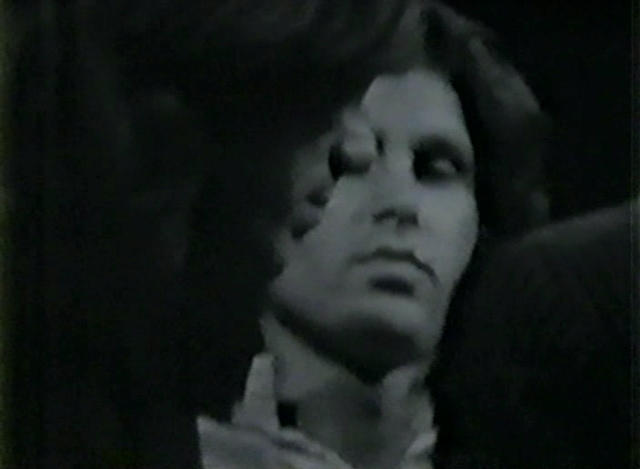 Info:
Near-stage footage shot on January 24th, 1969 during a sold out concert by The Doors at Madison Square Garden. Almost 16 minutes of the show were captured on film, spanning from The Doors arrival on stage to the end of the concert. While this footage may not be related, Jim Morrison announces to the audience "Hey listen, listen - you know this whole performance is being telecast live for national TV, y'know that? So if you have anything to say, you better say it now." Although circulating copies are generated and silent, a complete and higher quality copy known to MildEquator.com shows that the film is relatively steady and clear, suggesting the filmer was operating a handheld 16mm camera. Circulating copies of this footage are missing a brief segment of The Doors arrival on stage. The whereabouts of the master footage are unknown and details on how it was brought to light now appear to be lost.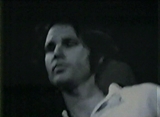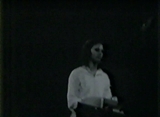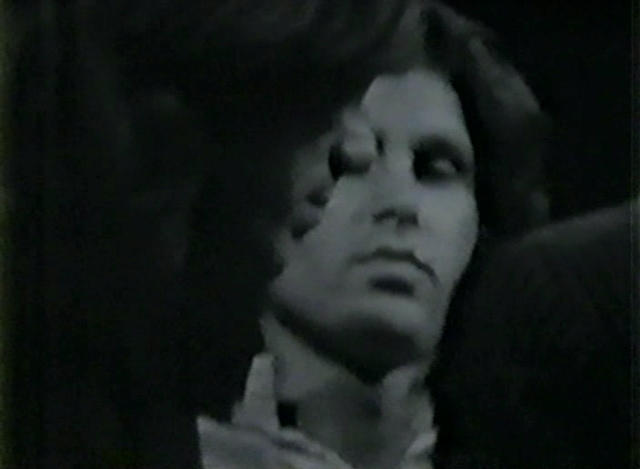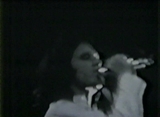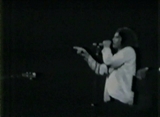 8MM COLOR FOOTAGE
---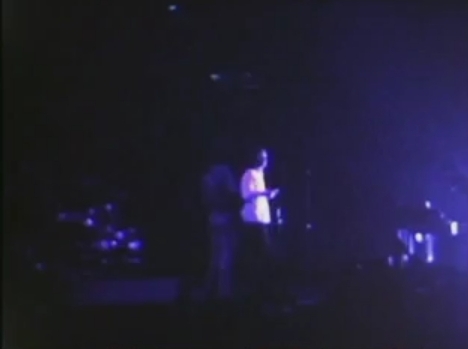 Info:
Color 8mm shot from a distance. No audio present. This is the most recent amateur audience film to surface. The filmer 'found' this film in his closet after his recent re-discovery of a Led Zeppelin concert film at the Fillmore East dated one week after The Doors performance at Madison Square Garden on January 24th.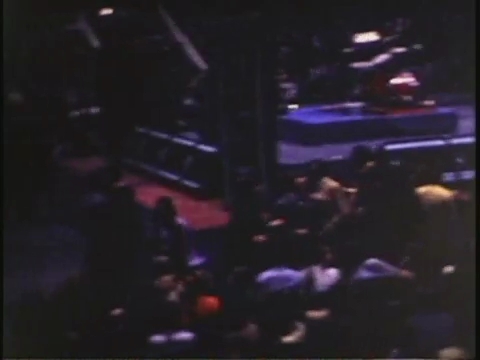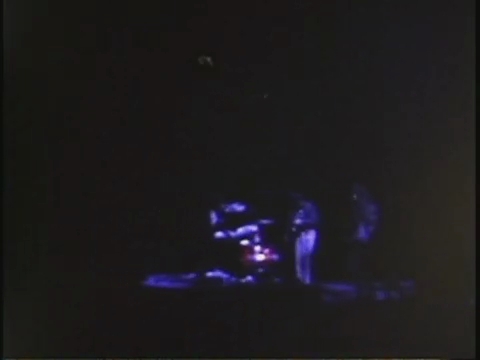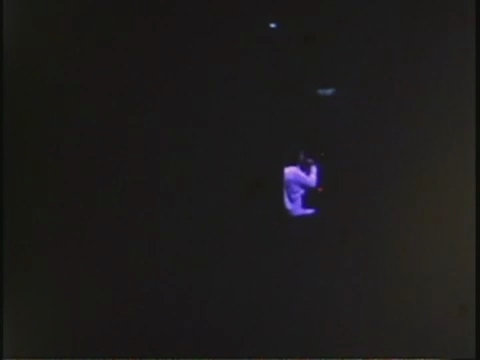 ARCHIVE/MEMORABILIA:
---
REVIEW:
Newspaper:
The New York Times
Author:
Mike Jahn
Publish Date:
January 25th - 1969
Copyright © The New York Times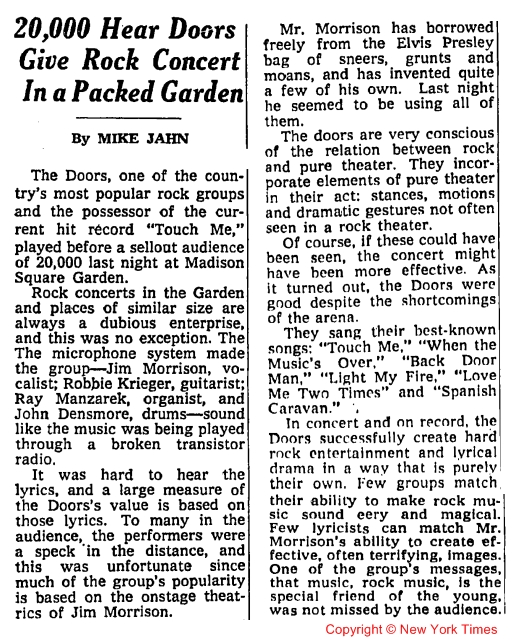 ARTICLE:
Newspaper:
Unknown
Author:
Sylvia Reice
Publish Date:
Unknown - 1969
Copyright © Unknown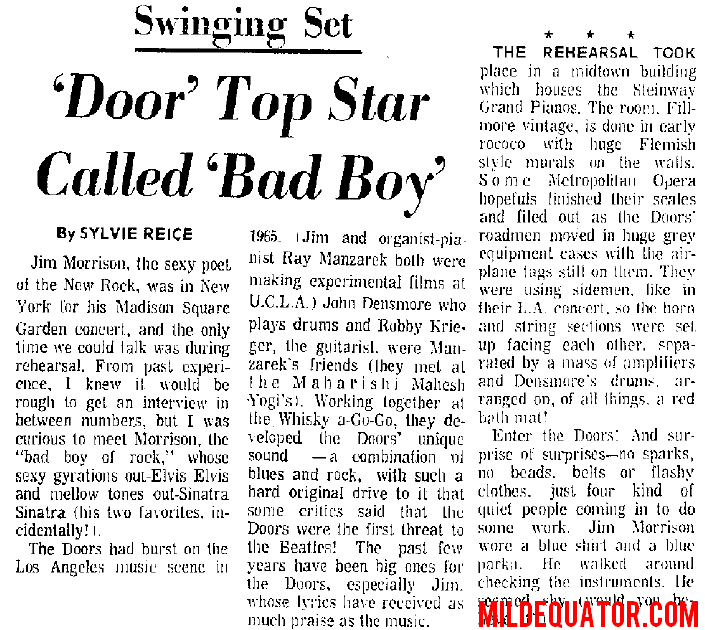 PRINT AD: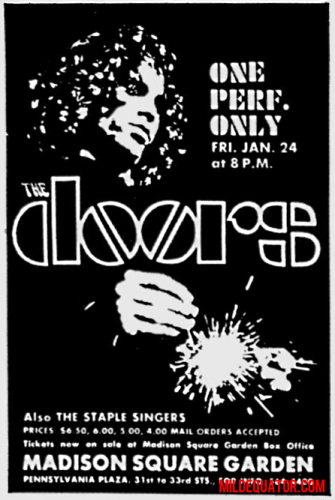 TICKET #1: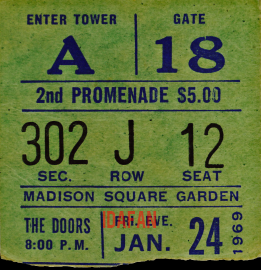 Contributed By:
Ida Miller
TICKET #2: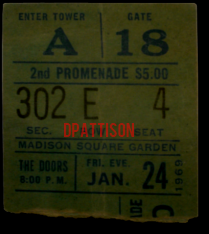 Contributed By:
DPattison
TICKET #3: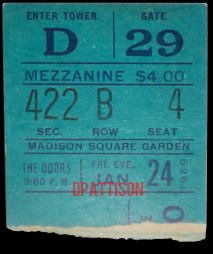 Contributed By:
DPattison
TICKET #4: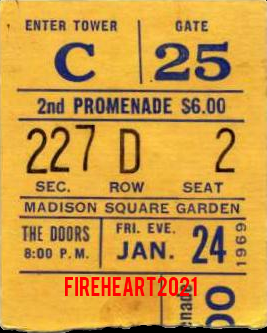 Contributed By:
FireHeart2021
TICKET #5:

Contributed By:
BallroomDays67
---