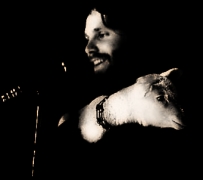 Venue Address: Coconut Grove - Miami, FL


Promotion: Thee Image (Ken Collier/Jim Collier/Chuck Gross)
Event: An Evening With The Doors

Also Performing:
The Echo
Fire & Brimstone

Setlist:
House Announcer (Unknown)
No Revolution (Dialogue)
Back Door Man >
"Nobody's Gonna Love Me"
Five To One
"What Are You Gonna Do About It"
No Revolution (Dialogue)
Touch Me
"Wait A Minute"
Love Me Two Times
When The Music's Over
"I Wanna Change The World"
-Away In India
"Got The Animals Worked Up"
Wake Up!
Light My Fire
"There Are No Rules"
No Limits, No Laws (Dialogue)
House Announcer (Ken Collier)

Recordings / Film:
Amateur/Audience Recording

Photographers:
Edgar Bernstein
David LeVine
Jeff Simon

Reviews / Info:
-University Of Miami students attempt to book The Doors at the Convention Hall but are refused.
-Owners of the local club Thee Image are successful in booking The Doors at the Dinner Key Auditorium.
-8:00pm scheduled start time.
-Approx. 10,000 in attendance.
-Local Miami bands 'The Echo' and 'Fire and Brimstone' open the show.
-Jim Morrison arrives late for the show.
-Trouble arises backstage as The Doors management learns that promoters have oversold tickets.
-Jim Morrison makes his first live appearance with a beard and final appearance in leather pants.
-Photographs and recordings document Jim Morrison's wild stage antics.
-Jim Morrison is thrown into the audience by Thee Image manager Larry Pizzi, and the band leaves the stage.
-Audience members leave piles of clothing behind at the venue.
-The Doors stay at the Hilton Plaza in Miami and leave for Jamaica the following day.
-Warrants are issued for Jim Morrison's arrest in the days following the performance.
-The Doors tour schedule is disrupted when authorities across the country begin cancelling shows.
-The Miami Decency Rally results from this show, and other performers are cancelled in Miami.
-Jim Morrison turns himself in to Los Angeles authorities on April 3rd.
-This performance results in the famous Miami incident and Jim Morrison goes to trial in August 1970.
-An Amateur/Audience recording from this night is used as evidence in court.


"Well, it was 42 years ago and I was 21. The Dinner Key Auditorium was old, dirty, and small compared to any of today's arenas or auditoriums. That night it was very loud and dark, and the crowd was getting more and more impatient. My 3 friends and I found an old sturdy wooden card table under the center bleechers, and all four of us got up on it before The Doors came on. We got there early enough to see Morrison walking around a bit on the catwalk one story up near the entrance. I didn't recognize him as I had never seen him with a beard before. I thought he was probably one of the crew. It wasn't until he went on stage that I realized who I had seen. I remember a lot of what happened because it was all over in about 30 minutes when Morrison was pushed off the stage into the crowd.

The announcer/promoter had some harsh things to say about Morrison holding up the show. At one point he said something like,"You want to know why they aren't out here? Jim Morrison won't come out until we get him a 'Schick' razor blade." Then I remeber him saying something to the crowd like, "Come back next week... we have a REAL singer and a gentleman... Donovan." If that was Jim on the balcony, he was there before the cover band finished playing and not absent because of a 'late plane'.

They took their time coming to the stage. Morrison appeared to be drunk, foul mouthed, slurring, repeating the same commands to the crowd over and over again. I remember being shocked when Jim stopped singing early in the first song, telling the band to stop and then shouting loudly into the mic, "You're all a bunch of fucking idiots!". Most of us, in 1969, had never heard anyone say that word over a microphone. I imediately thought of the comedian Lenny Bruce (arrested in the late 50's-60's for using lewd language)... and that Morrison was surely going to be arrested too. It was outrageous at the time.

At one point, while the music was playing, Jim said something like,"How about 50 of you come up here and love my ass". I think about 4 girls made it to him and surrounded him adoringly while he held his hands up and let them hug him, and twirl him around. They were quickly escorted off. Soon after, Jim started saying over-and-over again, (while the band was still playing) "Everybody on the stage, everybody on the stage, everybody on the stage", until a cop or promoter took the microphone and told everyone to stay off the stage. Jim took the mic back and started saying over and over, "Everybody off the stage, everybody off the stage." When everybody (only a few people to begin with) were off the stage, Jim said without missing a beat, "Everybody ON the stage, everybody ON the stage", until the fat little cop came back out and said once again that everyone had to stay off the stage. I think that is when Jim took the cops hat off and threw it into the crowd... and then the cop took Jim's hat off and threw it into the crowd.

At the beginning of the concert there were people 20 deep behind us. By the time the lights came on there was 20 feet of space in front of us because Jim had kept telling everyone to come on the stage. It was hot and a few guys were dropping from the low rafters onto the stage. Jim had everyone in the palm of his hand... doing just about everything he said. I didn't see anyone leaving early. This was a very different concert and I think most of us were mesmerized. I remember at the time I wished I had heard more of their music instead of Jim talking so much...but it remains one of my most unforgettable experiences.

I disagree with some reports that the last song played that night was 'The End'. I remember a long drawn out ending of 'Light My Fire', with people trying to get on stage (not hundreds like some say) 20-30 maybe, and Jim had stopped singing and was pushing people off the stage while the band and that unmistakable organ sound played on. Jim, shirtless by now, was also pushed off the stage. That is when the band stopped playing and the lights came on. I didn't see Jim leading any snake dance on the floor either. He seemed to disappear in the crowd. It was so different from anything I had ever seen before that I was ready to drive to Jacksonville the next night to see him again.

All four of us on that card table heard Jim say, "Do you want to see my cock?". He teased the crowd for a few seconds... and then we aren't sure if it was his finger or the real thing that he stuck partially through his open zipper. It happened too fast and he turned away as soon as he did it. Our view was from about 80-100 feet straight back next to the bleechers. No matter what the band members said, they were 10-15 feet behind him and couldn't possibly have seen what he had done. From my perspective, he either stuck his finger through his zipper or the real thing. Whichever, it happened fast, like a blur, so I'm not sure. The 3 friends I was with all thought it was the real thing at the time. And, no matter what the 'puritans' in the crowd said the next day, they wanted more and Morrison had everyone under a spell..."

Skip Measelle
Lake Worth, FL
Copyright © 2011 Skip Measelle

A Special Thanks to Skip Measelle for providing his review of the concert to MildEquator.com!


---
"I was a senior at Miami High School. I was a fan of The Doors and was very excited they were going do a concert in Miami. At the time, not many big groups would make the trip all the way to South Florida, so this was very exciting.
The Dinner Key show was chaotic from the start. As the band jammed, no particular song, Morrison began ranting and raving about "loving yourselves, loving each other" and spewing lots of profanity, which in 1969 was considered pretty shocking! He stuck his hand down his pants and began acting like he was masturbating. This went on for a while. The audience was getting impatient because everyone wanted to hear their songs, so they performed a half-hearted rendition of "Love Me Two Times" at which point he got on his knees in front of Robby Krieger and did something that could be interpreted as simulating oral sex.
After that song, Morrison went back to his rant, at which point someone handed him a lamb. A lamb! How did someone get a lamb into a concert? Then several people were helped onstage to dance with Morrison. As the scene deteriorated, Morrison either fell or was pushed off the stage and led away by the cops. I did not see if he actually exposed himself.
As word got out of Morrison's "indecent performance," a "Slam The Doors" Decency Rally was started by the student council president at my school and some parents.
What did I think of the show? Mostly disappointment at the time. I was there to hear the songs! I didn't realize the historical importance of that show until I was in my 40s and I would tell friends I was there!"
Octavio Diaz
Melbourne Beach, FL
Copyright © 2010 Octavio Diaz
A Special Thanks to
Octavio Diaz
for providing his review of the concert to
MildEquator.com!
ARCHIVE/MEMORABILIA:
---
REVIEW:
Newspaper:
Miami Herald
Author:
Larry Mahoney
Publish Date:
Unknown - 1969
Copyright © Unknown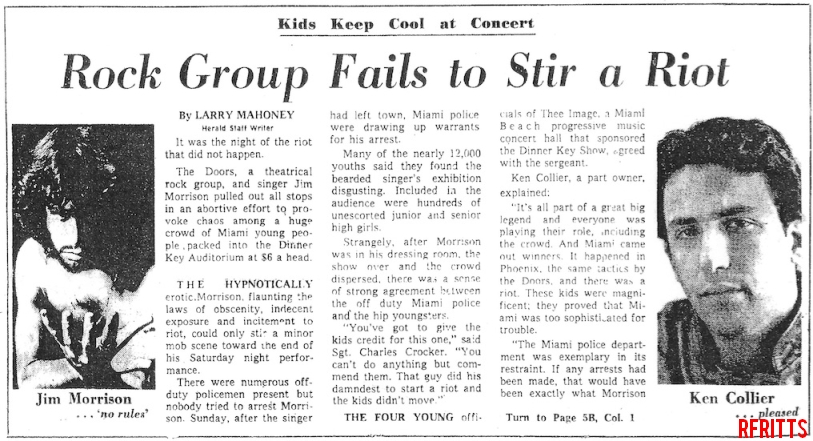 Contributed By: RFritts
PRINT AD #1: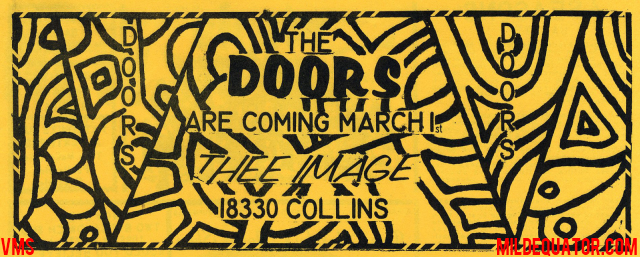 Contributed By:
Vintage Music Swag
PRINT AD #2: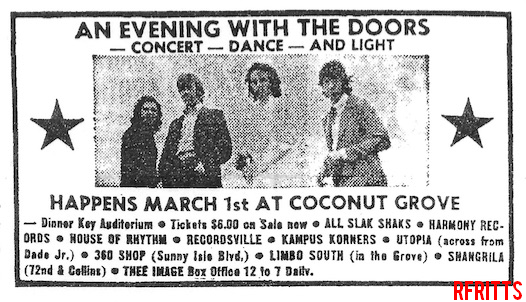 Contributed By: RFritts
---