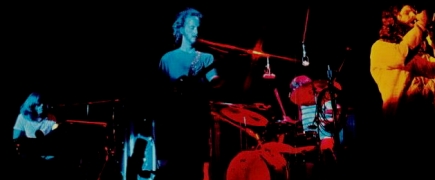 Venue Address: 6230 Sunset Blvd. - Hollywood, CA


Promotion: Elektra Records
Event: Elektra Records Showcase Concert Series

Also Performing:
Unknown

Setlist:

Soundcheck
Maggie M'Gill (Instrumental)
Maggie M'Gill

Early Show
Introduction (Jim Morrison)
Back Door Man
-Maggie M'Gill
Break On Through
Soul Kitchen
-Pray The Lord
You Make Me Real
I Will Never Be Untrue
When The Music's Over
Universal Mind
Mystery Train
-Crossroads
Build Me A Woman
-Sunday Trucker
-Five Day Jesus
Who Do You Love (False Start)
Who Do You Love
Light My Fire
The Celebration Of The Lizard

Late Show
House Announcer (Unknown)
Introduction (Jim Morrison)
Back Door Man
-Maggie M'Gill
Break On Through
When The Music's Over
Universal Mind
Mystery Train
-Crossroads
Little Red Rooster
Gloria
-Coda Queen
Touch Me
The Crystal Ship
Light My Fire
The Celebration Of The Lizard
Soul Kitchen
Close To You (Ray On Vocals)
Peace Frog (Instrumental) >
Blue Sunday
Five To One
The Movie (Poem)
Rock Me

Rehearsal (Jul. 22)
We're Rolling (Dialogue)
I Will Never Be Untrue
Peace Frog (Instrumental) >
Blue Sunday
Maggie M'Gill
(You Need Meat) Don't Go No Further (Ray On Vocals)
Close To You (Ray On Vocals)
Gloria
Mystery Train
-Crossroads
Thousands of Dollars Rest Upon This Day (Dialogue)
I'm Your Doctor (Ray On Vocals)
Hyper Yachting (Instrumental)
Build Me A Woman
-Sunday Trucker
-A Trip Around The World
Yachting (Instrumental)
Cars Hiss By My Window >
-The Changeling
-Woman Is A Devil
-I Sought A New Life
Money Beats Soul >
Mental Floss
-The Assasination
-Tablecloths Are White In France
-Lightning Struck The Magic Purse
-I Want To Be Napoleon
-School Days

Recordings / Film:
Multi-track Recording (Absolutely Live)

Photographers:
Ed Caraeff
Sam Emerson
James Fortune
Robert Haimer (Amateur)
Frank Lisciandro
Bill Mumy
James Roark
Jay Thompson

Reviews / Info:
-8:00pm & 10:30pm scheduled start times.
-Approx. 1,200 in attendance during both performances.
-Jim Morrison prints 'Ode to L.A. While Thinking of Brian Jones, Deceased', and copies are distributed at this performance.
-Multi-track soundboard recording is originally intended as the 'Absolutely Live' album.
-Setlists include the first known live performances of 'I Will Never Be Untrue' and 'Universal Mind'.
-The Doors do a rehearsal at the Aquarius Theater on the following day and record it for 'Absolutely Live'.
-Rehearsal setlist features prolonged tuning and arrangement pauses, spoken dialogue, and other anomalies.


ARCHIVE/MEMORABILIA:
---
ARTICLE:
Newspaper:
Van Nuys Valley News
Author:
Jeff Sherwood
Publish Date:
July 18th - 1969
Copyright © Van Nuys Valley News

REVIEW:
Newspaper:
The Los Angeles Times
Author:
John Mendelson
Publish Date:
July 23rd - 1969
Copyright © The Los Angeles Times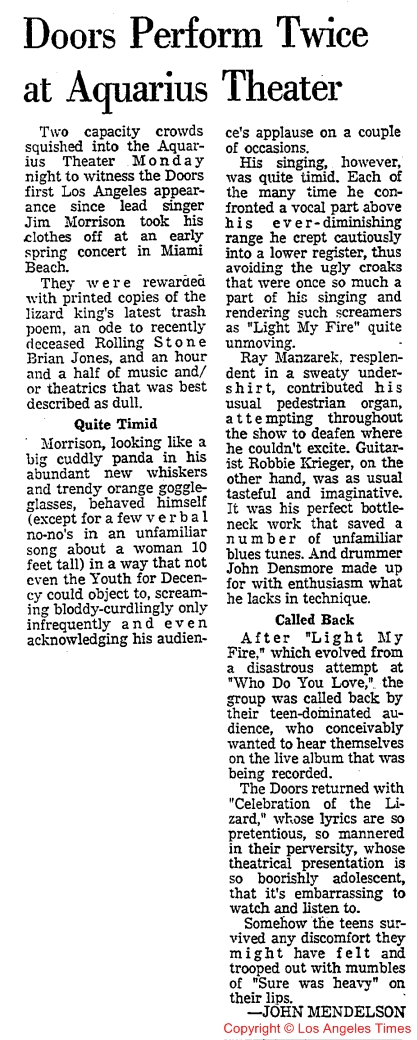 POSTER: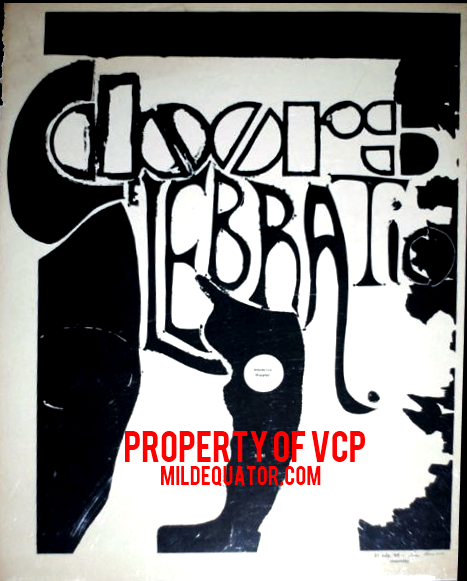 Contributed By:
Vintage Concert Posters
TICKET:
Contributed By:
BallroomDays67
PHOTOGRAPH: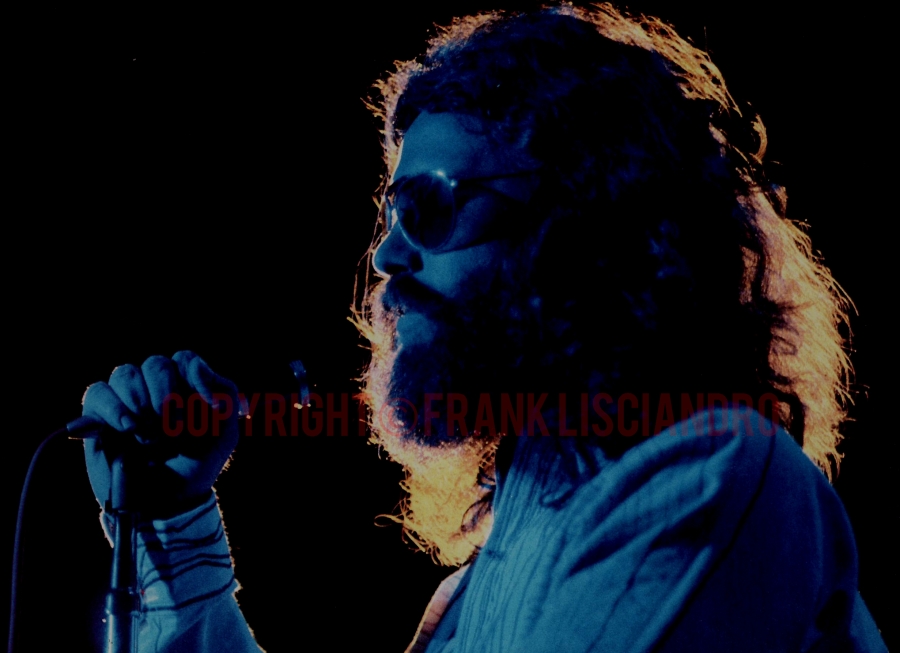 Contributed by:
Frank Lisciandro
---