Venue Address: Hayward Field - 1585 E. 13th Ave. - Eugene, OR


Promotion: Boyd Grafmyre Productions/F.A.M.E Foundation Expo '69 Presents/Northwest Sounds Inc.
Event: Eugene Pop Festival

Also Performing:

Them
Alice Cooper
Rockin' Foo
J. Geils Band
Peter
River
Truth
The Bumps
ZU

Eric Burdon & The Animals (Cancelled)
The Byrds (Cancelled)
The Youngbloods (Cancelled)
Tyme (Cancelled)
Grant's Blue Boys (Cancelled)

Setlist:
Back Door Man
Tell All The People
Touch Me
Light My Fire
(Incomplete)

Recordings / Film:
Unavailable

Photographers:
Unavailable

Reviews / Info:
-2:00pm scheduled start time.
-Approx. 5,000 in attendance.
-In frustration with the audience Jim Morrison announces that 'Light My Fire' will not be performed.
-The Doors play an extended set due to the cancellation of other acts and performers.
-'Light My Fire' is performed.


ARCHIVE/MEMORABILIA:
---
ARTICLE:
Newspaper:
Eugene Register-Guard
Author:
Unknown
Publish Date:
July 18th - 1969
Copyright © Eugene Register-Guard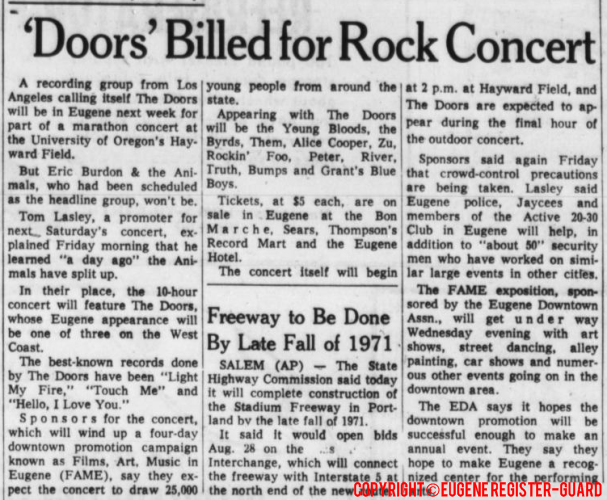 OFFICIAL PROGRAM:

Contributed by: FireHeart2021


Info: This official program was made available for purchase along with an original profit-share agreement signed by Boyd Grafmyre, promoter of the F.A.M.E. Expo, 1969.




Inside:
PRINT AD: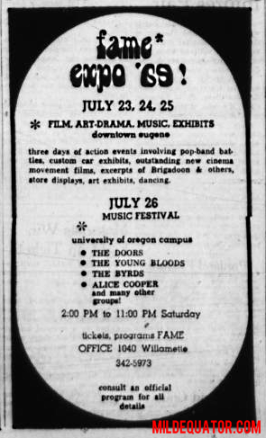 AGREEMENT: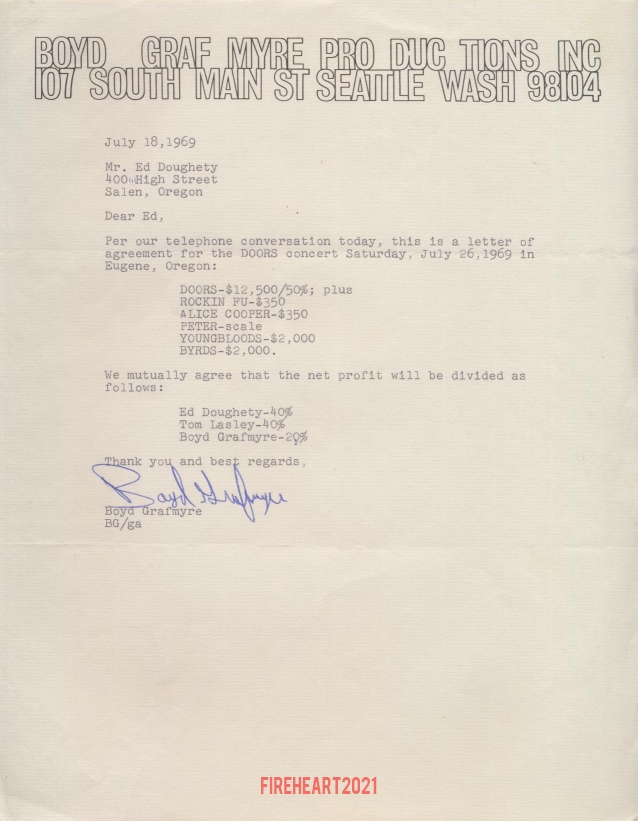 Contributed By:
FireHeart2021
---