Venue Address: 800 Karen Ave. - Las Vegas, NV


Promotion: Mike Tell/KENO
Event: In Concert

Also Performing:
Wolfticket

Setlist:
When The Music's Over
(Incomplete)

Recordings / Film:
Unavailable

Photographers:
Unidentified (Amateur)

Reviews / Info:
-This performance was advertised primarily over the radio.
-The Doors are originally scheduled to perform one week before this date.
-This performance is nearly cancelled by Sheriff Ralph Lamb due to the Miami incident.
-Advance tickets for this show are $5.50
-8:00pm scheduled start time.
-Following their performance, Wolfticket rushes to another venue to open for Alice Cooper.


ARCHIVE/MEMORABILIA:
---
ARTICLE #1:
Newspaper:
Las Vegas Review
Author:
Unknown
Publish Date:
October 2nd - 1969
Copyright © Las Vegas Review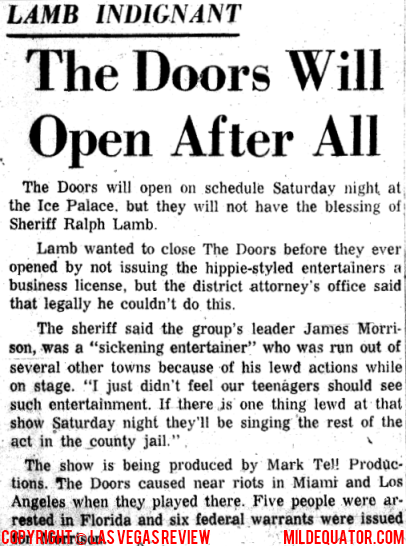 ARTICLE #2:
Newspaper:
Long Beach Independent
Author:
Unknown
Publish Date:
October 3rd - 1969
Copyright © Long Beach Independent

---