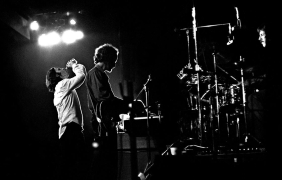 Venue Address: 4 Pennsylvania Plaza - New York, NY


Promotion: Madison Square Garden Productions/Andar Five
Event: In Concert

Also Performing:
The Lonnie Mack Trio

Setlist:

Early Show
Roadhouse Blues
Ship Of Fools
Break On Through
Universal Mind
Alabama Song >
Back Door Man >
Five To One
Moonlight Drive
-Horse Latitudes
Who Do You Love
Money
Light My Fire
When The Music's Over


Late Show
Roadhouse Blues
Peace Frog
Alabama Song >
Back Door Man >
Five To One
The Celebration of the Lizard
Build Me A Woman
-Poontang Blues
-Sunday Trucker
When The Music's Over
Soul Kitchen
Petition The Lord With Prayer
Light My Fire
Close To You (Ray On Vocals)
Rock Me*
Goin' To New York**
Maggie M'Gill**
Gloria
-Coda Queen
-My Eyes Have Seen You

* Featuring John Sebastian
** Featuring John Sebastian & Dallas Taylor


Recordings / Film:
Multi-track Recording (Absolutely Live)
Amateur Audience Recording (Early Show)
Amateur Audience Recording (Late Show)
Amateur Audience Recording (Late Show)

Photographers:
Joshua Albert
Janice Coughlan
Douglas Kent Hall
George Kalinsky
Jason Laure
Neal Preston
Raeanne Rubenstein
Roland Scherman
Joe Sia
Gregg Winter

Reviews / Info:
-7:30pm & 10:00pm scheduled start times.
-The Doors perform numerous new songs set to be released on 'Morrison Hotel' in February 1970.
-John Sebastian and Dallas Taylor join The Doors on-stage for a few blues songs at the end of the late show.
-Jim Morrison incorporates a rare performance of 'Goin' To New York' during the blues encore.
-The Doors perform until approx. 2:30am on January 19th.
-Both performances are recorded for 'Absolutely Live'.
-Photographers listed for these shows may have attended any one of the Felt Forum performances.
-Jac Holzman hosts a party for The Doors on January 19th at the Hilton Hotel.


"My fourth show was at the Felt Forum in the Madison Square Garden building, and is my favorite. Venue capacity was 4,000 to 5,000. I attended the late show at 10:00 p.m. It was a bitter cold night with snow on the ground. I remember being huddled in line up against the building trying to keep warm, and waiting for the early show to let out so I could get inside. This ticket was fuchsia in color and had a $5.50 price (See Below).

By this time, I knew that when the band went into Soul Kitchen it would be their last song before the encore. I had a seat on the aisle, and when that song began I immediately left my seat and sped down toward the stage to be in position for the encore.

It paid off, as my elbows were literally on the stage during the encore. It was very hot - everyone was pushing to be close to the stage and I was being crushed against it. I was wearing a heavy winter coat -- if I took it off and had to hold it, I would only be able to have one elbow on the stage and be giving up stage frontage. I thought I was going to pass out from the heat and the crush, but I had NO intention of retreating. It was a total thrill to be that close. During the encore Jim danced along the edge of the stage touching many outstretched hands, but sadly, not mine! John Sebastian joined the band onstage during the encore, which I remembered to be quite lengthy."

Ida Miller
Los Angeles, CA
Copyright © 2011 Ida Miller

A Special Thanks to Ida Miller of IdaFan.com for providing her memories of the concert to MildEquator.com!


ARCHIVE/MEMORABILIA:
---
REVIEW:
Newspaper:
Sarasota Journal
Author:
Unknown
Publish Date:
Janurary 19th - 1970
Copyright © Sarasota Journal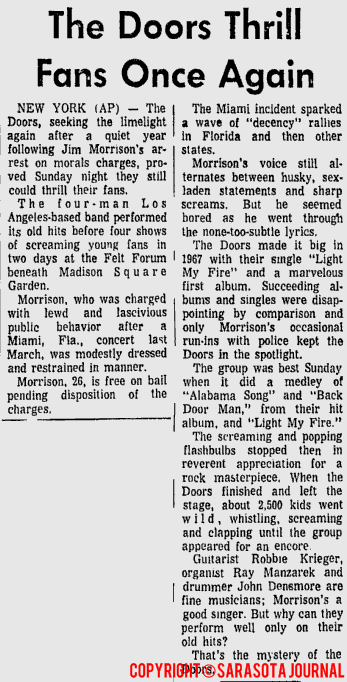 PRINT AD: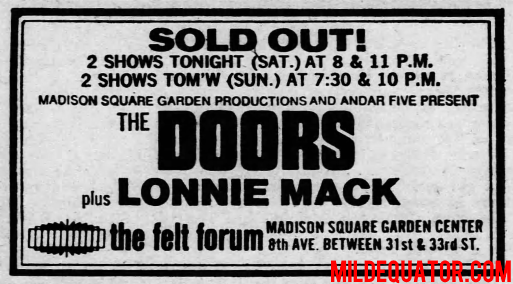 SCHEDULE:

Contributed by: FireHeart2021









BACK:
TICKET #1: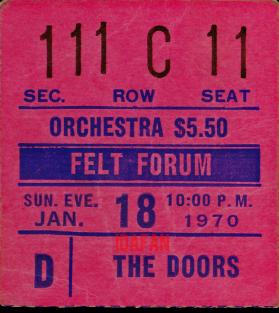 Contributed By:
Ida Miller
TICKET #2: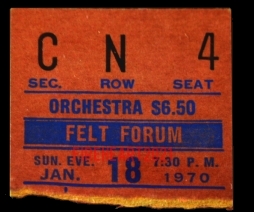 Contributed By:
FireHeart2021
---