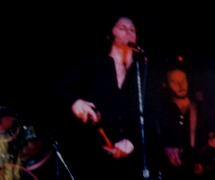 Venue Address: 1501 Euclid Ave. - Cleveland, OH


Promotion: Belkin Productions/Cleveland After Dark
Event: In Person

Also Performing:
Eli Radish

Setlist:

Early Show
Roadhouse Blues
Ship Of Fools
When The Music's Over
Light My Fire
-Fever
(Incomplete)

Late Show
Roadhouse Blues
"I Feel Good Tonight"
Break On Through
Alabama Song >
Backdoor Man >
Five To One
Ship Of Fools
"Hey, Listen..."
Love Me Two Times
-Baby, Please Don't Go
When The Music's Over
-Something Wrong
-Away In India
-Why Won't You Boogie
"I'm Not Gonna Leave This Place..."
-You Gotta Boogie
-Build Me A Woman
-Sunday Trucker
Rock Me
Will The Circle Be Unbroken >
Petition The Lord With Prayer >
-Pastor Jim
Wake Up! >
Light My Fire
-Summertime
-Fever
Soul Kitchen
"Who's In Charge Around Here?"
"Are Any Of You A Drummer?"
Maggie M'Gill

Recordings / Film:
Amateur/Audience Recording (Late Show)
(See Below)
Photographers:
Unidentified (Amateur)
Reviews / Info:
-7:30pm & 10:00pm scheduled start times.
-Ticket sales for these shows create demand for an unscheduled performance the following day.
-Approx. 3,000 in attendance during both performances.
-The Doors are not recorded for 'Absolutely Live!' as indicated by local newspapers.
-Jim Morrison interacts heavily with the audience and gives a lively performance during the late show.
-The Doors give a rare performance of Will The Circle Be Unbroken.
-John Densmore may have left the stage before Maggie M'Gill.
-During the late show Jim announces that two of the band's coats were stolen.
AUDIENCE TAPE RECORDING
---
Contributed By: Doc West via Chris Simondet
On February 13th, 1970 The Doors late show performance at Cleveland's Allen Theatre is captured on cassette tape by audience member Doc West. Highlights from this mostly complete recording of the show include a lengthy performance of When The Music's Over, a tour rarity Will The Circle Be Unbroken, and a comedic pastor-like sermon from Jim Morrison himself. We'd like to give a very special thanks to Doc West for his loaning of the master tape to Chris Simondet who has in turn released to the world a fantastic digital transfer of this unique concert recording!
TAPER'S NOTES:
"The opening act was 'Eli Radish', a band from the Cleveland area...Jim was wearing black, head to toe...he had a lot of fun and alluded to the Miami concert when said "I've got something to show you tonight, and it's bigger than a breadbox" and was quite sober....the show was longer than usual Doors concerts....the show ended, we headed for the exits when Jim came back onstage and told some of the motorcycle gang that was in front of the stage to stop people from leaving...Jim said that someone had stolen one of their jackets and then flipped the audience the finger and said 'thanks Cleveland' and went back behind the curtain....we were shocked but it was post Miami, so we were looking at each other wondering if this was over or not....then Jim came back onstage and said there had been a mistake and The Doors wanted to play longer, but their drummer's hands had been taped up....was there a drummer in the house who could play with them....a minute or so later he came back and they had the opening act's drummer playing for them....at one point Ray Manzarek sat on a chair and played slide guitar on i believe 'Little Red Rooster'....I was only 19 years old and totally sober....don't believe they served alcohol at concerts back then, but I do think I saw the motorcycle dudes carry a case of beer to the front."
DETAILS:
RECORDING DATE:
February 13th - 1970 (Late Show)
TRACK TIME: 123:43
TRACKLIST:



Tracklist:
Roadhouse Blues
"I Feel Good Tonight"
Break On Through
Alabama Song >
Backdoor Man >
Five To One
Ship Of Fools
"Hey, Listen..."
Love Me Two Times
-Baby, Please Don't Go
When The Music's Over
-Something Wrong
-Away In India
-Why Won't You Boogie
"I'm Not Gonna Leave This Place..."
-You Gotta Boogie
-Build Me A Woman
-Sunday Trucker
(Tape Flip)
When The Music's Over
Rock Me
Will The Circle Be Unbroken >
Petition The Lord With Prayer >

-
Pastor Jim
Wake Up! >
Light My Fire

-
Summertime
-
Fever
Soul Kitchen

"Who's In Charge Around Here?"
"Are Any Of You A Drummer?"
Maggie M'Gill (Cut)

ARCHIVE/MEMORABILIA:
---
ARTICLE:
Newspaper:
Cleveland Plain Dealer
Author:
Unknown
Publish Date:
February 13th - 1970
Copyright © The Cleveland Plain Dealer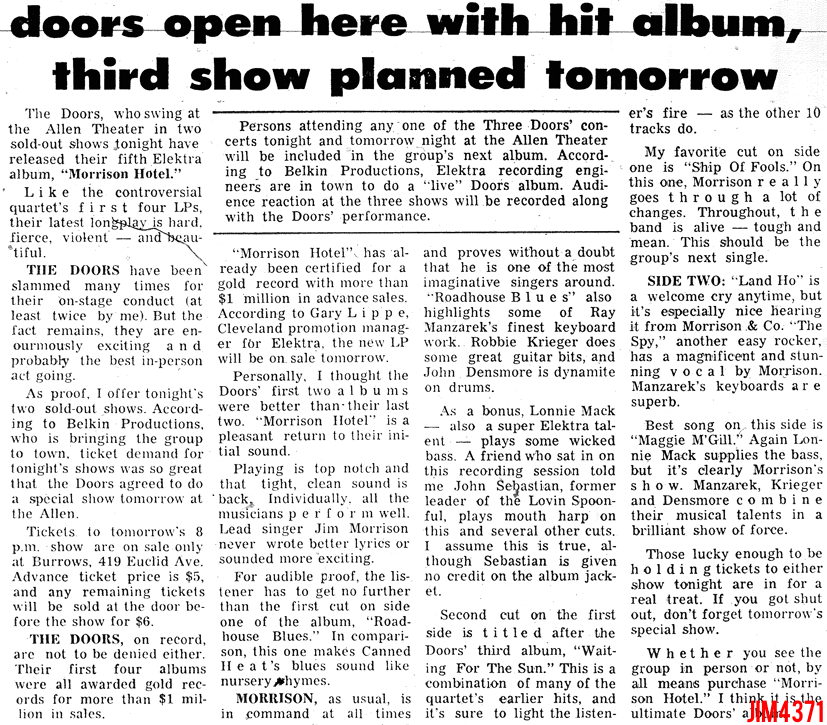 Contributed By:
jim4371
REVIEW:
Newspaper:
Cleveland Press
Author:
Dick Wootten
Publish Date:
February 14th - 1970
Copyright © The Cleveland Press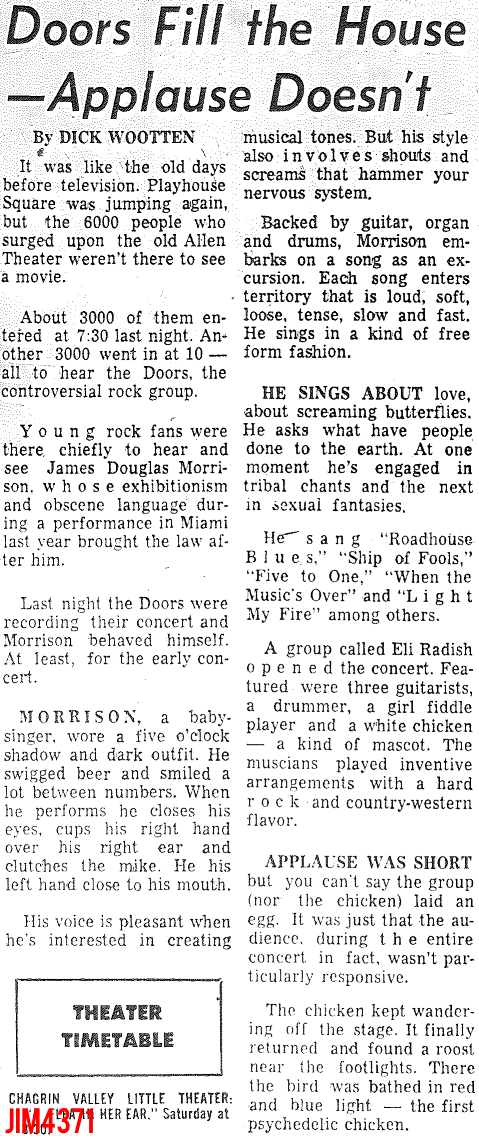 Contributed By:
jim4371
PRINT AD #1: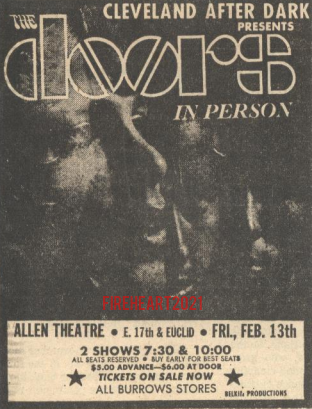 Contributed By:
FireHeart2021
PRINT AD #1: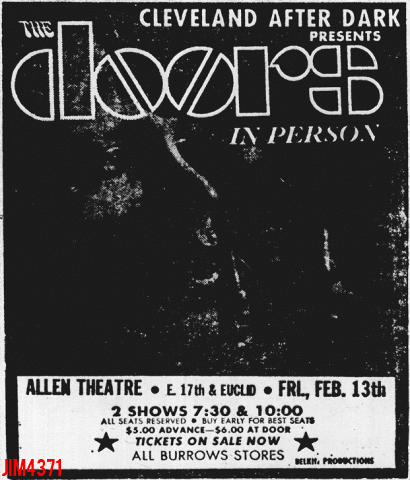 Contributed By:
jim4371
PRINT AD #2: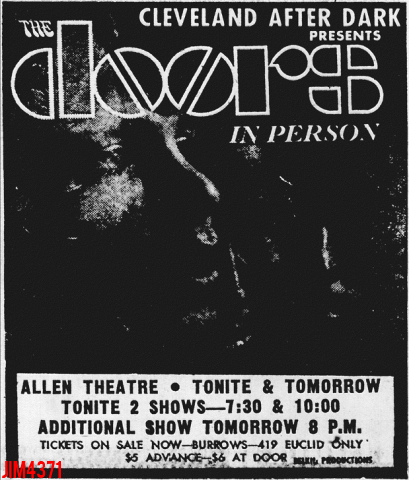 Contributed By:
jim4371
TICKET #1: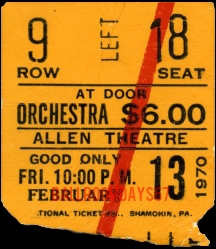 Contributed By:
BallRoomDays67
TICKET #2: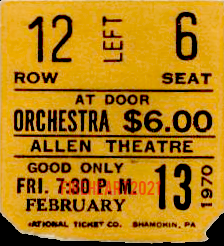 Contributed By:
FireHeart2021
---