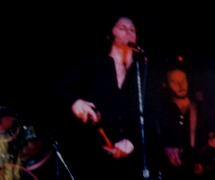 Venue Address: 1501 Euclid Ave. - Cleveland, OH


Promotion: Belkin Productions/Cleveland After Dark
Event: In Person

Also Performing:
Eli Radish

Setlist:

Early Show
Roadhouse Blues
Ship Of Fools
When The Music's Over
Light My Fire
-Fever
(Incomplete)

Late Show
Roadhouse Blues
"I Feel Good Tonight"
Break On Through
Alabama Song >
Backdoor Man >
Five To One
Ship Of Fools
"Hey, Listen..."
Love Me Two Times
-Baby, Please Don't Go
When The Music's Over
-Something Wrong
-Away In India
-Why Won't You Boogie
"I'm Not Gonna Leave This Place..."
-You Gotta Boogie
-Build Me A Woman
-Sunday Trucker
Rock Me
Will The Circle Be Unbroken >
Petition The Lord With Prayer >
-Pastor Jim
Wake Up! >
Light My Fire
-Summertime
-Fever
Soul Kitchen
"Who's In Charge Around Here?"
"Are Any Of You A Drummer?"
Maggie M'Gill

Recordings / Film:
Amateur/Audience Recording (Late Show)
Photographers:
Unidentified (Amateur)
Reviews / Info:
-7:30pm & 10:00pm scheduled start times.
-Ticket sales for these shows create demand for an unscheduled performance the following day.
-Approx. 3,000 in attendance during both performances.
-The Doors are not recorded for 'Absolutely Live!' as indicated by local newspapers.
-Jim Morrison interacts heavily with the audience and gives a lively performance during the late show.
-The Doors give a rare performance of Will The Circle Be Unbroken.
-John Densmore may have left the stage before Maggie M'Gill.
-During the late show Jim announces that two of the band's coats were stolen.
ARCHIVE/MEMORABILIA:
---
ARTICLE:
Newspaper:
Cleveland Plain Dealer
Author:
Unknown
Publish Date:
February 13th - 1970
Copyright © The Cleveland Plain Dealer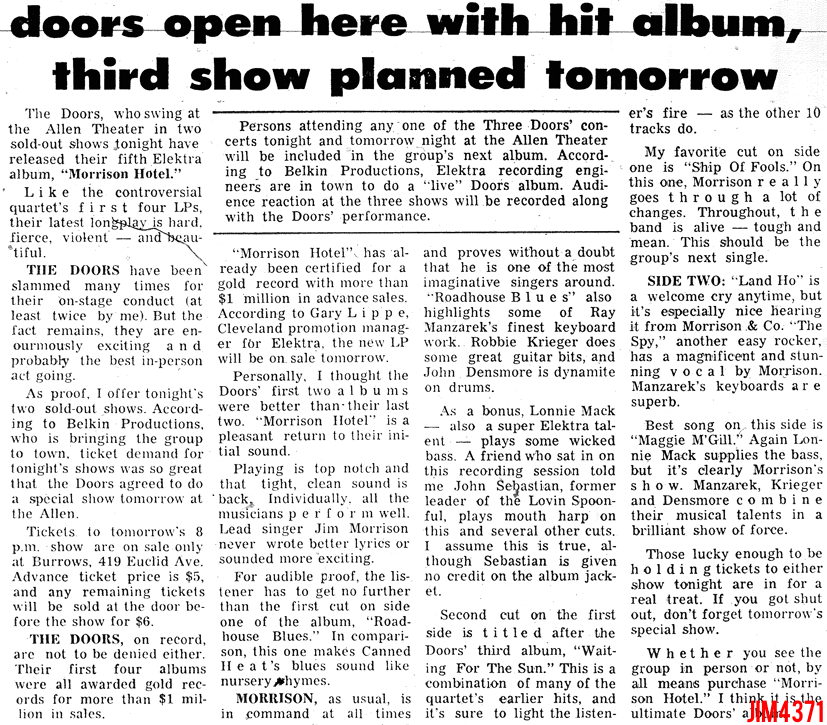 Contributed By:
jim4371
REVIEW:
Newspaper:
Cleveland Press
Author:
Dick Wootten
Publish Date:
February 14th - 1970
Copyright © The Cleveland Press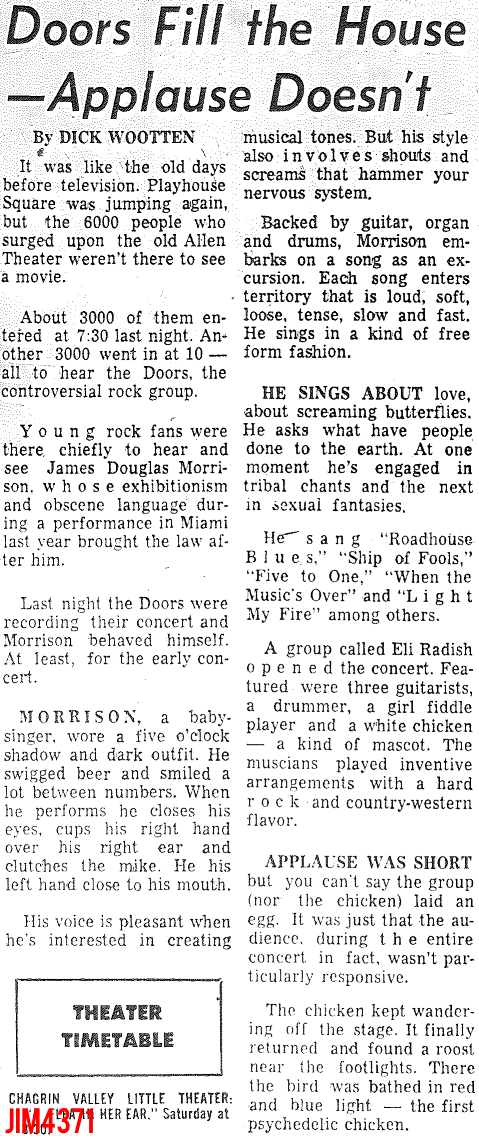 Contributed By:
jim4371
PRINT AD #1: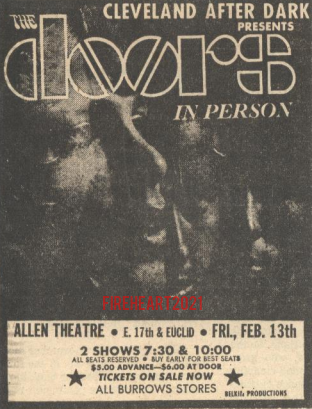 Contributed By:
FireHeart2021
PRINT AD #1: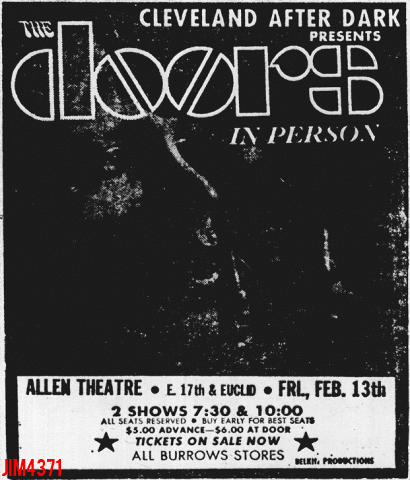 Contributed By:
jim4371
PRINT AD #2: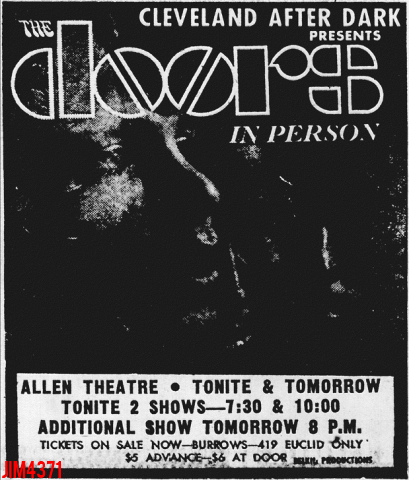 Contributed By:
jim4371
TICKET #1: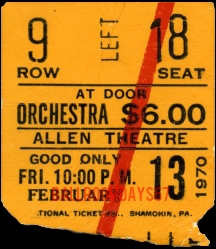 Contributed By:
BallRoomDays67
TICKET #2: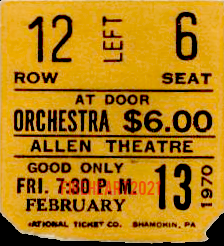 Contributed By:
FireHeart2021
---