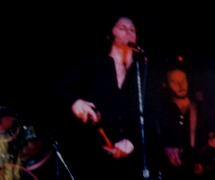 Venue Address: 1501 Euclid Ave. - Cleveland, OH


Promotion: Belkin Productions/Cleveland After Dark
Event: Last Minute Additional Concert

Also Performing:
Eli Radish

Setlist:
Roadhouse Blues
Ship Of Fools
Light My Fire
Maggie M'Gill
(Power Cut)
(Incomplete)
Recordings / Film:
Unavailable
Photographers:
Unidentified (Amateur)
Reviews / Info:
-This performance is added at the last minute due to the high volume of ticket sales from the previous night.
-8:00pm scheduled start time.
-Power is cut to the stage during the performance and the show is over.
-Amateur photographs may be from the previous night at the Allen Theatre.
"I attended the second night, 2/14/70 at the Allen Theatre. The first thing I remember was people being jerked out of their seats for smoking pot. The concert started with The Doors fully on stage and the crowd was very pumped up and loud. There were a number of songs played but when Light My Fire began the the crowd was loud and reactive to an extreme. At some point Jim jumped off the stage and approached the crowd which really brought them into a frenzy. Toward the end of the concert Jim was called over to the side of the stage and spoken to by someone of authority. He came back to the center and told us the concert was not over and started another song. He completed that and started another when the power was shut down, lights came on and the concert was over! WHAT A SHOW!!!"
John Westfall
Cleveland, OH
Copyright © 2014 John Westfall
A Special Thanks to
John Westfall
for providing his review of the concert to
MildEquator.com!
ARCHIVE/MEMORABILIA:
---
PRINT AD: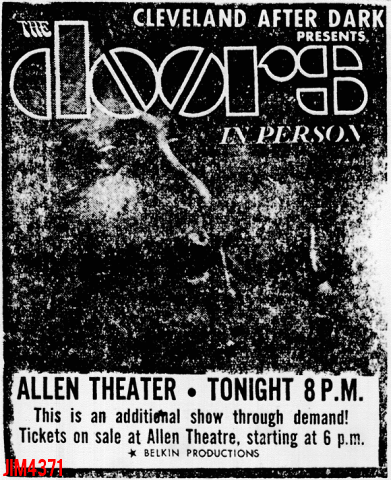 Contributed By:
jim4371
---