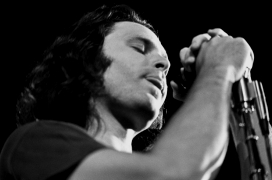 Venue Address: 3601 S Broad St. - Philadelphia, PA


Promotion: Spectrum/Spivak Promotion
Event: In Concert

Also Performing:
The Staple Singers
Blues Image

Setlist:
House Announcer (Bill Siddons)
House Announcer (Larry Magid)
Roadhouse Blues
Break On Through
-There You Sit
Back Door Man
-Love Hides
Ship Of Fools
Universal Mind
When The Music's Over
Mystery Train
-People Get Ready
-Away In India
-Crossroads
Wake Up!
Light My Fire
Maggie M'Gill*
Roadhouse Blues (Reprise) >*
Been Down So Long >*
-Slippin' and Slidin'
Rock Me**
Carol >
Soul Kitchen
-Pray The Lord
House Announcer (Larry Magid)

* Featuring Ray On Guitar & Robby On Bass
** Featuring Robby On Bass

Recordings / Film:
Multi-track Recording (Absolutely Live)
Amateur/Audience Recording

Photographers:
Sonny Casale (Backstage)
J. Paul Simeone
Unidentified (Amateur & Professional)

Reviews / Info:
-This performance was tentatively scheduled for May 5th.
-Promotional flyers for this performance are known to have been distributed by mail.
-Jim Morrison is interviewed by Michael Cuscuna for 'Down Beat' magazine prior to this show.
-8:00pm scheduled start time.
-Approx. 14,000 in attendance.
-Lights by 'Festival Group'.
-Bill Siddons and house announcer Larry Magid plead with the audience to move back before the show can begin.
-Ray Manzarek switches from guitar back to keyboard halfway through 'Been Down So Long'.
-This performance is recorded by Bruce Botnick for 'Absolutely Live'.
-Baltimore Sun journalist Bob Grover interviews The Doors entourage following the show.
-The Doors return to Philadelphia in 1971 following Jim Morrison's death.


"My fifth and final show was at the Spectrum in Philadelphia, with an audience capacity of 14,000. My bright green ticket showed a $6.00 price. Once I arrived there, I hung around outside the arena talking to a security person. He told me if I stayed there with him long enough, I would eventually see the band return from dinner in their limo. Sure enough, he identified their limo approaching, and it sped right past us and into the building. I then raced to get inside to my seat. I missed the Staples Singers opening act, but I didn't care. I knew that I had gotten a glimpse of their arriving limo, and I was thrilled.

This show is partially featured on Absolutely Live, where the announcer says the Fire Marshall will not allow the show to go on until the aisles are cleared. I was in that audience; it was bedlam. No one was in their seats, the aisles were clogged. I worried that the Fire Marshall really would shut the show down; I didn't know if it was a bluff, or if that really could happen with an arena-full of 14,000 rabid, chanting fans. For some reason, I cannot remember what Jim was wearing."

Ida Miller
Los Angeles, CA
Copyright © 2011 Ida Miller

A Special Thanks to Ida Miller of idafan.com for providing her memories of the concert to MildEquator.com!


BOB GROVER BACKSTAGE AT THE SPECTRUM:
---
Contributed By:
Bob Grover
While working as a desk chief for the Baltimore Sun, Bob Grover travels to Philadelphia to attend The Doors performance at The Spectrum and write an article on the events taking place for readers back home in Baltimore. He returns home and prints his review in the Sun on May 10th, the day The Doors are scheduled to arrive and perform in his hometown. MildEquator.com is pleased to feature here, Bob's original Baltimore Sun article and backstage press pass for the Philadelphia show. We'd like to give a special thanks to Bob for his commentary and unique contribution to the site!



"At the time of The Doors concerts, I was the copy desk chief at the Baltimore Sun, writing occasional articles on music on the side. Morrison's people wanted to assure parents that his Baltimore show would not be indecent, so they brought several Baltimore writers up to Philadelphia, where The Doors performed a week or two prior to their Baltimore date, to preview the performance. I remember Morrison, whom we met backstage, being friendly and chock full of charisma, his handlers doing a lot of the talking. I was given two things: a photographer's pass, and a business card from The Doors press agent, Leon Barnard."


Bob Grover,
Baltimore, MD
Copyright 2010 Bob Grover
Big Cam & the Lifters - http://www.theLifters.com


PRESS/PHOTOGRAPHER'S PASS:
"A photographer's pass for the 1970 concert in Philadelphia at The Spectrum. I don't know why it was a photographer's pass rather than, say, a reporter's pass. There were no photographers present backstage."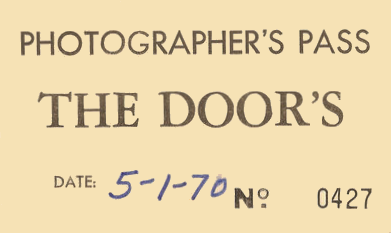 LEON BARNARD'S BUSINESS CARD:
"The Doors press agents' business card, marred by scribbling, to get a ballpoint pen writing."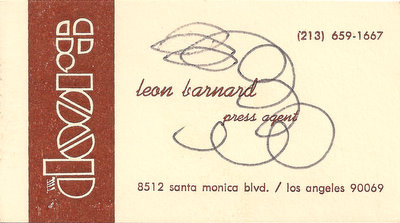 NEWSPAPER REVIEW:
"I still have the submitted handwritten copy in my files. The article ran pretty much as I wrote it."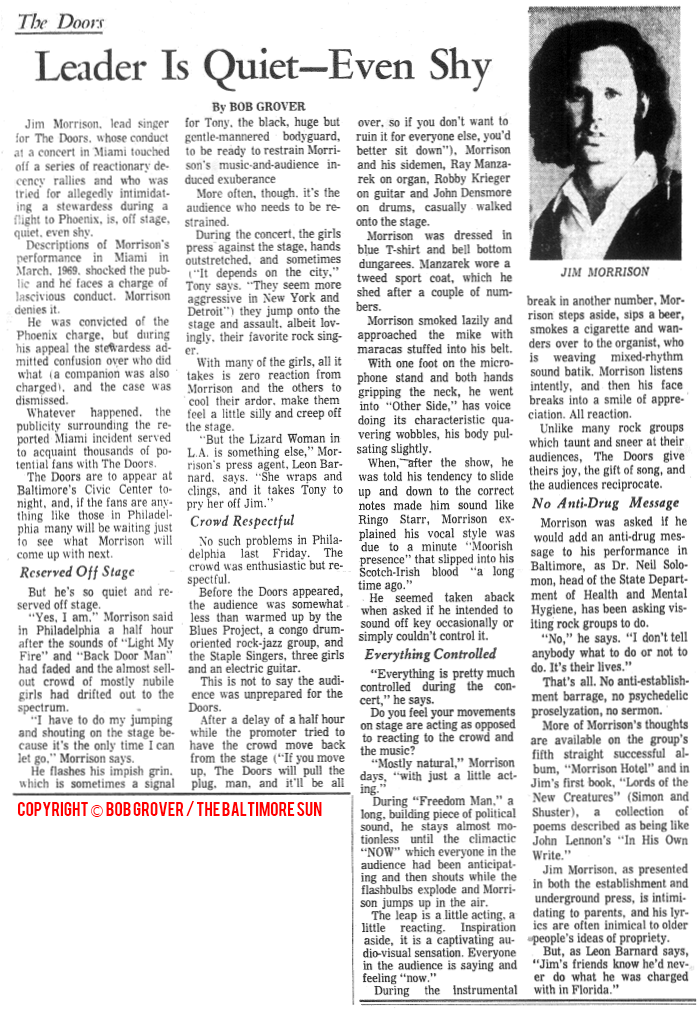 Publish Date: May 10th - 1970 in the Baltimore Sun






MICHAEL OBERMAN INTERVIEWS THE DOORS BACKSTAGE:
---
Contributed By: RFritts

Writer for the Washington Star, Michael Oberman, interviews The Doors backstage following their performance at the Philadelphia Spectrum on May 1st, 1970.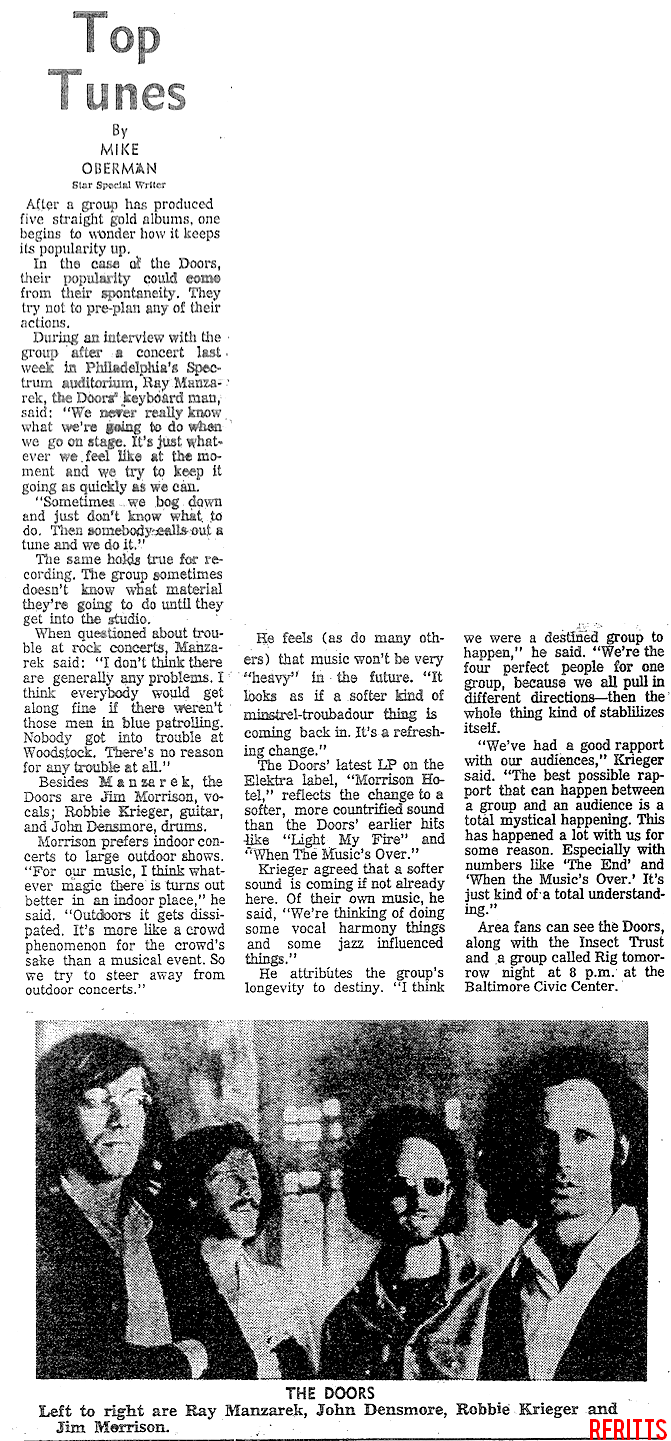 Publish Date: May 9th - 1970 in the Washington Star
Copyright © Michael Oberman


ARCHIVE/MEMORABILIA:
---
TICKET #1: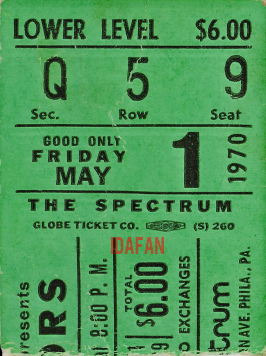 Contributed By: Ida Miller


TICKET #2: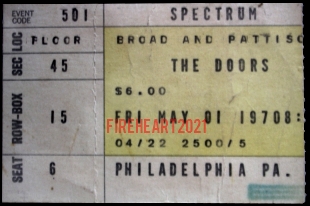 Contributed By: FireHeart2021


TICKET #3: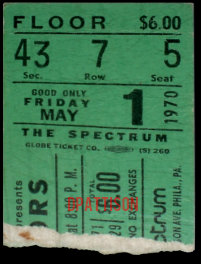 Contributed By: DPattison


TICKET #4: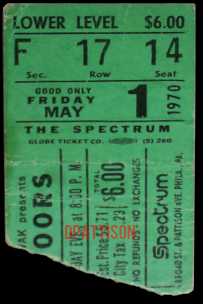 Contributed By: DPattison



---