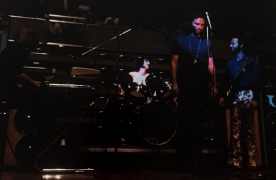 Venue Address: 305 Harrison St. - Seattle, WA


Promotion: West Coast Promotions
Event: In Concert

Also Performing:
Albert King

Setlist:
Back Door Man
-Love Hides
Adolf Hitler (Poem)
Roadhouse Blues
When The Music's Over
Trains / Tempus Fugit (Dialogue)
Mystery Train (Instrumental)
-People Get Ready
-Baby Please Don't Go
Mystery Train
-Away In India (Instrumental)
-Crossroads
Break On Through
Someday Soon
Five To One
Petition The Lord With Prayer
Light My Fire
The End (Power Cut)

Recordings / Film:
Stage Recording

Photographers:
Frank Lisciandro (Backstage)

Reviews / Info:
-Approx. 4,000 in attendance.
-Setlist includes a rare performance of 'Someday Soon'.
-Ray Manzarek's organ has technical problems and disrupts the show.
-Jim Morrison shakes maraca's and makes obnoxious vocal and feedback noises during 'When The Music's Over'.
-Jim Morrison interacts heavily with the audience at the beginning of 'Mystery Train'.
-Halfway through The Doors performance of 'The End', the power is cut and the house lights are turned on.
-This performance is recorded by The Doors road manager Vince Treanor through stage microphones.
-The Doors are photographed at the 'Seattle-Tacoma International Airport' by Frank Lisciandro.
-This is The Doors 5th and final appearance in Seattle.


ARCHIVE/MEMORABILIA:
---
ARTICLE:
Newspaper:
Seattle Times
Author:
Unknown
Publish Date:
June 4th - 1970
Copyright © Seattle Times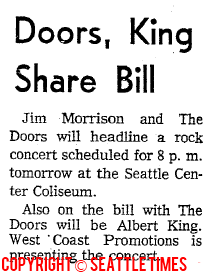 REVIEW:
Newspaper:
Seattle Times
Author:
Victor Stredicke
Publish Date:
June 8th - 1970
Copyright © Seattle Times

---